Hate Crimes Are on the Rise, But Four States Don't Have Laws to Protect Victims or Punish Offenders
Despite the rise of hate crimes in the U.S., a handful of states have still not passed any laws criminalizing offenses committed on the basis of race, ethnicity, religion, gender, sex or disability.
Arkansas, Georgia, South Carolina and Wyoming are the only states in the country that do not provide any protection for victims of hate crimes or concrete penalties for offenders.
"The biggest roadblock to hate crime laws in those states is the inclusion of sexual orientation and gender identity," Jake Hyman, a spokesperson for the Anti-Defamation League, told Newsweek.
Sexual orientation hate crimes are the third most frequent hate crime in the United States, according to the FBI. In 2017, there were 7,175 hate crime incidents reported across the country. Over 1,000 of those incidents (16 percent) involved a victim who was targeted due to their sexual orientation and a majority of those crimes were against gay men.
Due to the rise of offenses against the LGBTQ community, any effective hate crime legislation introduced at the state level must include sexual orientation protections, Hyman noted.
"Unfortunately, some legislators in the states without hate crime laws are blocking the inclusions of sexual orientation and gender identity from their proposed legislation — hence blocking progress on enacting a meaningful and effective hate crime law in their respective state," he said.
Such a legislative battle took place in Indiana earlier this year, resulting in a controversial hate crime law with no explicit protections based on age, gender identity or sexual orientation. While the GOP-dominated state Senate excluded such language from the measure, judges are not limited to the list when determining sentencing.
Still, the Anti-Defamation League continues to list Indiana as a state with no hate crime laws. The organization's Midwest regional director David Goldenberg said that the "deliberate failure" to list such traits is "unacceptable" and does not meet their standards for a constructive hate crime measure in 2019.
Hate crimes reported to police agencies throughout the U.S. rose 22 percent between 2013 and 2017, according to federal statistics. But the Department of Justice found that a majority of hate crime incidents are never reported to authorities, meaning that the number of offenses is likely much higher than the data suggests.
The few states that have no hate crime laws are likely facing increased pressure to move forward with such measures following a string of deadly mass shootings in California, Texas and Ohio that left 34 people dead. The El Paso shooter was targeting the Latino community when he opened fire at a local Walmart, killing 22 people. Authorities say the gunman may face hate crime charges in addition to capital murder charges.
President Donald Trump spoke out about the rise of hate groups following the back-to-back attacks, saying he was "concerned" and plans to "do something about it."
Here are the states that do not have any hate crime statutes:
Arkansas
Arkansas is home to a number of extremist groups, including the Knights of the Ku Klux Klan, Identity Evropa, League of the South and Shield Wall Network. The Southern Poverty Law Center tracked over a dozen hate groups in the state in 2018.
But shortly after the mass shooting in Texas, Republican Governor Asa Hutchinson called on state lawmakers to implement harsher punishments for crimes targeting people based on their race, ethnicity or religion. He did not mention any protections for a person's gender identity or sexual orientation.
"People should not be targeted for who they are," Hutchinson told the Arkansas Sheriffs Association. "That constitutes a crime of hate and they should not be targeted for it, and there should be enhanced penalties for it."
Georgia
In 2000, the state did manage to pass a hate crimes measure but it was eventually struck down by the Georgia Supreme Court for being "constitutionally vague." Nearly two decades later, the state has still not managed to pass a hate crimes law.
Earlier this year, a Republican-sponsored bill was passed by the Georgia House but stalled in a Senate committee. The legislation would have given sentencing guidelines for anyone convicted of targeting someone due to race, color, religion, ethnicity, gender, sexual orientation or disability.
"Hate can be used as a tool for evil in order to undermine the law and order that we take for granted many times in our society," said Chuck Efstration, the conservative representative who sponsored the bill.
A recent study showed that hate crimes are on the rise in Georgia. Between 2013 and 2017, the number of hate crimes rose by 219 percent. Researchers found that race, religion and sexual orientation were the three biggest motivators for offenders to commit an offense.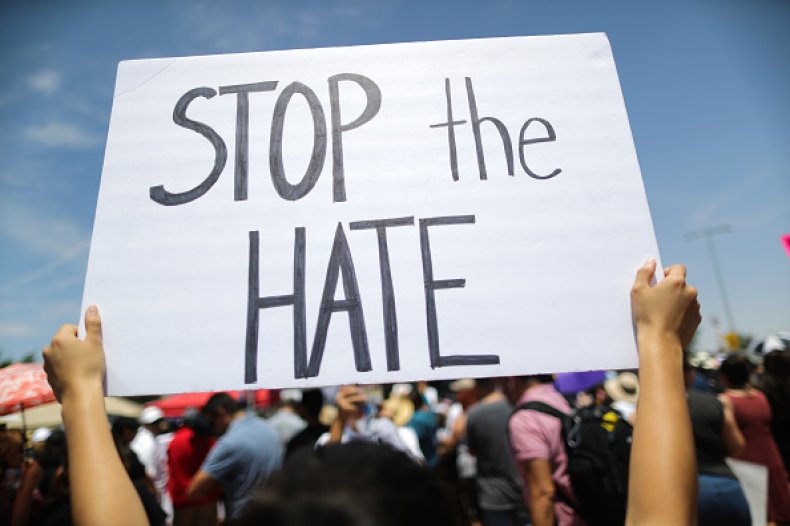 South Carolina
Hate crimes are rising in South Carolina, according to federal statistics, but lawmakers still have not moved forward on a hate crime law.
Earlier this year, a House subcommittee advanced a proposal that would make it a felony to assault or threaten a person based on their race, religion, sex, age, ethnicity, sexual orientation or homelessness. Someone convicted of such a crime would face a hefty fine and up to 15 years in prison. The bill stalled in the Senate.
But after the shootings in Texas and Ohio, South Carolina state senator Darrell Jackson said he would introduce a new hate crimes bill during the next legislative session. Jackson said the bill would better define hate crimes and the penalties for those convicted.
A South Carolina sheriff also lamented the lack of such a law after his deputies were unable to charge a teenager who made videos in which he used racial slurs and threatened to shoot black people.
"It's an absolute shame this state does not have a law against hate crimes," Sheriff Leon Lott said. "Our legislators have got to take some action. Look at the turmoil these videos have created in the community."
Wyoming
Wyoming has experienced the largest rise in hate crimes in the United States, according to a recent study. Between 2013 and 2017, the number of offenses in the state increased over 2,000 percent. Fifty percent of the hate crimes were motivated by sexual orientation.
The murder of college student Matthew Shepard in Laramie, Wyoming in 1998 is remembered as one of the worst U.S. hate crimes. Shepard was beaten, tied to a fence and left to die because he was gay. In 2009, during the Obama administration, Congress passed the Matthew Shepard Act. The measure expanded hate crime laws to include sexual orientation.
Many Republican lawmakers, including some from Wyoming's congressional delegation, opposed the 2009 act. They argued that state laws already punish those who commit violent crimes against the LGBTQ community.
While Wyoming has not passed any statewide hate crime laws, the city of Laramie approved a local anti-discrimination ordinance in 2015. The measure prohibits discrimination based on sexual orientation and gender identity when it comes to housing, employment and access to public facilities.