These 20 States Are Warning Walgreens, CVS Over Abortion Pill Plans
Attorneys general in 20 GOP-led states warned Walgreens and CVS Wednesday that they may face legal consequences if they sell abortion pills by mail.
Last month the pharmacy giants said they planned to seek certification to distribute mifepristone—the first of a two-drug regimen—after the FDA approved a rule change allowing retail pharmacies to offer abortion pills in the U.S. for the first time.
Now, a letter to Walgreens and CVS from Republican Missouri Attorney General Andrew Bailey has warned that the sale of abortion pills would violate federal law and abortion laws in many states.
Missouri is among the states that have implemented strict abortion restrictions since the Supreme Court overturned Roe v. Wade in June last year, eliminating constitutional protections for abortion.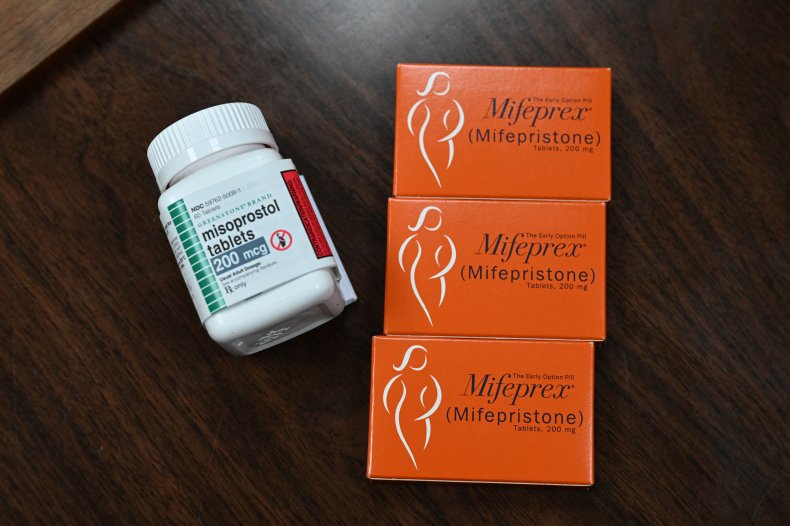 President Joe Biden's administration's endorsement of abortion pills by mail is "an attempt to circumvent the right of states to protect women and children," Bailey wrote in the letter.
Bailey's letter was co-signed by attorneys general in Alabama, Alaska, Arkansas, Florida, Georgia, Indiana, Iowa, Kentucky, Louisiana, Mississippi, Montana, North Dakota, Ohio, Oklahoma, South Carolina, South Dakota, Texas, Utah, and West Virginia.
"We emphasize that it is our responsibility as State Attorneys General to uphold the law and protect the health, safety, and well-being of women and unborn children in our states," the letter concluded. "Part of that responsibility includes ensuring that companies like yours are fully informed of the law so that harm does not come to our citizens."
Bailey told Newsweek: "I will enforce the laws as written. That includes laws protecting the health of women and their unborn children. The FDA rule is in direct violation of federal law, and the unelected bureaucrats at the FDA have no authority to change Missouri law, either. The people's elected representatives have spoken on the issue of abortion in our state, and we will fight to uphold that in court."
A Walgreens spokesperson said the company is not currently dispensing mifepristone, although it is working to become eligible through an FDA-mandated certification process that requires pharmacies to meet specific standards in shipping, tracking and confidentially storing drug prescribing records.
"We fully understand that we may not be able to dispense Mifepristone in all locations if we are certified under the program," a statement from Fraser Engerman read, according to The Associated Press.
Walgreens and CVS have been contacted for comment.
The FDA approved mifepristone to terminate pregnancy in 2000. For more than 20 years, the agency limited dispensing of the drug to a subset of specialty offices and clinics because of safety concerns.
The agency permanently eliminated the requirement that patients pick up the medication in person in 2021.
Several states have restrictions on medication abortion, which account for more than half of all abortions in the U.S, according to the Guttmacher Institute, a research group that supports abortion rights.
Twenty-nine states require physicians only to administer abortion pills, while 18 require the clinician providing a medication to be present when the medication is administered.
Update 2/5/22, 7:30 a.m. ET: This article has been updated to add comment from Andrew Bailey.