A statue of a Confederate general in the capital of Virginia was toppled and graffitied on Saturday night following a day of largely peaceful protests.
The Richmond Times-Dispatch reported that protesters pulled the statue of Gen. Williams Carter Wickham from its pedestal in Monroe Park, in Richmond, using ropes.
Someone urinated on the statue after it was torn down, according to the newspaper. The statue had stood in the park, which is surrounded by the Virginia Commonwealth University Campus, since 1891.
A spokeswoman for the Richmond Police Department told the Associated Press that the statute had been pulled down, but said she wasn't aware of any arrests or damage done to the statue.
But pictures posted by the Times-Dispatch and on social media showed the statue on the ground near its pedestal with what appeared to be paint or spray paint on it. Pictures showed the pedestal had been vandalized with Black Lives Matter slogans.
It comes after two of Wickham's descendants called on city officials to remove the statue in 2017, the Times-Dispatch reported.
Earlier this week, Virginia Gov. Ralph Northam announced that a controversial state-owned statue of Confederate Gen. Robert E. Lee—located about a mile from Wickham's statue—would be removed from its pedestal along the city's prestigious Monument Avenue "as soon as possible."
Confederate monuments have long been a flashpoint in Virginia and other states in the South. The Lee statue, which is among five Confederate monuments along Monument Avenue, has been tagged with graffiti, including messages that say "black lives matter" and "stop white supremacy," amid demonstrations against police brutality and systemic racism in recent days.
On Thursday, Northam, a Democrat, said it was "time to acknowledge the reality of institutional racism" in his state following almost more than a week of protests across the U.S. and abroad sparked by the death of George Floyd, a black man, in Minneapolis police custody.
The Lee statue "towers over homes, businesses, and everyone who lives in Richmond," Northam said, and "sits atop a large pedestal."
He added: "A pedestal is a place of honor. We put things on pedestals when we want people to look up.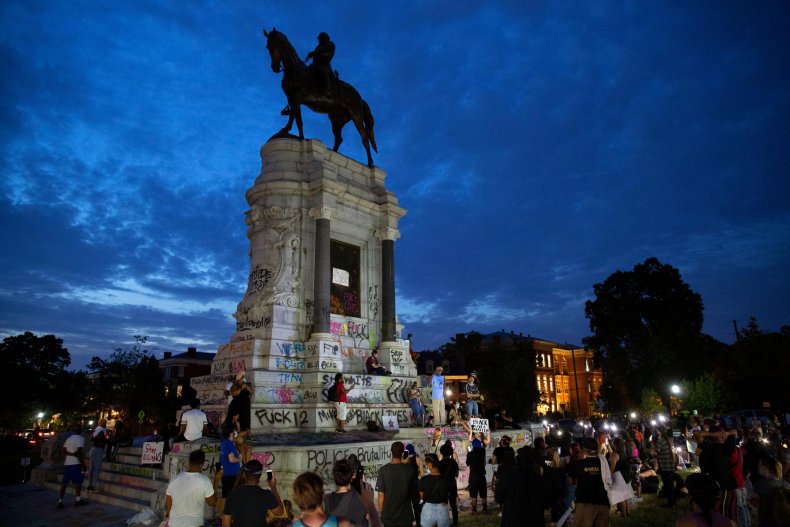 "Think about the message this sends to people coming from around the world to visit the capital city of one of the largest states in the country. Or to young children. What do you say when a six-year-old African American little girl looks you in the eye, and says: What does this big statue mean? Why is it here?
"When a young child looks up and sees something that big and prominent, she knows that it's important. And when it's the biggest thing around, it sends a clear message: This is what we value the most. But that's just not true anymore."
He added: "In Virginia, we no longer preach a false version of history. One that pretends the Civil War was about "state rights" and not the evils of slavery. No one believes that any longer. And in 2020, we can no longer honor a system that was based on the buying and selling of enslaved people."
Last week, Richmond Mayor Levar Stoney announced plans to seek the removal of other Confederate monuments along Monument Avenue which sit on city land, unlike the Lee statue.