Statue of Jewish Writer in Ukraine Capital Vandalized With Red Swastikas
Unidentified vandals defaced a statue of Yiddish author and playwright Solomon Rabinovich, commonly known by his pen name, Sholem Aleichem, in Kyiv, Ukraine.
The news about red swastikas painted on the monument broke on Monday morning when several officials spoke out against the act, including Moshe Reuven Azman, the chief rabbi of Ukraine, who posted photos of the statue on Facebook. Officials called for an investigation to bring the perpetrators to justice, and Joel Lion, Israel's ambassador to the Ukraine, said the country should adopt the International Holocaust Remembrance Alliance's (IHRA) definition of anti-Semitism.
"Another Antisemitic act in the center ofKyiv on the statue of the Jewish writer Sholom Aleichem. Ukraine has to wake up. Find the responsible and bring them to justice. Educate against hatred," Lion posted on Twitter.
In May, Georgii Logvynskyi, a Ukrainian parliament member, told The Jerusalem Post that legislation to formally adopt the IHRA's definition was approved by the Committee on Legal Affairs and Human Rights. Adopting the legislation would require a vote that has yet to happen, but Logvynskyi said he hoped one would take place by October.
"The IHRA definition will give judges the ability to say whether something is anti-Semitism or not. Without this definition, it is quite difficult to prosecute such crimes," Boris Lozhkin, president of the Jewish Confederation of Ukraine, told The Jerusalem Post in May.
Minister of Foreign Affairs for Ukraine Vadym Prystaiko tweeted on Monday morning that the anti-Semitic act on the monument was "disgusting" and "appalling." He added that a prompt investigation and justice was required.
Kyiv's police department said in a statement that police questioned the person who reported the vandalism and inspected the surrounding area. Police also took security footage, and an investigation was being conducted to identify and apprehend anyone involved.
In 2015, Ukraine passed a law making it illegal to disseminate, use or produce Nazi symbols, and violating the law could mean imprisonment for up to five years.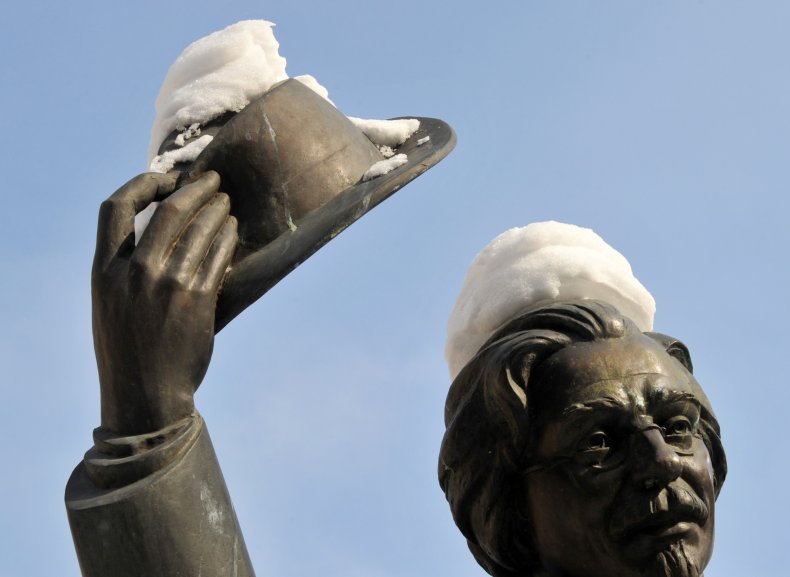 Aleichem was born in Ukraine in 1859 and is most prominently known for his stories about Tevye the Dairyman. The character is the central figure in Fiddler on the Roof, the popular musical that portrays a poor Jewish milkman in tsarist Russia who tries to balance change and tradition in his family, which includes five daughters. In 1997, officials opened a monument dedicated to the writer, who lived in Kyiv for more than a decade, in conjunction with a museum.
Ukraine elected its first Jewish president, Volodymyr Zelenskiy, in May, but vandalism and threats against Jewish leaders in the country have raised concerns about anti-Semitism. In September, multiple Holocaust memorials were vandalized, according to the Post, and a poll by the Anti-Defamation League found an increase this year in anti-Semitic attitudes in the country.