'Statues of Jesus Are Next': Matt Schlapp Decries Monument Removals
Chairman of the American Conservative Union Matt Schlapp has denounced the removal of Confederate monuments, claiming that "statues of Jesus are next."
A number of monuments honoring Confederate leaders have recently been defaced and torn down by Black Lives Matter protesters, including those in Virginia, North Carolina, California, Oregon and Alabama.
"Statues of Jesus are next. It won't end. Pray for the USA," Schlapp tweeted.
On Saturday, as a result of a series of protests across the U.S., North Carolina Gov. Roy Cooper officially ordered the removal of all Confederate monuments on Capitol grounds. "Monuments to white supremacy don't belong in places of allegiance and it's past time that these painful memorials be moved in a legal, safe way," said Cooper in an official statement.
"I am concerned about the dangerous efforts to pull down and carry off large, heavy statues and the strong potential for violent clashes at the site," read the statement.
Amid protests, Birmingham, Alabama, Mayor Randall Woodfin asked people to stop their attempts to demolish the century-old 52-foot-tall Confederate Sailors and Soldiers Monument in Linn Park for safety reasons, and said he would finish the job himself. "Allow me to finish the job for you," the mayor said to a crowd of protesters via megaphone at the end of May. "I wanted you to hear it directly from me. But I need you to stand down."
The vandalized statue was later removed by city officials, prompting the Alabama attorney general to bring legal action against the mayor for dismantling the monument. The mayor's orders were in breach of the memorial preservation law, passed in 2017, and those breaking the law could face a one-time $25,000 fine.
Recent anti-racism mass protests were sparked by the death of George Floyd, a 46-year-old African American, on May 25. Floyd died after a white police officer kneeled on his neck for eight minutes and 46 seconds while arresting him on suspicion of using a counterfeit $20 bill.
Statues around the world have been targeted by protesters in solidarity with the Black Lives Matter movement, including effigies of men who profited from the Atlantic slave trade. A statue of Christopher Columbus was torn down in Richmond, Virginia, and an effigy of slave trader Edward Colston was taken down in Bristol, England.
Following the removal of the Colston statue, the British Prime Minister Boris Johnson said to remove statues is to "to lie about our history."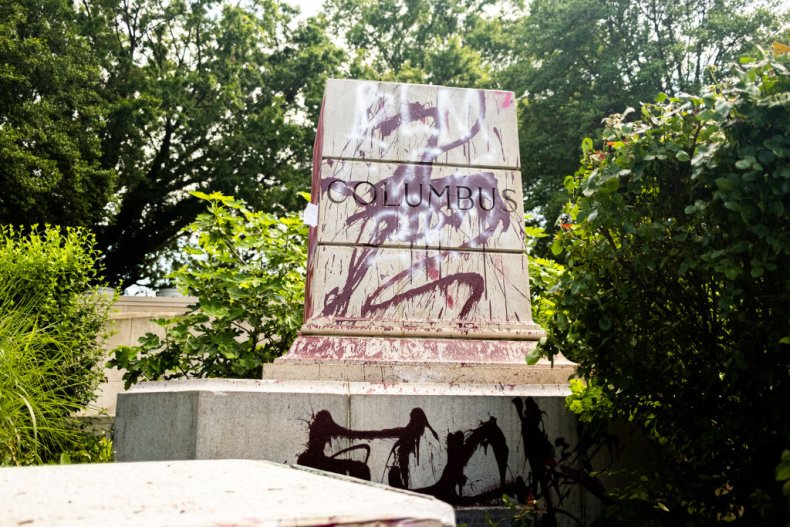 Meanwhile, in New Zealand, authorities took a proactive approach in the city of Hamilton and removed a bronze figure of Captain John Hamilton—a British naval captain who commanded a colonial regiment in the fight against indigenous Māori people in the 1860s—before it could be vandalized or torn down by protesters.
The Māori party's co-leader Debbie Ngarewa-Packer has called for an inquiry to identify and remove other monuments and place names that symbolize racism and oppression.
"It may not appear racist to some, but to those who it affects and to those whose history was most impacted, it does. It just simply does, and it's wrong and we should be part of that solution," Ngarewa-Packer said.
"We're not saying first of all that they should all be pulled down. What we're saying is that there are some that no longer fit who we should be as a nation."