Statues of Snowden, Assange and Manning Erected in Berlin's Alexanderplatz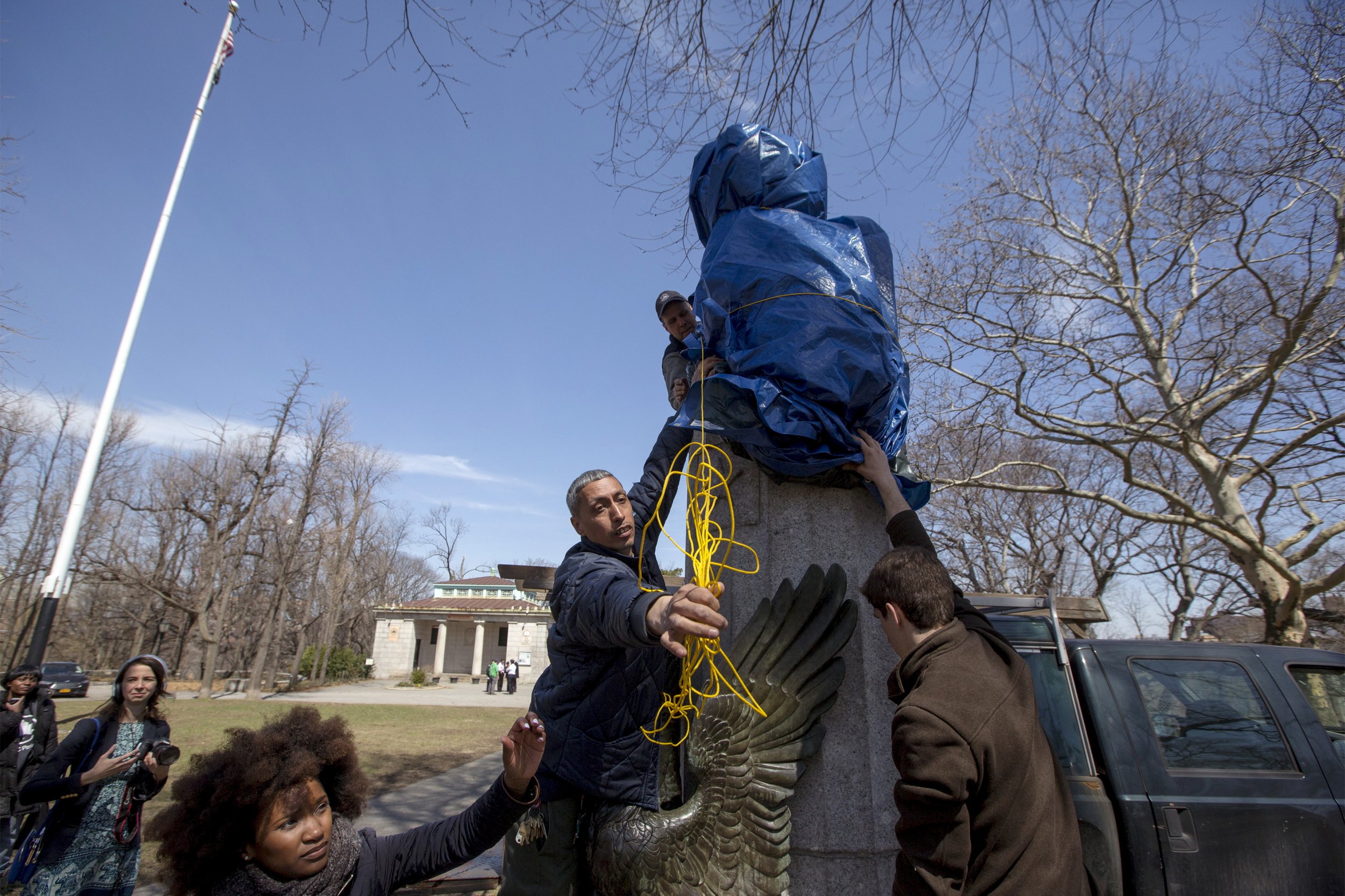 Statues are typically erected to honor figures whose contributions to humanity--whether that be in the arts, the sciences, politics or human rights--are monumental in public memory and widely agreed upon as highly worthy. But efforts to raise statues honoring people whose reputations are murky in our public consciousness, such as government whistleblowers, have prompted controversy and raise questions about the subjectivity of these commemorations.
Over the weekend, a group of activists, artists and members of Germany's Green Party erected three statues of headline-making whistleblowers—Edward Snowden, Wikileaks founder Julian Assange and former U.S. soldier Chelsea Manning—in Berlin's Alexanderplatz Square. Davide Dormino, an Italian sculptor, created the likenesses of the government whistleblowers as part of a project titled "Anything to Say?"
Each figure is standing near a chair, and there's also one empty chair that, during May Day celebrations on Friday, Dormino encouraged people to stand next to and speak out, reports Euro News. The sculptor told the local paper Deutsche Welle: "It doesn't matter what you say. You can say whatever you want, anything you want. Children are even standing up here."
The three whistleblowers, who leaked U.S. military documents and security information, are regarded as heroic by many in Germany, and the statues received a positive response there—but they will likely draw criticism in other areas during a scheduled world tour, reports The Local.
This isn't the first time efforts have been made to honor whistleblowers. In April, a guerrilla team raised a 100-pound statue of Snowden in Fort Greene, Brooklyn, overnight. It was taken down quickly by the Parks Department, but a troupe of industrious folks returned to put up a hologram projection in the statue's stead, reports NPR.
Snowden is currently seeking asylum in Russia, and faces extradition to the United States for releasing to journalists Glenn Greenwald and Laura Poitras critical NSA documents detailing the scope of the United States government's surveillance program. Assange is situated at the Embassy of Ecuador in London, as he evades extradition to Sweden under a sexual assault investigation. Manning is serving 35 years in prison for leaking military documents about United States intelligence operations to Wikileaks. She recently started tweeting from prison.