'Stay the Hell Out': Georgia Official Warns Marjorie Taylor Greene as Election Probe Begins
Fulton County Commission Chairman Robb Pitts has warned Georgia Representative Marjorie Taylor Greene to "stay the hell out" after the state's election board unanimously approved a bipartisan panel to review the county's election operations.
As debate over voting rights heat up across the country, a controversial new law in Georgia has forced the state's Election Board, which currently has a 3-1 GOP majority, to set up a three-person review panel to probe local election performance and processes, starting in Fulton County—which is largely Democratic and the state's most populous county
"It's all about the big lie and preparing voters for the 2022 elections," Pitts told CNN Saturday. "If they can continue to sow doubt, any doubt, in the minds of voters, they think that's going to be to their advantage in 2022, and also in 2024, when it's expected that former President Donald Trump will try to make a return."
Greene counted in a statement to Newsweek.
"Fulton County has been corrupt for decades, and everyone knows it," Greene said. "Failed leaders like Robb Pitts shouldn't point their fingers at others when everyone knows Democrats, like Stacey Abrams and her hired henchmen, stole the election in Fulton county."
"It's even on video, cheaters scanning multiple stacks of ballots over and over, and so much more. I'll happily visit Fulton country anytime I like and bring my friend Matt Gaetz with me," she added. "I look forward to Republicans winning in 2022 and President Trump winning in 2024."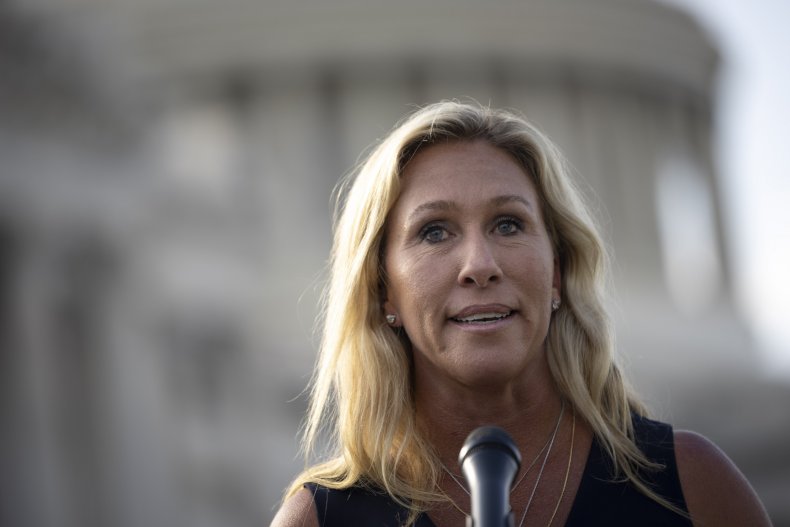 Pitt defended Fulton County's handling of the 2020 election and expressed confidence that the panel will not find evidence of "any orchestrated effort to defraud the people and the voters."
"As of this morning, no one has come forward with any credible evidence and I've been involved in a lot of elections," he said. "We know that our elections were open, they were fair and they were transparent."
State, local and federal officials from both sides of the political aisle have repeatedly said that there was no evidence of widespread voter fraud in the 2020 election in any state.
Pitt slammed the review as "partisan politics at its worst," telling CNN he has warned Greene and Florida Representative Matt Gaetz, who are both closely aligned with Trump, to stay away from the county's election review process.
"They're sticking their noses in the Fulton County business. They have nothing to do with Fulton County and I told them to 'stay the hell out of Fulton County, you have nothing to do with us,'" he said.
Georgia lawmakers are able to request a performance review of local elections under SC 202, the state's new election legislation. Republicans did so in July.
If the panel discovers wrongdoing, the election board would be able to install a temporary administrator to take charge of the county's elections.
Local and state Democrats have condemned the process, calling it a partisan tactic to limit their power and discourage their voters in one of the most diverse counties in the state, which includes most of Atlanta.
Update (8/23/2021, 5:45 p.m.): This article has been updated to include comment from Greene.