The contrast still shocks me. There is my wife's beaming face at age seven, a happy second grader named Michele with bright eyes and flowing hair. On the page next to her is a list of options for "When I Grow Up I Want to Be."
For boys, the options are "Fireman, Policeman, Cowboy, Astronaut, Soldier, Baseball Player." For girls like my future wife, the options are "Mother, Nurse, School Teacher, Airline Hostess, Model, Secretary."
Michele and I discovered this long-lost document from the 1970s while cleaning out some of her belongings from her childhood home. Her elderly father still lives there, but we have gently begun the process of tidying parts of the house in case a move is needed in the future.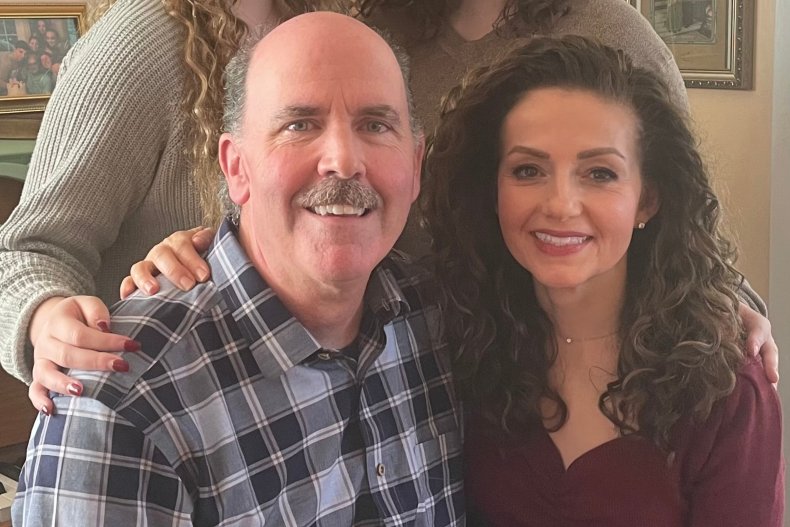 The "School Days" booklet is from her elementary school years and those are the desirable adult identities listed for boys and girls through eighth grade. Talk about language shaping reality.
Back then, we grew up in middle-class suburbia with stay-at-home mothers and working fathers. For our parents' generation, those "School Days" choices made sense, for the most part.
"Mother" actually meant "stay-at-home mother" in many ways, or at least "mother who does not work full-time, of course." And even if "Father" had appeared in the boys' list of desirable adult identities, the subtext would have read "working father," no doubt.
Fortunately, Michele and I paid no attention to those labels, thanks in part to all the opportunities the feminist movement helped provide during our lives.
Michele eventually became a physician, and I ultimately became a stay-at-home father (after earning a Ph.D. and working as a college professor for a few years).
My wife had the additional challenge of growing up in a house of fixed gender roles. Her father worked very hard as the breadwinner, but his conventional mindset toward his three daughters was limited sometimes.
For example, when Michele wanted to help with projects around the house, her flabbergasted father would occasionally bellow: "There are some things little girls can't do!"
Little does he know that his crazed mantra has been lovingly parodied in his children's (and grandchildren's) houses for decades. (I like to say it when Michele gets frustrated with our complicated remote control. She doesn't always find the phrase as funny as I do.)
As telling as the "Mother" adult option is on the "School Days" pamphlet, perhaps equally damaging is the omission of "Father" for little boys. Like that pamphlet, my 1970s brain certainly did not envision my becoming a father as "what I wanted to be when I grew up."
No, the message was more like: "There are some things little boys can't do for their own sake, and one of them is fatherhood."
Thus, I take extra pride in having served as a different model of masculinity and fatherhood for my two daughters (and their male and female peers) as they grew up.
In fact, back in high school, I was voted "Most Likely to Succeed", and at that time stay-at-home father would not have fit the bill. But feminism has helped redefine what success can mean for both women and men.
I didn't realize it would entail helping my professional wife achieve conventional "success" and model financial independence while also being a great mother.
Granted, my ability to choose to become a stay-at-home parent was a luxury, albeit one that required sacrifice. Ideally, the stay-at-home option will remain an economic and gender-neutral possibility for all future parents, however they might define success.
The "School Days" moment provided a rest stop for my wife and me, a chance to pause, reflect, and appreciate our little contribution to the improvement of the world, especially for women.
The work of feminism, however, for both men and women is far from over. And this is not an endorsement of the status quo. But that pamphlet page displays how far we've come from the 1970s.
Today, those limited options for boys and girls are unthinkable. On the other hand, it makes one wonder: 50 years from now, what messages that children are receiving from our current culture will be seen as ridiculously limiting? What boxes might we still be putting today's kids into? And how might those boxes be shaping their reality?
While nearing the completion of a parenting essay years ago, I was sitting at my computer and heard my oldest daughter yell from a distant room: "Dad, the cycle is complete!"
At the time, my stay-at-home-fatherhood-obsessed mind could only generate large follow-up questions: Does she mean the historical cycle that would end with all fathers more involved with childcare? Or perhaps the one by which all mothers would find more balance in their lives after years of struggling with the demands of both breadwinning and caretaking? Or maybe the one in which employment policies would become sufficiently family-friendly to provide all parents with an array of quality childcare choices?
Turns out it was none of these cycles. She had simply heard the beep signaling the end of the laundry cycle.
But I continue asking myself these questions, and the answer to each is: "No, the cycle is not complete, but progress continues to be made. And each time it is, we should take a moment to savor it."
Vincent O'Keefe is a writer and former stay-at-home father with a Ph.D. in American literature. His writing has appeared at The New York Times, The Washington Post, Time, Parents, Insider, and City Dads, among other venues.
All views expressed in this article are the author's own.
Do you have a unique experience or personal story to share? Email the My Turn team at myturn@newsweek.com.