Prototype of Donald Trump's 'Totally Effective' Steel Slat Border Wall Cut With Saw: Report
President Donald Trump has promoted a steel-slat border wall as a "totally effective" means for addressing what his administration has called a "crisis" at the U.S.-Mexico border.
But NBC News reported on Thursday that a steel-slat prototype built at the direction of the Trump administration could be breached with a saw.
A photo exclusively obtained by the outlet showed that Marine Corps experts were able to cut through the prototype during testing.
An internal Customs and Border Protection report from February 2018 showed that all eight steel and concrete prototypes built under Trump's direction could be breached, according to the NBC News report.
CBP spokesman Ralph DeSio told San Diego television station KPBS, which reported on the government document in September, that the prototypes "were not and cannot be designed to be indestructible."
White House Press Secretary Sarah Huckabee Sanders and CBP did not respond when asked by Newsweek whether Trump was aware that the prototype could be breached.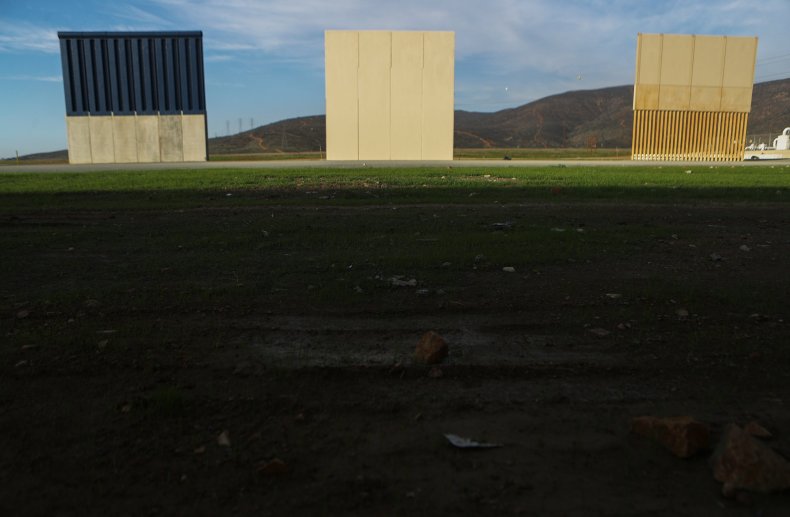 Trump has often focused on border security when promoting the wall. Experts have also noted the backlog in immigration courts, where 400 judges are trying to decide 800,000 cases, according to PBS NewsHour. Most cases are not being considered during the partial government shutdown.
"Our border is not overwhelmed, but our asylum system is," Christopher Wilson, deputy director of the Mexico Institute at the Wilson Center, told Politifact. "The most pressing funding needs are therefore in the asylum system, and possibly in foreign aid for Central America, rather than a border wall."
The president has continued pushing the wall as the government shutdown drags on.
"At the request of Democrats, it will be a steel barrier rather than a concrete wall. This barrier is absolutely critical to border security," Trump said in his prime-time address on Tuesday night. Politifact did not find proof that Democrats had asked the construction be made of steel, and Democratic Congressional leaders have repeatedly stated in negotiations that they will not approve a spending bill that includes funds for a border wall.
The president initially promoted a concrete wall when discussing the construction of a border wall at the southern U.S. border, which he promised during his campaign.
He has also mused about a "digital wall" and a "solar wall," according to Politico.
The president is flying to Texas on Thursday to promote his vision for a wall along the U.S.-Mexico border. He reportedly expressed doubt that the trip to the border will help end the shutdown, which is now in its 20th day.
"It's not going to change a damn thing, but I'm still doing it," Trump said, according to The New York Times.
The president's latest discussions with Democratic leaders unraveled on Wednesday. Senate Minority Leader Chuck Schumer claimed that Trump "slammed the table" and "just walked out" after being told Democrats would not pay for a border wall.
Republican leaders offered a starkly different version of the meeting. House Minority Whip Steve Scalise said that Trump was "very calm" and House Minority Leader Kevin McCarthy said that "what [Schumer] described the meeting to be was totally different than what took place."