Stealth Tanks, Hypersonic Missiles Among Putin's Large Invasion Arsenal
During his 20-plus years as leader, President Vladimir Putin has grown Russia's military into a large force outfitted with the most modern and sophisticated technology available, according to multiple military experts.
In recent years, Russia has introduced into its arsenal hypersonic missiles; "stealth" with unmanned turrets; an underwater nuclear-powered drone; and laser weapons, among other things.
On early Thursday, Putin began an assault Ukraine with missile attacks near the capital city Kyiv, and reports indicate long-range artillery have been fired on Kharkiv. The invasion has since spread across central and eastern Ukraine.
Ukraine has already been hit with some of Putin's new weaponry in the early stages of the attack, and the country may well see even more of Russia's advanced equipment in the coming days.
"This will be something of a test for some of those weapons," Sean Spoonts, editor-in-chief of SOFREP.com, told Newsweek.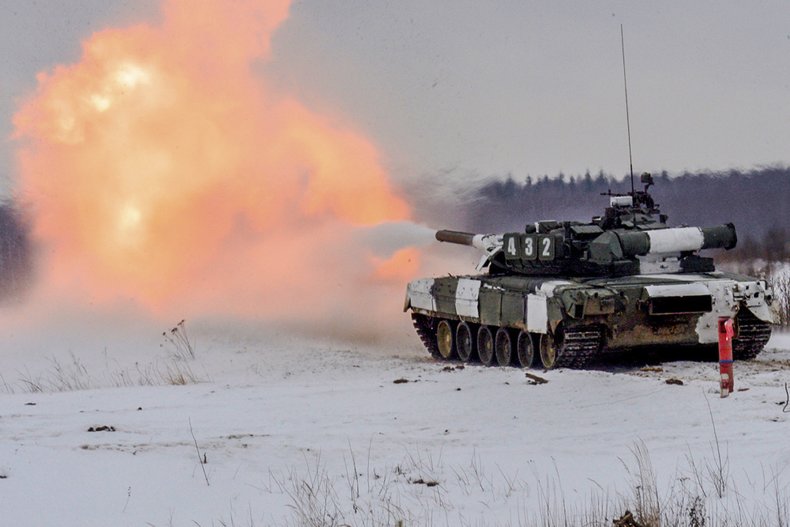 Thus far, the Russian invasion appears to be largely an aerial operation, according to the Special Operations Report at SOFREP.com. However, Spoonts said if Russians gain control of the airports, "then they'll start landing transport planes full of troops."
Spoonts told Newsweek the team at SOFREP believes a photo posted online identifies the tail of an Antonov AN2-26 transport aircraft shot down near Kyiv. This Russian transport aircraft is capable of carrying 40 troops in addition to five crew members.
Russian Mi-8 assault helicopters have also been documented in multiple photographs flying over Ukraine. Spoonts said, "These helicopters are used to carry troops in an air assault role and can also be armed as gunships. These are probably carrying air assault troops to one of the airports around Kyiv that the Russians are attacking."
Aircraft that have been shot down have been shared online, though many claims regarding the pictures have not be independently verified at this point. But some of the pictures that SOFREP said might prove to be genuine is one of a KA-52, also known as the Kamov "Alligator." SOFREP described this attack helicopter as being similar to the U.S. chopper Apache. An unverified photo on Twitter appeared to show the shot-down helicopter carrying rocket pods.
Another photo posted on social media shows what SOFREP believes is a KH-31P Krypton anti-radiation missile. Spoonts said these anti-ship missiles have a 60-mile range and "was probably being used to attack an air search radar installation since it homes in on radar signals being used by the target."
Other photographs reportedly show other types of Russian attack helicopters, as well as the fighter jets SU-25 and Su-24MR, according to Spoonts.
Other weapons highly touted by Russia when they were recently introduced that could soon be used in Ukraine include a sea-based hypersonic missile called "Zircon" and T-14 "Armata" stealth tanks. The latter land vehicle features an unmanned turret and an automatic targeting system. It is also reportedly outfitted with a defense system to detect incoming munitions and can coordinate with air-based drones.
Spoonts noted that Ukraine has also bolstered its own military over recent years with the threat of Russia looming.
"The question is whether they have it in place," Spoonts said. "They've had a lot of time to prepare."