Steam Sale Celebrates Launch of Remote Play Together Feature Allowing Gamers to Play Local Multiplayer Games Online
Steam's new Remote Play Together feature, which allows gamers to play local multiplayer games remotely, is now available. The new feature lets Windows, Linux and macOS users, as well as gamers on iOS and Android devices, play local games together online.
After beta testing, the new Steam feature is now available. One player needs to own the game and their friends can join via Remote Play Together or on mobile with the Steam Chat and Steam Link apps, even if they don't own the game themselves. Developers can choose to opt-in or out of the feature, to allow or prevent their games from becoming available.
Games that natively don't support online play can be played online via Steam, and games that don't natively don't support mobile devices can be played on iOS and Android systems. Steam games can be played on phones, tablets, TVs, or other PCs with Remote Play Together.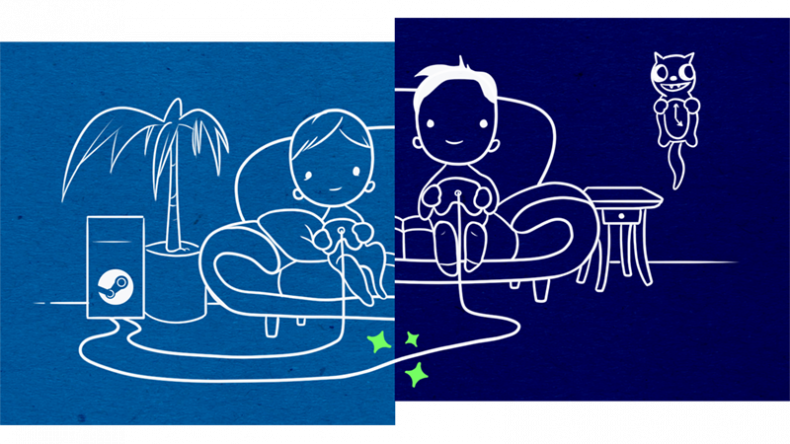 Players can stream video, audio, and voice, with a fast internet connection, and only the game will be displayed, not the host's desktop. Gamers can use their own controllers, or there's the option to allow friends access to the host's keyboard and mouse. The feature will only work on shared-screen or split-screen games, as the feature works by streaming the host's game to the other players.
For the best gaming experience, Stream recommends using 5G WiFi or a wireless ethernet connection. Players can use Bluetooth controllers such as The Steam Controller, or they can use touch controls to play.
Steam aims for all players using a 5 GHz network to game in 1080p at 60 frames per second but said players with a powerful gaming rig, a wired network, and a capable client device can game in 4K at 60 frames per second. Up to four gamers can play together remotely, or more with a fast connection, according to Steam.
To celebrate, Steam has a sale on more than 100 multiplayer games like Cuphead, Spelunky, Lego Marvel Super Heroes 2, and Goat Simulator, with up to 85 percent off and some games selling for around $2. The sale includes AAA and indie titles and will run until 1 p.m. ET on Monday, November 25.
Steam is an online gaming platform where gamers can buy and play video games, as well as chat and stream with other players. It was developed by Valve Corporation which also develops games and gaming hardware, such as controllers and VR technology.