Two Steelworkers Hospitalized Hours After Trump Toured Facility, Touted Tariffs for Bringing Back Jobs
Two steelworkers were hospitalized Thursday, just hours after President Donald Trump visited their manufacturing facility in Illinois.
Emergency medical services were called the the Granite City Works steel plant on Thursday, and two workers were taken to the hospital to be treated for carbon monoxide exposure, according to local news outlet KMOV. Ten other workers were reportedly evaluated on site at the plant but did not require any treatment.
Trump had visited the site just hours before as part of his tour of steel plants in Illinois and Iowa. He touted the plant's reopening as a direct result of his controversial trade tariffs. Since the tariffs were announced, the Illinois-based plant reignited one of its furnaces, which brought back 500 jobs, according to the Belleville News-Democrat. The company promised to bring back an additional 300 jobs by October, when it opens another furnace at the plant.
According to a CBS News report, the crowd was excited to see the president and wore "Make America Great Again" hats.
"If you don't have steel, you don't have a country," Trump said. He intimated that his trade tariffs helped boost the economy and the company, and that steel was coming back to the U.S. On Friday, it was reported that the economy grew at a 4.1 percent annual rate in the second quarter of 2018. It's the best economic showing since 2014.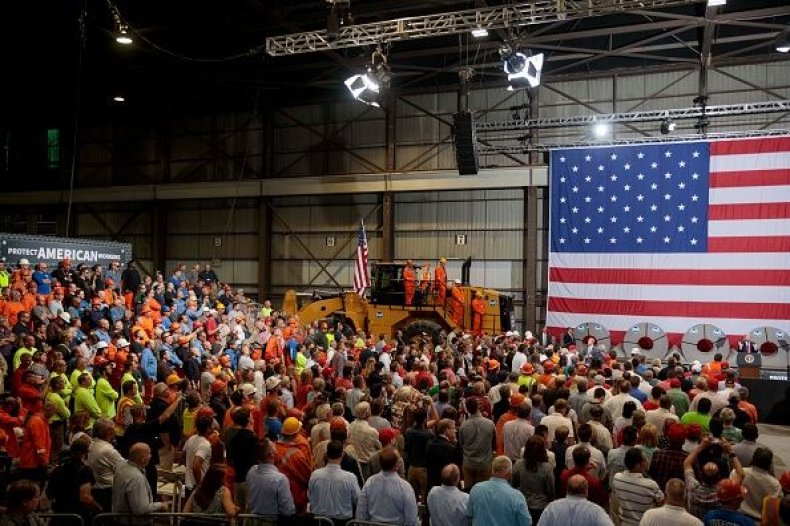 "I look at the faces of you people; I could be one of you," Trump told the crowd.
Earlier this year, Trump made headlines when he imposed a 25 percent tax on U.S. steel and aluminum exports. The tariffs, some of which were aimed at longtime American allies like Canada, Mexico and the European Union, were immediately met with backlash.
Canadian Prime Minister Justin Trudeau slammed the tariffs, saying they signified a "turning point" in the U.S.-Canada relationship. Even American economists and farmers worried that the president's policy would hurt them more than help them.
On Wednesday, Trump and European Commission President Jean-Claude Juncker announced that they would hold off on additional tariffs until further negotiations were made. The two said they were working toward "zero" tariffs.
Trump tweeted about his time at Granite City Works steel plant on Friday morning, writing that he "arrived back in Washington last night from a very emotional reopening of a major U.S. Steel plant in Granite City, Illinois, only to be greeted with the ridiculous news that the highly conflicted Robert Mueller and his gang of 13 Angry Democrats obviously cannot find Collusion..."