Lebanon, a country once stigmatized as the Switzerland of the Middle East, could do with a few political hacks from Bern to show its leaders how to build a non-confessional federal state.
For the moment, though, it has to deal with Saad Hariri's resignation as prime minister on Tuesday, after a tumultuous two weeks of anti-government protests. Thousands of Lebanese took to the streets to call for a radical overhaul of a system that has collapsed under its own weight of warlords who looted the state coffers for decades and don't even know what governance—even poor governance—is, in any shape or form.
The problem is that while many want change, few, if any, can provide any lucid vision of what that might entail. Lebanon has operated for decades under a sectarian system that splits power between a Christian president, a Shiite speaker of parliament and a Sunni prime minister. Although many Lebanese claim they are tired of this system, they are still very much attached to it, despite the protests.
Therefore, the old system will likely stay in place, but a genuine crackdown on corruption will be forced to take root. Protesters need to see an entirely new approach to governance and responsibility of office. This has put a spotlight on key figures, as their resignation is seen to be a swift and clean antidote to decades of embezzlement and greed.
For example, Parliament Speaker Nabih Berri has been in the job since 1992. Even his own supporters are tired of his rapacious embezzlement of state funds and running the south of Lebanon almost like a mafia chief, according to a leaked U.S. cable.
President Michel Aoun has also profited from the corrupt system and is from a different age. The president's background is military, and he is widely hated for running the country like a clueless dictator, taking his lead from Hezbollah and showing vociferous disdain for anything whiffing of democratic reform.
Yet it is the president's son-in-law, Gebran Bassil, who is the most hated man in Lebanon. He is despised by protesters and is seen as a personification of greed and graft. He was made foreign minister by Aoun and is allegedly being groomed by Hezbollah to inherit the presidency. He's also seen as Syrian President Bashar al-Assad's man in Beirut.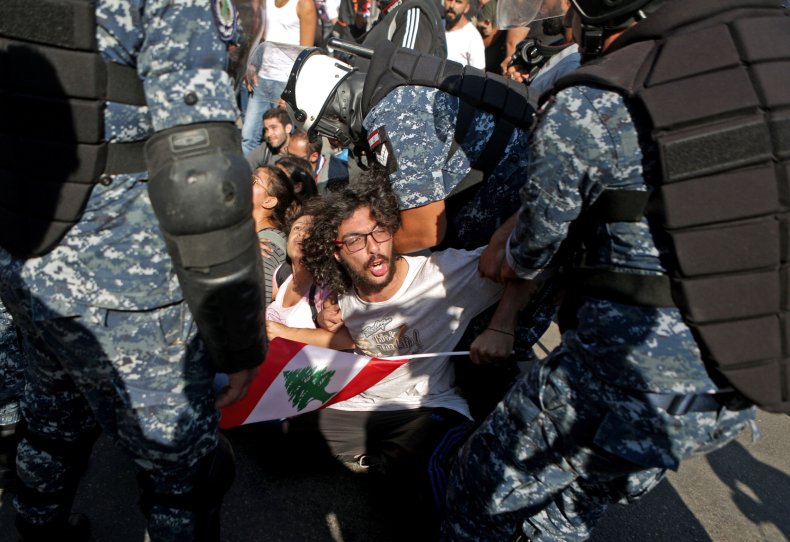 Hariri does appear to recognize the need to oust key figures who are universally loathed for their personal aggrandizement—both financially and politically. Close sources told me that he paid a visit to Hassan Nasrallah, secretary general of Hezbollah, on the day of his resignation, where he demanded that Bassil be removed from his post.
For many Lebanese, even those not interested in confessional politics, this is what is at stake: Aoun's presidency, tainted by journalists and protesters being beaten up and jailed and corruption reaching new levels, has made Lebanon more or less a tin-pot dictatorship, complete with succession of heirs, no power nor water, a garbage crisis, a local currency losing its value and a new level of lawlessness taking root.
A quick and decisive way to quell their anger would be to do some culling. There simply isn't time left to experiment further with the Hezbollah-Aoun ruse. Heads need to roll.
Martin Jay is an award-winning British journalist previously based in Beirut, Lebanon. His career has included working for CNN, Euronews, The Sunday Times, BBC, DW, TRT, RT, Al Jazeera and Reuters. He currently lives in Morocco, where he is a correspondent for the Daily Mail. He can be followed on @MartinRJay.
The views expressed in this article are the writer's own.