Steph Curry Defends Andre Iguodala Amid Dispute With Memphis Grizzlies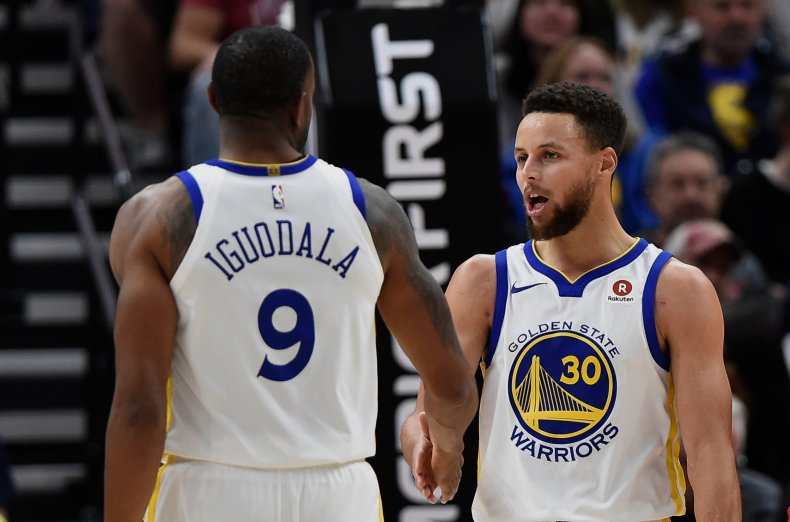 On Monday night, Golden State Warriors star Steph Curry came to the defense of former teammate Andre Iguodala following criticism from the Memphis Grizzlies.
Curry posted a picture to his Instagram story of Iguodala where he is holding up the NBA finals trophy from 2018 with a whispering emoji. A screenshot of Curry's story was posted on Twitter by Warriors' beat writer, Wes Goldberg.
Curry's post of Iguodala comes after a few Grizzlies players criticized Iguodala for choosing to sit out the remainder of the season if he is not traded before the February 6 NBA trade deadline, which was reported by The Athletic's David Aldridge. "Iguodala and Memphis mutually agreed that he would not report to the Grizzlies while the team tried to find a trade partner," Aldridge wrote on his Twitter.
Iguodala was traded by the Warriors to the Grizzlies during this past offseason, but he has yet to play a game for them and has consistently made it clear that he wants to be traded. The criticism from the Grizzlies players came after their win last night against the Detroit Pistons, with players saying the hope they can trade Iguodala so they can beat him.
"First time I've seen him was on TV, talking about us. It doesn't matter, Andre Iguodala is a great player, I feel like he is doing the right thing for his career," Grizzlies guard Dillon Brooks said to reporters after their win. "We don't really care. It's not a distraction at all. I laugh at that type of stuff. A guy that's on our team that doesn't want to be on our team. I can't wait until we find a way to trade him so we can play him and show him what Memphis really is about."
Grizzlies star rookie Ja Morant also chimed in on the criticism of Iguodala by responding to Brook's quote with an emoji telling him to speak up.
In addition, Morant also responded to the screenshot of Curry's Instagram story with a picture of former Warrior Kevin Durant, holding up the NBA finals MVP trophy in 2018 with a whispering emoji.
While Iguodala may be receiving backlash from the Grizzlies younger players like Morant and Brooks, he is receiving support from the leagues veteran players like Curry and current Los Angeles Laker Jared Dudley, who responded to a tweet saying that Iguodala should be "getting shredded" for his refusal to play.
"This shows you his reputation," Dudley wrote on his Twitter. "he's been a constant pro, selfless, great teammate.… So at the end of your career yes you do get a pass cuz [sic] he did it in a professional way. The GM [general manager], Agent and player communicated what's best for both parties, and agreed. Happens more than you know."
If Iguodala is not traded before the February 6 deadline, he will sit out for the remainder of the season and will become an unrestricted free agent on June 30, allowing him to sign with any team he wants.
Despite the criticism from the Grizzlies, they have been shocking many with their recent performances. At the start of the season, they were not expected to make the playoffs, but their young core of Morant, Brooks, Jaren Jackson Jr. and veteran center Jonas Valanciunas has helped them move into eighth place in the Western Conference with a 25–25 record. They are set to face the Dallas Mavericks in their next game on Wednesday, February 5.