Stephen Curry has defended Serena Williams's controversial tirade during the U.S. Open final, claiming she acted with "grace and class."
Williams was given three code violations during her straight-sets loss to Naomi Osaka on September 9 and called umpire Carlos Ramos a "thief."
The 23-time Grand Slam winner was first given a penalty for on-court coaching, which is prohibited under the rules of the Women's Tennis Association. As frustration grew, Williams smashed her racket on court, which cost her a point. She then branded Ramos a thief, which cost her the game.
Williams's meltdown overshadowed Naomi Osaka's 6-2, 6-4 win, which saw the 20-year-old claim her maiden Grand Slam title, and divided opinions.
Women's Tennis Association chief executive Steve Simon backed Williams, suggesting Ramos would have been more lenient towards the 23-time Grand Slam winner had she been a man.
Billie Jean King, who won 12 Grand Slam titles and helped set up the WTA also praised Williams for calling out the "double standard" in the way reactions from male and female athletes are perceived.
Curry is the latest high profile figure to come out in support of the six-time U.S. Open winner.
"I would say a championship match in terms of high-level talent on the court between those two ladies […] obviously Naomi deserved to win and she played amazing," the Warriors point guard told Omnisport.
"The way Serena handled the situation, I think she handled it with such grace and class. At the end of the day, I hope everybody understands and celebrates Naomi because she's the U.S. Open champion and that's pretty dope."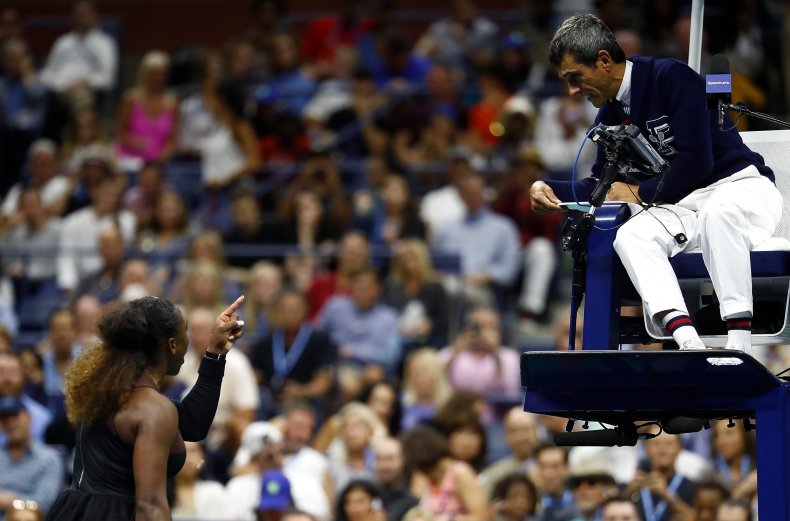 While incredibly competitive, the three-time NBA champion is certainly not associated with an explosive temperament, but admitted he sympathized with athletes who struggled to keep a lid on their emotions.
"It's tough but with experience you understand how you can control your emotions and how you can stay focused on what the task at hand is and that's just winning basketball games and not letting anything get in the way of that. You're going to have reactions. That's what sport is all about," said Curry.
Meanwhile, Ramos has since defended his decision to hand out three code violations to Williams.
"I am good, under the circumstances," he was quoted as saying by Portuguese newspaper Tribuna Expresso. "It's an unhappy situation but a-la-carte refereeing doesn't exist. Don't you worry about me!"
The 47-year-old umpire will be back in the chair at the end of this week to officiate the semi-final of the Davis Cup between Croatia and the U.S. in Zadar, Croatia.
Uncommon Knowledge
Newsweek is committed to challenging conventional wisdom and finding connections in the search for common ground.
Newsweek is committed to challenging conventional wisdom and finding connections in the search for common ground.
About the writer
Dan Cancian is currently a reporter for Newsweek based in London, England. Prior to joining Newsweek in January 2018, he was a news and business reporter at International Business Times UK. Dan has also written for The Guardian and The Observer.