Stephane Charbonnie Was on Al-Qaeda 'Hit List' Circulated on Social Media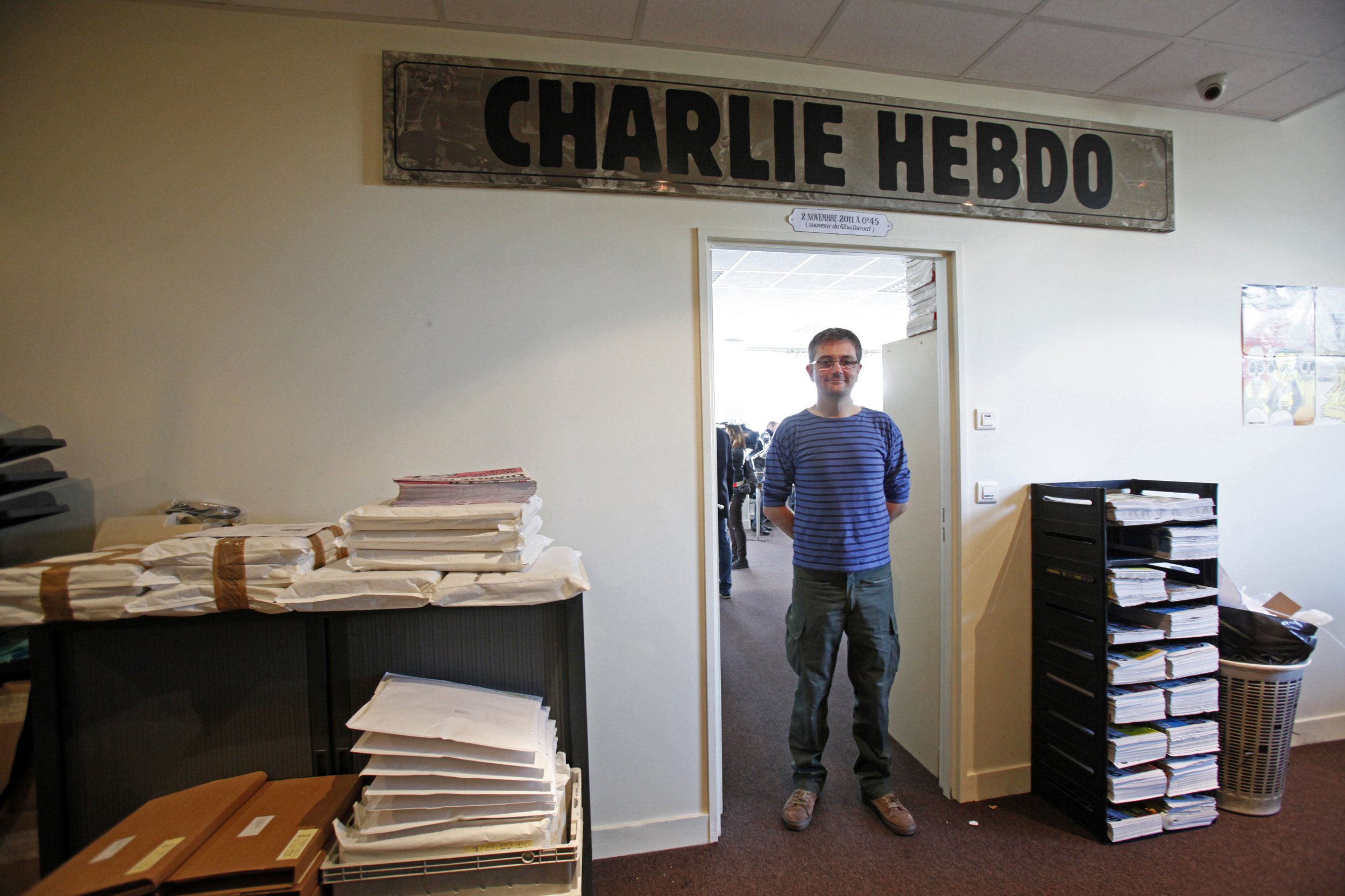 Stephane Charbonnier, the editor of the satirical Charlie Hebdo magazine who was killed yesterday during a terrorist attack on the magazine's offices in Paris, had appeared on a 'hit-list', published in an al-Qaeda magazine in 2013. Within hours of the attack, in which 12 people were killed, the list reappeared on Twitter, with a red cross over Charbonnier's face.
The list was originally published in a 2013 edition of al-Qaeda's main English-speaking magazine Inspire, with the heading "Wanted, dead or alive for crimes against Islam".
The latest version, which resurfaced on Wednesday, was shared mostly by Twitter accounts associated with al-Qaeda propaganda. The list is comprised of 11 names which appear alongside headshots and includes diverse figures such as the author Salman Rushdie, the anti-Islam pastor Terry Jones and cartoonist Molly Norris who went into hiding after a fatwa was declared against her in 2010, following her infamous 'Everybody Draw Mohammed Day' cartoon.
Also on the list is Geert Wilders, the controversial far-right Dutch politician and leader of the Party for Freedom, who in was banned from entering the UK in 2009 after being labelled an "undesirable person". In 2008 Wilders made a short film called Fitna in which Quranic verses are shown alongside images of terrorist attacks, and in 2012 he published a book called Marked for Death: Islam's War Against the West and Me.
Wilders - who has described the Quran as "fascist", and compared it to Hitler's Mein Kampf - told Newsweek: "I have received death threats from al-Qaeda, the Pakistani Taliban, from Syrian jihadis and others because I am critical about Islam. For that reason I have been under police protection for more than ten years now."
He continued: "I am not saying that all Muslims are violent of course, but their ideology is threatening our freedom. Of course being on hit lists from al-Qaeda, the Taliban and others frighten me but I will never let them silence me."
Rushdie, who had a fatwa imposed on him after the publication of his 1989 book The Satanic Verses, which many Muslims said was blasphemous and mocked their faith, released a statement following the attacks in Paris yesterday saying: "Religion, a medieval form of unreason, when combined with modern weaponry, becomes a real threat to our freedoms."
"This religious totalitarianism has caused a deadly mutation in the heart of Islam and we see the tragic consequences in Paris today. I stand with Charlie Hebdo, as we all must, to defend the art of satire, which has always been a force for liberty and against tyranny, dishonesty and stupidity."
Terry Jones, a pastor and president of an anti-Islam political group Stand Up America Now, is also on the list. Jones has written a book entitled Islam Is the Devil and made headlines after threatening to burn the Qu'ran following the 9/11 attacks. In 2011 he held a mock trial for the Qu'ran and set a copy on fire. The act resulted in riots in Afghanistan in which several people died.
In response to the resurgence of the hit-list, Jones said: "We are concerned, but we are not fearful and we are definitely not hiding. The attack yesterday goes against the foundation of Western freedom and thinking and we will continue to speak out against such extremism.
"Following the first publication of the list I have always been armed. But looking at the incident yesterday it looks like a real professional hit. So I think an individual like myself would not have a chance if they tried to do that. However, we have contacted the FBI and local authorities today asking for extra security."
Also on the list is the Danish cartoonist Kurt Westergaard, who drew the controversial image of the prophet Muhammad wearing a bomb in his turban for the Danish newspaper Jyllands-Posten in 2005.
Speaking to the Sydney Morning Herald following the attacks, Westergaard said that he hoped the media world would not be frightened.
"It's very important not to be afraid but you have got to stand on these very valuable democratic principles on which our societies here in western Europe are based, so I hope we will not give in. You must not surrender the very important freedom of speech," he said.
Police are continuing to search for the gunmen, thought to be two brothers named Said Kouachi and Cherif Kouachi, both French nationals in their early 30s.