Stephane Hessel's 'Indignez-Vous!' Inspires Protesters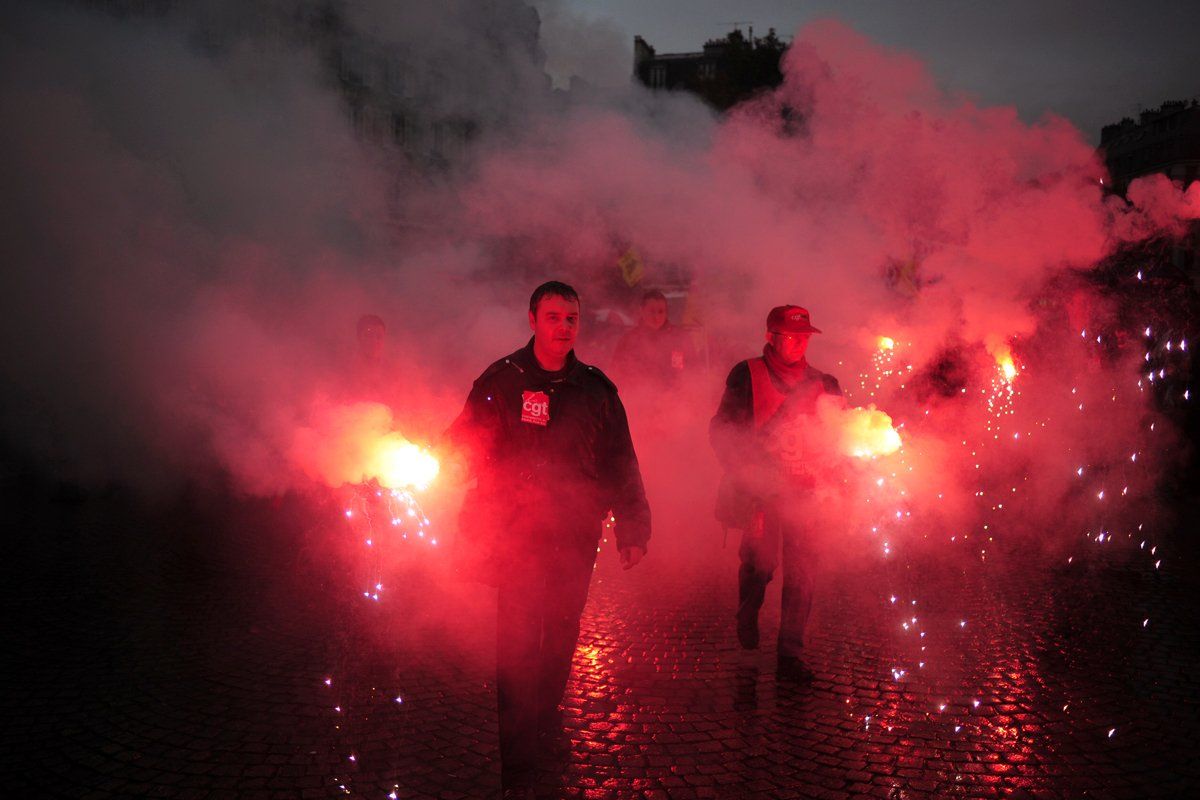 Stéphane Hessel, 93, is what the French call a grand monsieur, the sort whose past heroics still get a collective tip of the hat. On a late August afternoon, the German-born hero of the French Resistance greets a reporter on the stoop of a white-brick row house in Trouville, his summer home on the Normandy coast. He has lived a life that rivals the best fiction. He could fade into contented retreat. Instead, he just wants to make you angry. Yes, you.
At turns grave and bright-eyed, with an infectious, almost boyish grin, Hessel has become a surprise global publishing phenomenon in his 94th year. His pamphlet-length book, Indignez-Vous! ("Time for Outrage"), has sold more than 3.5 million copies worldwide. It calls on young people to revive "the heritage and ideals of the Resistance," to find something that inspires the sort of indignation that fired him, and to protest. "A minority is all we need, like yeast to the dough," he writes. The manifesto champions outrage, "an essential human quality," but also duty. It gets at social welfare, finance, and media. He is, controversially, "most outraged by the situation in Palestine." The book has indeed made people angry. But not always for the reasons the author would like.
Released quietly last October in France, amid strikes against pension reform, the 32-page booklet had a first run of only 8,000 copies. Its publisher priced it at €3. By Christmas, it was far outpacing the next bestseller in France, by superstar Michel Houellebecq, and on its way to 2 million copies sold.
In Europe, the booklet has been translated into every major language, and some minor ones (even Esperanto), and inspired powerful grassroots movements. Anti-austerity demonstrators in Athens, the Aganaktismenoi, borrow their name from the Greek edition. Spain's Indignados, who occupied Madrid's Puerta del Sol to protest record unemployment, are another nod: ¡Indignaos! has sold half a million copies in Spain. Add another half million in Germany, 150,000 in Italy, and translations stocked from Argentina to South Korea. It came out on Sept. 20 in the United States.
The unlikely bestseller—it quotes Hegel and Sartre—isn't stunning literature. Even Hessel freely says the message isn't terribly original, and the book doesn't have all the answers. "It does no more than a little book can do. But it encourages people to mobilize."
Hessel's life story gives the book a boost. Born in Berlin in 1917, his family moved to Paris when he was 7. His father was a writer with Polish-Jewish roots; his mother, a painter and journalist. Their friends were the crème of bohemian Paris of the 1920s. Picasso, Le Corbusier, and Man Ray were among visitors to the Hessels' apartment near Montparnasse. Marcel Duchamp taught the 14-year-old Hessel to play chess. His parents were two thirds of the ménage à trois in Jules et Jim, the semiautobiographical novel by their art-dealer confidant Henri-Pierre Roché that became film director François Truffaut's New Wave classic.
In 1941, Hessel fled collaborationist France to join Charles de Gaulle's Free French Forces in London. Assigned to intelligence, he sneaked back to France in 1944 to organize Resistance networks ahead of D-Day. Arrested and waterboarded by the Gestapo in Paris, he found he could unsettle his torturers with his native German. As a political prisoner at Buchenwald, he faced hanging but swapped identities with a Frenchman who had died of typhus. (He has his own SS-stamped death certificate, dated Oct. 20, 1944, his 27th birthday.) He would escape horrific camps again, twice. After the war, Hessel began a distinguished diplomatic career, posted first to the fledgling United Nations, where he helped draft the Universal Declaration of Human Rights under Eleanor Roosevelt.
But his record hasn't given the book a pass with critics. When a man who fought Hitler writes about "the tyranny of the world financial markets that threaten peace and democracy," some see a timely raised fist to greedy bankers; others bristle at the darker parallel. When Hessel defends the post–World War II welfare state, asking, "How can we lack the funds to maintain these programs when our nations enjoy greater wealth than at any time since the Libération," some hear a call for social justice; others, macroeconomic naiveté. Some, including France's prime minister, accuse him of promoting idle anger for anger's sake.
But Hessel's not a blank-slate revolutionary. He conjures idealistic precedents, not a hazy future utopia. He calls Franklin D. Roosevelt "the source of his inspiration for all I write, notably this little book." He asks young people to look for the "unbearable things all around us," but he is no nihilist. The big picture is hopeful. "In my long life, I've seen formidable progress: decolonization that changed the world; victory over fascism; the end of Stalinism; the end of apartheid; the construction of Europe to an incredible point compared to when I was a little boy."
Indeed, Hessel calls for outrage within a system, the democracy—even social democracy—he risked it all for. The Indignados' throw-the-bums-out attitude doesn't always jibe. "That is entirely, centrally, my problem," Hessel says. "I sent a message to the Indignados telling them, 'Be careful. You're right to get angry, but we shouldn't go so far as to sweep away democracy.'?"
Hessel has been frustrated, too, by angry Jewish groups. He writes that terrorism is intolerable, but he empathizes with Palestinian bomb throwers and laments, on the recent Gaza war, "that Jews themselves might be perpetrating war crimes is unbearable to me." The U.S. edition is amended to emphasize that he "shouted with joy when Israel was founded." He writes, "To my critics, I repeat: my love for Israel is stronger than yours."
Not your average celebrity author, Hessel has declined royalties—proceeds go to his publisher and causes he cares about. And despite popular uprisings in his name, he won't take credit for much. "But I get satisfaction in seeing that this book came at a moment when it is welcomed as an element of what is happening," he says. Indeed, subscribe or not, a book inspired by Roosevelt and the Resistance by a man with five great-grandchildren has tapped directly into the global zeitgeist. Isn't that outrageous?