White House Press Secretary Stephanie Grisham Holding Zero Briefings but Going on Fox Creates 'Information Crisis': Watchdog
White House press secretary Stephanie Grisham holding zero press briefings while speaking exclusively on Fox News and conservative-leaning networks creates an "information crisis," a progressive watchdog said after tracking her in the four months she's been in the role.
Grisham does not seem to see any issue with her approach to addressing the media.
Hours after the progressive watchdog Media Matters for America released a report on Friday finding Grisham has had no press briefings but seven interviews on Fox News, she appeared again on the network that largely favors President Donald Trump and said, "we're doing just fine."
When America's Newsroom co-host Bill Hemmer asked Grisham when she would hold her first briefing, Grisham replied: "Whenever it's time. I think right now we're doing just fine. The president continues to speak to the American people, he continues to speak to the press. So do I. My press team and I are available 24/7."
Asked again by Hemmer, Grisham said, "There is no plan right now but as with anything in our White House, that could change in five minutes," or even five seconds as Hemmer joked.
Grisham confirmed to Newsweek on Friday: "I have not had any press briefings yet, which I have spoken about several times." She added, "I have appeared on Sinclair and OAN as well," referring to conservative-leaning Sinclair Broadcast Group and One America News network.
Media Matters for America news director John Whitehouse told Newsweek that said Grisham is similar to her predecessor Sarah Sanders in demeanor toward the media, but unlike Sanders, she seemingly "doesn't feel the need" to answer journalists' questions. Sanders would hold press briefings but their frequency dwindled until she departed from the White House.
"Answering the questions from legitimate journalists is an important part of any administration leading this country," he said. "This administration doesn't feel the need to do that. They have completely embraced the right-wing echo chamber and that has severe consequences."
Whitehouse concluded: "It poisons our dialogue and it makes everything on a daily basis feel like we're in an information crisis."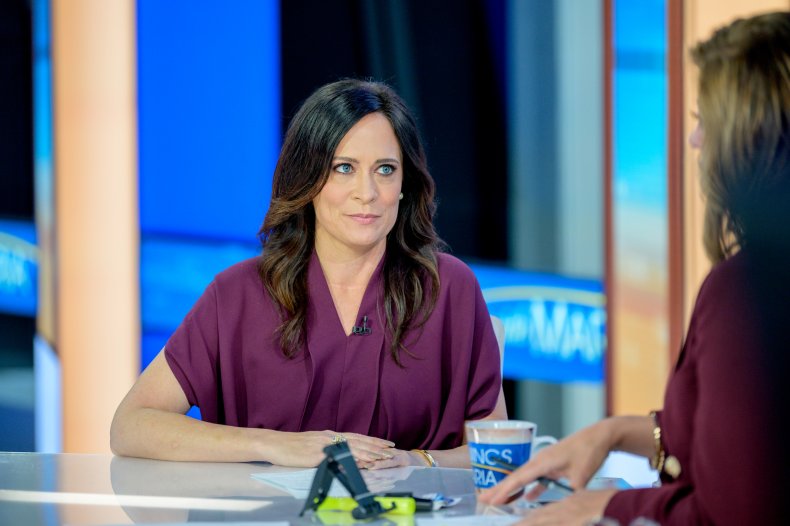 Grisham, who was first lady Melania Trump's spokeswoman and still handles her media inquiries, started serving as White House press secretary on July 1.
The watchdog's report, by researcher Bobby Lewis, pointed out that Grisham gave her first interview to Sinclair and defended herself in one Fox News appearance by saying, "I'm doing TV interviews, I'm doing many, many print interviews.… It seems to be working right now."
"Grisham's particular innovation is to move the entire office of White House press secretary into the world of Fox News and Fox-adjacent media," writes Bobby Lewis, a researcher for the watchdog, in the report.
In her latest interview on Fox News on Friday, Grisham reiterated that Trump does not think he did anything wrong in contacting Ukraine's president to investigate 2020 Democratic front-runner Joe Biden, and that the White House is prepared for House Democrats to continue an impeachment inquiry on Trump.