Stephanie Grisham: Ivanka and Jared 'Inappropriately' Thought They Were The Royal Family
Former White House Press Secretary Stephanie Grisham lambasted Ivanka Trump and Jared Kushner for getting "heady with power" and acting as if they were the royal family when traveling abroad.
"When we went to the state dinner with the Queen, [Ivanka and Jared] thought that they should be involved in every single thing that the president and first lady we doing and it was really inappropriate," Grisham told CNN's New Day on Tuesday.
"Our last foreign trip to India, it was the same thing," she continued. "They were negotiating what stops we would make and they were involved in tours that [Indian Prime Minister Narendra] Modi was giving the former president and first lady... They were always right there and it was really inappropriate."
In Grisham's latest tell-all book I'll Take Your Questions Now, the former White House official said the couple believed they were the royal family while Trump held office and that she believed the two thought they were a "shadow president and first lady."
Grisham, who also served as former First Lady Melania Trump's chief of staff, said Ivanka and Jared's behavior would make Melania upset "because she is a big rule follower in terms of protocol."
Grisham detailed how she personally blocked the couple from entering the State of the Union dinner alongside Melania, who Grisham wanted to "have her moment and walk in" alone.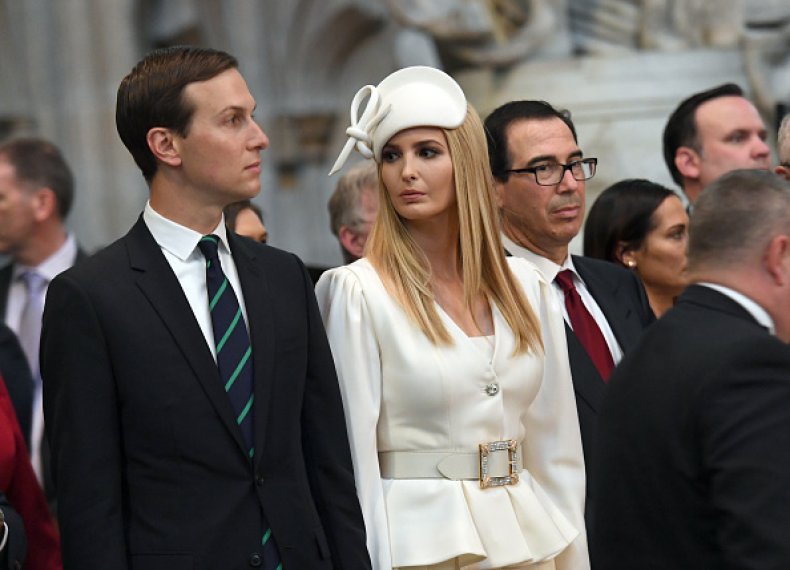 The former press secretary was particularly critical of Trump's son-in-law, who served as a senior adviser to the president, saying that Kushner went unchallenged in the White House.
"Jared Kushner has his own chief of staff. He hired his own staff. He did what he wanted and nobody challenged him," Grisham said.
"You couldn't. This was the president's son-in-law. So he would dive into these areas where I know he had absolutely no expertise and you know, claim to save the day and then he would leave," she added. "There was a running joke in the White House that when things were getting really tough, they suddenly disappeared on vacations."
In her book, Grisham wrote that Kushner "was not an expert on any of those things — shutting down borders, the economic consequences, the health consequences — yet he alone seemed to be deciding the nation's first actions to address one of the most devastating crises in our history."
Grisham said that while she thought Kushner is "an intelligent man," his wife is the brains behind the operations.
"I think that Ivanka is very controlling of her image. She's very controlled in what she does. She is very calm, which is unlike her father, and I think that she's the smarter one," the former aide said.
In response to Grisham's new book, Melania's team has released a statement saying, "The author is desperately trying to rehabilitate her tarnished reputation by manipulating and distorting the truth about Mrs. Trump. Ms. Grisham is a deceitful and troubled individual who doesn't deserve anyone's trust."