Who is Stephanie Grisham? Melania Trump's Spokeswoman Named White House Press Secretary and Comms Director
First Lady Melania Trump on Tuesday afternoon announced on Twitter that her spokeswoman would succeed Sarah Sanders as the White House press secretary.
"I am pleased to announce @StephGrisham45 will be the next @PressSec & Comms Director!" Trump tweeted. "She has been with us since 2015 - @potus & I can think of no better person to serve the Administration & our country. Excited to have Stephanie working for both sides of the @WhiteHouse."
Trump ended the tweet with the #BeBest hashtag for her initiative aimed at helping children, which Grisham has defended.
Grisham was rumored to be the favorite to replace Sanders, who was announced on June 13 to be leaving her post, coming out ahead of other current and former Trump administration officials and television personalities.
"@PressSec @SarahHuckabee is a true pro & a dear friend," Grisham tweeted the day of the announcement on Sanders. "I will miss her sincere love of country & great sense of humor at the @WhiteHouse - no matter what the future holds, I wish her (and her beautiful family) the very best!"
Grisham will also assume the role of communications director, previously held by Bill Shine. Grisham did not respond to a request for comment from Newsweek last week on rumors she would take Sanders's job, or Tuesday after she was named. As of an hour of Trump's announcement, Grisham had not tweeted about her new role.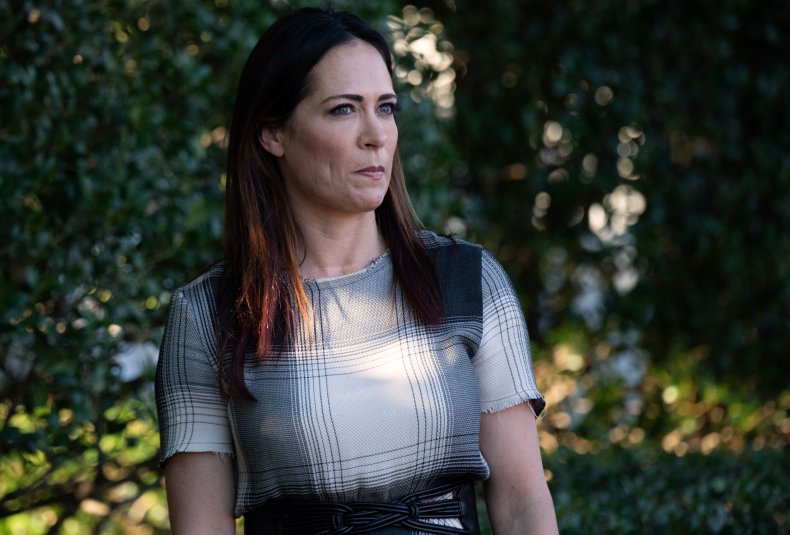 Before beginning her service as the first lady's spokeswoman and communications director in March 2017, Grisham worked as a deputy to then-White House press secretary Sean Spicer. Prior to that, she served as a press aide for Donald Trump's first presidential campaign and on his transition team, worked on Republican Mitt Romney's 2012 presidential campaign and ran her own small public relations firm.
Grisham has been a fierce and influential defender of the first lady. Last November, Grisham issued a statement that "It is the position of the Office of the First Lady that (deputy national security adviser Mira Ricardel) no longer deserves the honor of serving in this White House." Soon after, Ricardel, who butted heads with Melania Trump over her Africa trip, was dismissed.
The Office of Special Counsel last September confirmed that Grisham violated the Hatch Act, which prohibits executive branch employees from using their official position to influence an election. The offense came in a July 11 tweet in which Grisham included the Trump campaign's "Make America Great Again" hashtag.
"Three years ago today I listened to my gut & joined the Trump team in #PHX ... & life has never been the same," Grisham tweeted at the time. "So proud to work for both @POTUS @realDonaldTrump & @FLOTUS #MAGA."
Sanders said Grisham will continue serving the first lady as she transitions into her new job and will travel with the president as press secretary to the upcoming G20 summit in Osaka and then to Seoul, ABC News reported.