Stephanie Grisham Warns Trump Would Focus on Revenge if Re-Elected, Regrets Working for Him
Stephanie Grisham, Donald Trump's former White House press secretary, regretted being "part of something unusually evil" for long before she resigned on January 6, and warned that the former president would focus on revenge if re-elected as president.
During an interview on Meet the Press on Sunday, Grisham said that Trump will apply "draconian" policies and will be focused on "revenge retribution and how he can benefit himself."
"I think it will be a very terrifying time. He's on a revenge tour right now with the people who voted to impeach him," she said. "I believe if he is elected again, it will be a really scary time."
Grisham also weighed in on her decision to resign later on after four years working for the Trump administration. During her interview on Meet the Press, she said that she tried to quit a couple of times during the last six months leading up to January 6—the day of the Capitol riot—but former first lady Melania Trump would convince her not to leave.
"I had a resignation letter written out with some very specific points in it that I was ready to hand over at any moment. January 6, of course, was my breaking point," Grisham said.
Though Grisham said she was proud to be among the first people in the administration to resign, she added that she regrets not leaving sooner.
When asked by Meet the Press host Chuck Todd why should people believe what she is saying now (her new book, I'll Take Your Questions Now, includes her accounts of working with Trump), given that she was asked to deliver misinformation and "lie on behalf of the boss," Grisham responded: " I will let anybody who chooses to read the book decide for themselves."
"I don't have anybody to answer for anymore. I had a lot of time to reflect. I really moved far far away from the bubble of D.C., and had a long time to almost deprogram myself from what I went through and reflect on it," she said.
"I wanted to write something that is just honest and brutal, and I don't spare myself in there either and I hope that people will just take that for what it's worth."
Though she is not expecting redemption, according to the Intelligencer, Grisham thinks that she can't "rebrand" herself and that her time working as Trump's press secretary will follow her "forever."
"I believe that I was part of something unusually evil, and I hope that it was a one-time lesson for our country and that I can be a part of making sure that at least that evil doesn't come back now," she said.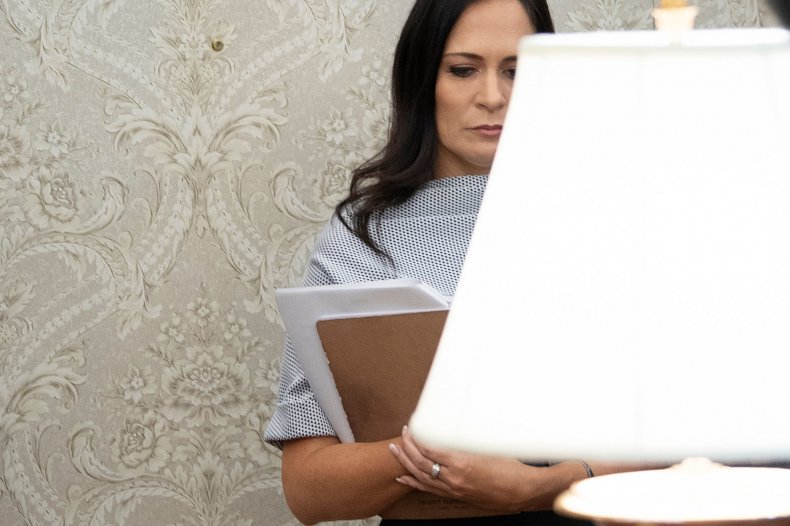 "I feel like one of the most hated people in the country," she told the Intelligencer. "The right hates me. They really hate me now. And the left is never going to come around. I have no illusions that people are going to be like, 'Oh, you're so brave.'"
Although she resigned, Grisham said that she feels guilty for being "so entrenched with them [the Trump family.]"
"They were a huge part of my life for a really long time, and I gave up a lot to work for both of them, and I really believed in them, and I don't think you just shut all that off overnight. I'm not a cyborg," she said.
Newsweek contacted Trump's office for comment.