Who Is Stephen Broderick? Ex-Deputy Sheriff on the Run After Austin Mass Shooting
Stephen Nicholas Broderick, 41, a former deputy sheriff with the Travis County Sheriff's Office, is on the run after three people were shot dead at an apartment complex in Austin, Texas, on Sunday.
After fleeing the scene, Broderick was quickly identified by police as the suspected gunman in the shooting which claimed the lives of two women and a man shortly before noon.
Police efforts to locate Broderick evolved into a fugitive hunt on Sunday afternoon, with officials scouring areas outside the Great Hills Trail neighborhood of Arboretum. Police helicopters were also seen flying above the crime scene.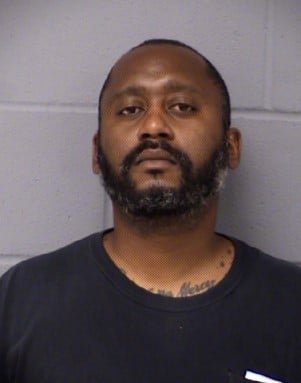 Stephen Nicholas Broderick, 41, is wanted in connection to the fatal shooting of three people at an apartment complex in Austin, Texas.
Austin Police Department
A shelter-in-place order was issued for the northwest Austin area for five hours as police locked down the surrounding area in the search for Broderick. The order was lifted at 4:40 p.m.
"While a suspect is still at large it appears this is a domestic situation that is isolated and there is no risk to the general public," the Austin Police Department tweeted later on Sunday afternoon.
Officers said they were unsure whether Broderick fled in a vehicle or by foot. He was described as a 5 foot 7 inch Black man, average build and believed to be wearing a baseeball cap, sunglasses and gray hoodie.
The victims, who are all so far unidentified, were known to Broderick, Austin Police Interim Chief Joseph Chacon, told reporters. The motive for the attack remains unclear.
Chacon said that police received a 911 call at 11:42 a.m. They responded immediately and sent a reverse 911 call to residents to warn them about the incident.
"Obviously this is a tragedy. We have people who have lost their lives out here," Chacon said. "The danger still remains high at this point. We'll do our best…to get this person in custody…and hopefully with no more loss of life."
Chacon said investigators have responded to several tips but have been unable to locate the 41-year-old suspect. A $1,000 reward is being offered for information that leads to his arrest.
According to KXAN, Broderick previously served as a Travis County Sheriff's Office detective. On June 20, 2020, he was arrested and charged with sexual assault of a child. He spent 16 days in jail, before being released on bond. Travis County Sheriff's spokesperson Kirsten Dark said that Broderick resigned following his arrest, according to the Austin American-Statesman.
The publication also cited court and public records which showed that Broderick's wife filed for divorce and for a protective order on behalf of her daughter after her husband's arrest. The protective order, agreed upon by both parties, prohibited Broderick from going within 200 yards of the couple's daughter.
Broderick was also previously an investigator with the Bastrop County Sheriff's Office, according to KXAN who cited a March of 2013 press release revealing he was one of two responding deputies who shot at a suspect after a family disturbance in Del Valle. Both deputies were reportedly put on leave as the Texas Rangers investigated.
Newsweek has contacted the Austin Police Department for comment.