Alex Jones Is More Like A 'Coked-Out Football Coach' Than 'Performance Artist,' Stephen Colbert Says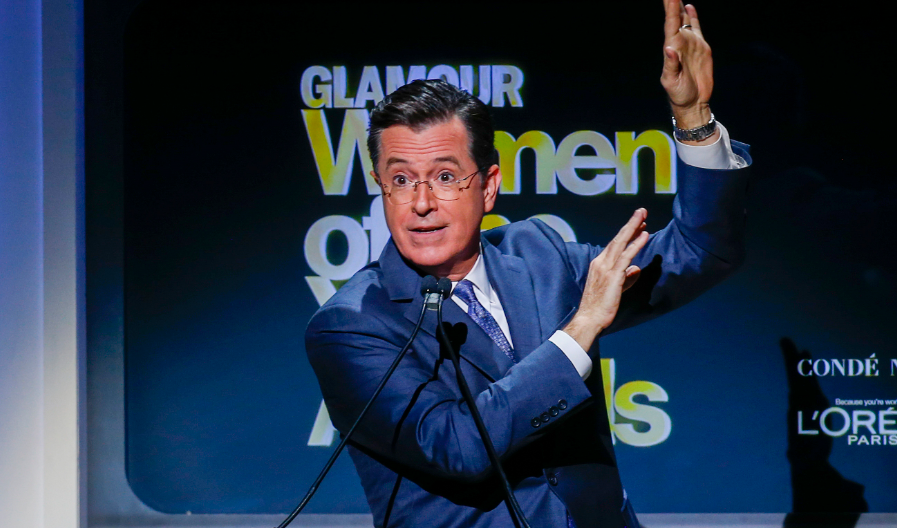 Stephen Colbert is sure "Infowars" host Alex Jones isn't doing himself any favors by admitting his angry persona is just an act—not if he wants custody of his children.
"The insane radio host is in a custody battle right now, and he's trying to prove he's stable enough to care for children," the "Late Show" host said on CBS Monday. "Unfortunately for him, he works in front of a camera."
Jones, known for his blustering passion for conspiracy theories and alt-right politics, has quite often appeared erratic and temperamental on his internet radio show, which his lawyer argued in court recently was all just an act for his listeners. Randall Wilhite, Jones' attorney, told a judge last week that his client, whom he called a "performance artist," shouldn't be judged for his behavior on "Infowars" since he's only "playing a character."
"I'm not sure that helps," Colbert said. "Do we really want children to be raised by performance artists?," he asked, sarcastically.
Colbert shared a clip from "Infowars," in which a puffed-up Jones shouts: "I'm alive! My heart's big! It's got hot blood going through it fast! I like to fight too! I like to eat! I like to have children!" According to Colbert, that particular example was more than "enough grounds for [Jones] to not have children."
"Clips like that make Alex Jones seem less like a fit parent and more like a coked-out football coach in a police standoff," Colbert said.
Jones' ex-wife, Kelly Jones, whom he divorced in 2015, alleged during a pre-trial hearing that the radio host was "not a stable person" and cited threats Jones allegedly made against actor Alec Bladwin and Representative Adam Schiff (D-Calif.). She also noted that Jones broadcasts his angry internet radio show from home while the children are present.
However, Colbert was empathetic toward Jones' situation, because, he said, he also knew what it was like to play a "satirical right-wing character." The late night talk show host then shared a clip of himself as "Brain Fight" talk radio host Tuck Buckford, who promoted outlandish theories about "the liberals" and brash behavior similar to Jones' performance on "Infowars."
Check out the clip above.