Stephen Colbert Mocks Trump For Not Reciting Apostle's Creed At George H. W. Bush's Funeral
Stephen Colbert teased President Donald Trump's behavior at George H.W. Bush's funeral during a segment on The Late Show Wednesday. Trump, along with wife Melania, attended the funeral on Wednesday, which took place at Washington National Cathedral. The presidential pair were seated beside Michelle and Barack Obama, Bill and Hillary Clinton and Jimmy And Rosalynn Carter.
Colbert jabbed at Trump's arrival. "It was quite a moving site to see the presidents and the first ladies in the front row, waiting to honor President Bush, chatting comfortably with one another," he said. Colbert then played a clip of Hillary and Michelle chatting before the funeral.
When Trump and Melania sat down in the pew, they greeted the Obamas with handshakes. The Clintons looked directly ahead and did not acknowledge the Trumps.
"Then it became silent staring time," Colbert joked as he showed Trump beside the former Presidents, not speaking. "Donald Trump is the only person in the world who can bring down a funeral."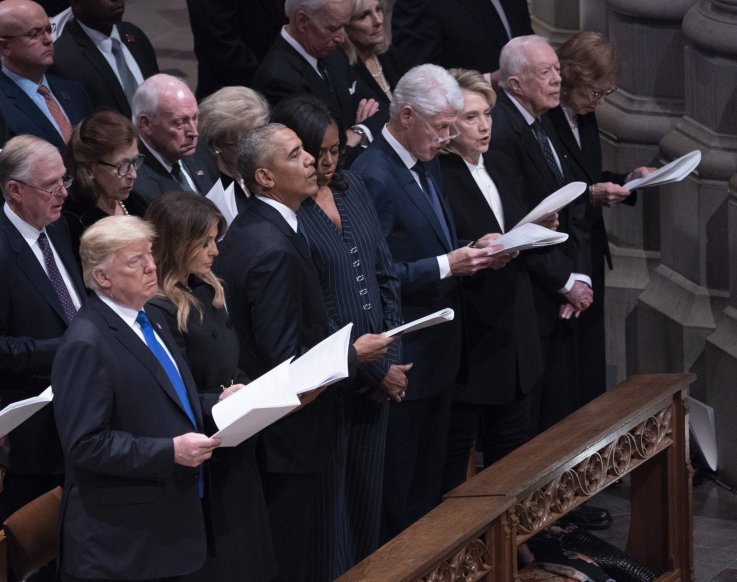 Colbert also questioned Trump for his lack of participation in the funeral service. While the congregation, including the Obamas and Clintons, read along with the Apostle's Creed, Trump stayed silent. "'I'm sorry, I zoned out there for a minute,'" Colbert said, as Trump. "'I was thinking about all the evangelicals who voted for me. What are we doing, the Macarena? I'm in.'"
Others took note of Trump's silence and criticized his support and respect of the religion and Bush. Journalist and author Ben Ward shared his thoughts on Twitter. "Striking that all the former Presidents and First Ladies recited the Apostles Creed, but Trump and Melania stood silently and did not," he wrote, of Trump, who identifies as Presbyterian, a branch of Christianity. "The creeds are at the heart of historic orthodox Christianity."
Twitter user Larry L. Tillman also questioned Christians who support Trump. In the election, Trump won 81 percent of the votes from evangelical Christians, according to The Guardian in October. ""This is shameful for a Christian who refuses to say the Apostles Creed," Tillman said. "I told you he's playing like he is a Christian just to get Christians to support him. Shameful but he don't fool me, he won't get my support."
Before the funeral, Trump tweeted his feelings about Bush's funeral. "Looking forward to being with the Bush family," he wrote. "This is not a funeral, this is a day of celebration for a great man who has led a long and distinguished life. He will be missed!"
Stephen Colbert Mocks Trump For Not Reciting Apostle's Creed At George H. W. Bush's Funeral | Culture