O'Reilly Fans Should Now Watch 'The Late Show', Stephen Colbert Says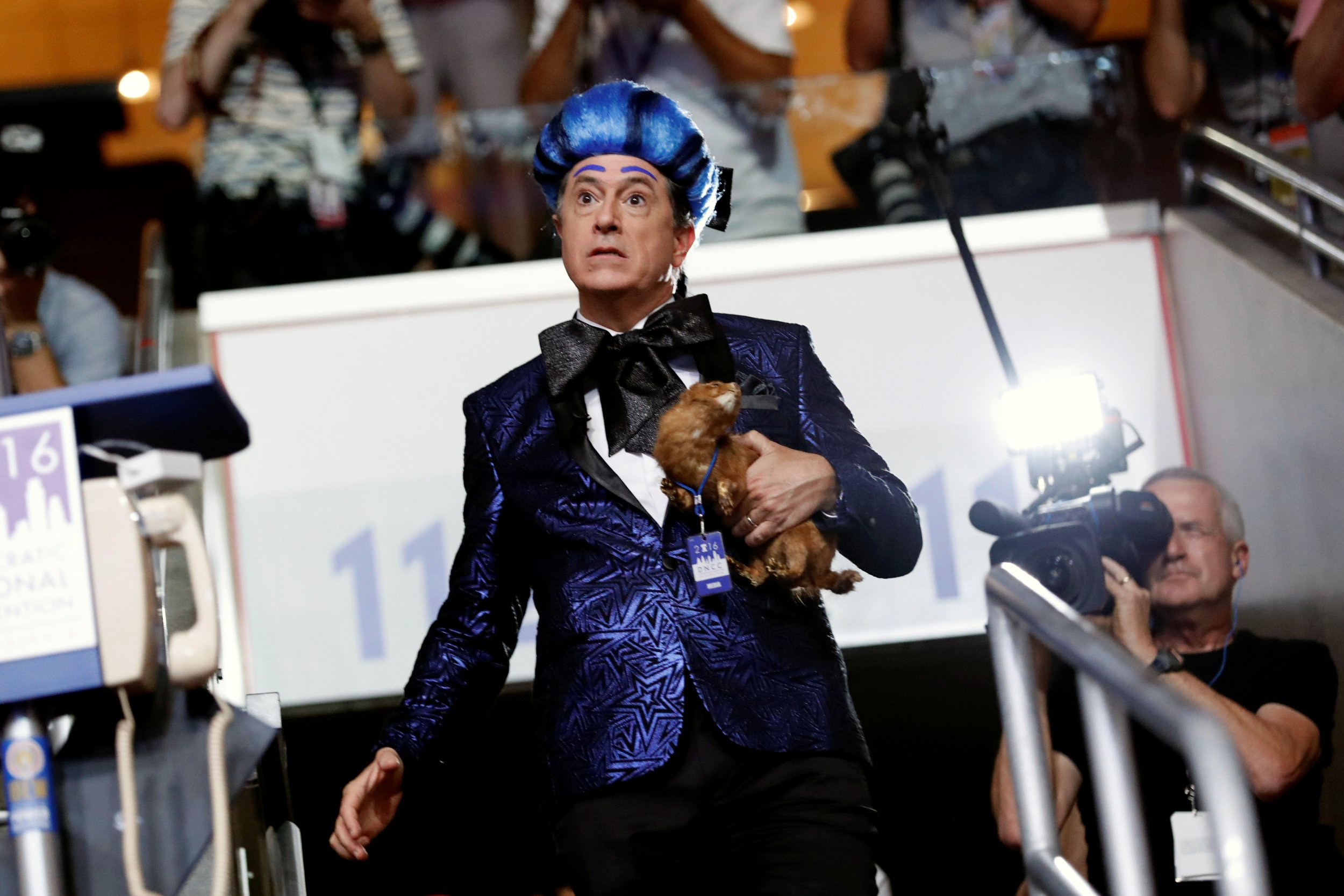 Stephen Colbert is really torn up over the ending of Bill O'Reilly's Fox news career. The network's parent company 21st Century Fox announced Wednesday that O'Reilly, who was on vacation following a string of sexual harassment claims, would not be returning to host his longtime news show, The O'Reilly Factor, after which Colbert took to his Late Night Show to bid O'Reilly a menacing farewell.
However, Colbert was still hung up over O'Reilly's departure from Fox one day after his show ending was confirmed. During Thursday night's episode of The Late Show with Stephen Colbert, the late-night host told audiences he was "reeling" over O'Reilly's exit.
"I need a little something to hold me together. I'm still reeling from the loss of Bill O'Reilly," Colbert said as he performed a little happy dance to show his disappointment.
Colbert then gave a message to The O'Reilly Factor fans who may be looking for a new nightly program to watch.
"I'd like to stop now and welcome any orphan O'Reilly viewers to our show tonight. I know this is a confusing time for you. You've been through a lot. Not as much as women who have worked for Bill, but still, a whole lot. It's hard to believe he's leaving," he said.
Despite O'Reilly parting ways from his Fox series, the show, renamed The Factor, remained in its number one position and drew in an average of 3.3 million viewers Wednesday night while being temporarily hosted by Dana Perino, according to Neilsen data. The Wednesday night episode was up 2.2 million viewers from what the show drew in during the same 8 p.m. time slot the night before O'Reilly's leave.
Colbert continued to comfort former O'Reilly fans by ensuring them that the 67-year-old would more than likely survive his current career upset, especially since O'Reilly still had "his book, his rage and his Fox News payout."
O'Reilly's reported exit package racked up to as much as $25 million, according to The New York Times, adding to 21 Century Fox's payout of more than $85 million in total expenses related to the former Fox news host's harassment claims. The five women who alleged O'Reilly harassed them received about $13 million in settlement money, most of which was paid out by the news anchor.
O'Reilly Fans Should Now Watch 'The Late Show', Stephen Colbert Says | U.S.