Stephen Colbert Condemns 'Gun Fetishist' Lauren Boebert After Boulder Shooting
Stephen Colbert has lashed out at "gun fetishist" Lauren Boebert following the mass shooting in Boulder, Colorado, which saw 10 people killed.
"Yesterday was another grim day for America when a gunman walked into a Boulder, Colorado, supermarket and killed 10 people, including a police officer," the late-night host began in his Tuesday night monologue.
"This story is unspeakably tragic and I cannot imagine for a moment the grief of these families."
He added that the "only suitable way to honor these victims is with action. But our government continues to do nothing."
Ten people were killed when a gunman opened fire inside the King Soopers supermarket on Monday afternoon. The suspect has been identified as 21-year-old Ahmad Ali Aliwi Alissa, who has been booked into jail on first-degree murder charges.
Among the dead was a police officer, 51-year-old Eric Talley. The other nine victims of the shooting were identified Tuesday as Denny Stong, 20; Neven Stanisic, 23; Rikki Olds, 25; Tralona Bartkowiak, 49; Suzanne Fountain, 59; Teri Leiker, 51; Kevin Mahoney, 61; Lynn Murray, 62; and Jodi Waters, 65.
The tragedy is the second mass shooting in the country in the space of a week after a series of shootings across three massage parlors in Atlanta, Georgia claimed the lives of eight people on March 16.
Colbert reflected on the fact that prior to March 16, there hadn't been a mass shooting in the U.S. in a year, and questioned whether the easing of COVID-19 restrictions has played a part.
"Now, we've had two in the last week," he said. "Evidently, the only solution for America's gun violence is putting all of us under house arrest."
He then went on to criticize the "predictable" response from "gun apologists" and referenced a statement from the Colorado State Shooting Association, which said that "today is not the time" for a debate on gun laws.
"Why not?" offered Colbert. "That's what they say every time this happens. And that's what I say about what they say, every time they say it, every time it happens."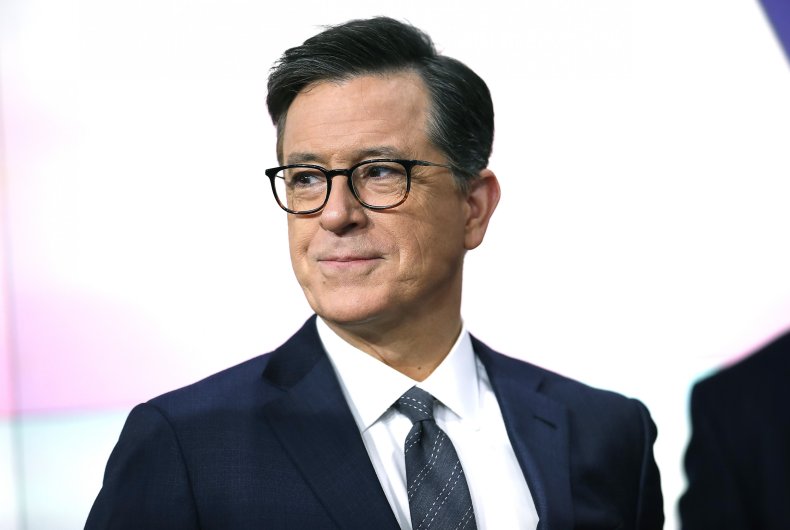 "Another gun fetishist weighing in on the tragedy is Colorado representative and H.R. supervisor for John Wick, Lauren Boebert," Colbert added.
He cited a tweet from the pro-gun congresswoman that read: "While we are still awaiting important information and details in this case, random public shootings and senseless acts of violence are never OK."
He then asked his viewers: "Where does she find the courage?" 'Senseless acts of violence are never OK,' implying, of course, that intentional violence is fine. You know, the kind her buddies plan on Parler."
Boebert is facing backlash following the shooting for her ardent support of the second amendment.
Following the shooting, the Colorado politician told Newsmax that calls for tougher gun restrictions in the wake of the shooting in her state were a "knee-jerk reaction" that would "limit our ability to defend ourselves."
She told the network: "Gun laws just don't work—it's unfortunate.
"We need good people to neutralize threats and defend themselves, and the people around them to protect them."