Colbert on Comey Memo: 'Late Show' Host Suggests Trump Release Tax Returns as Distraction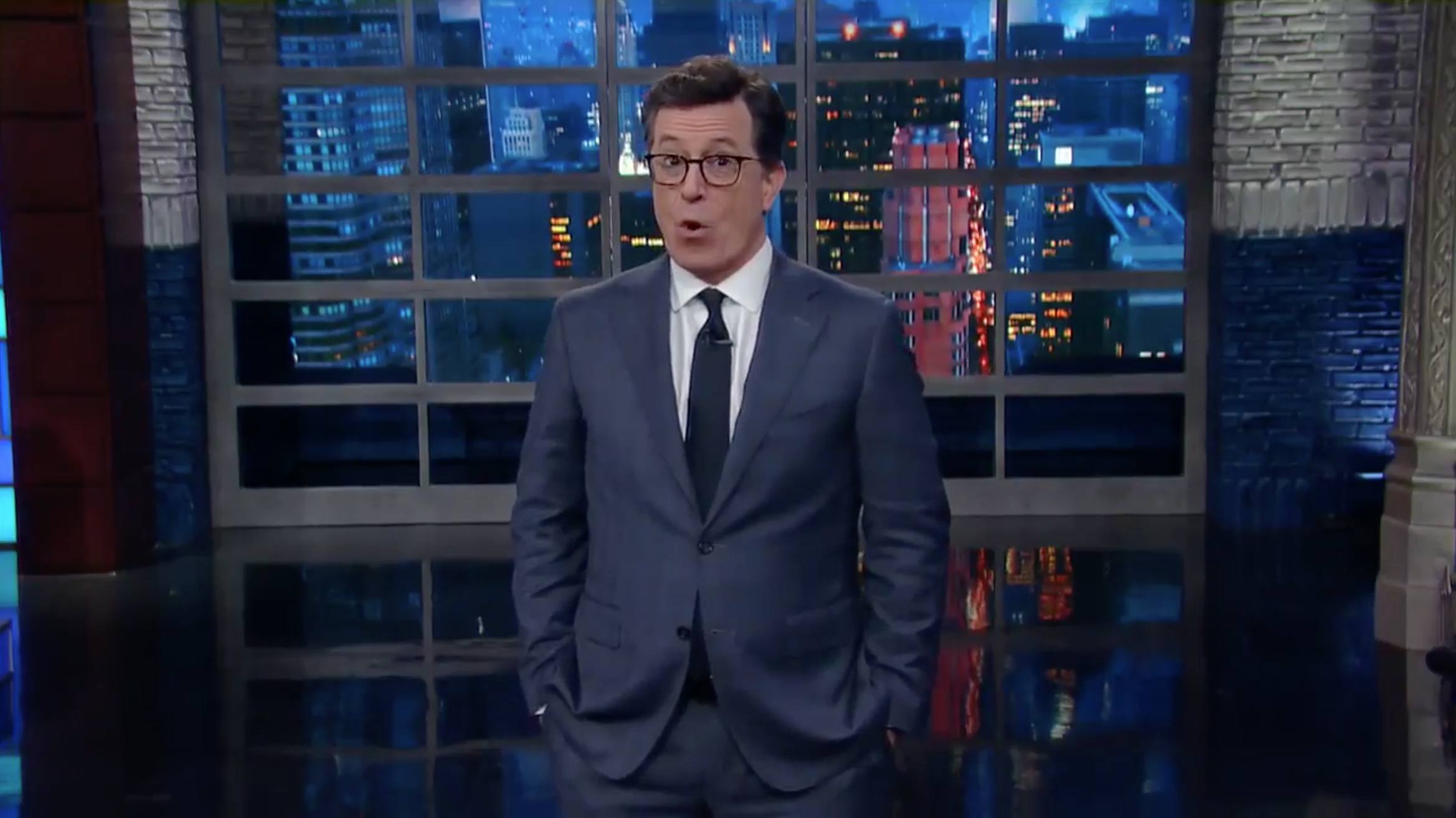 "Ladies and gentlemen, there's no getting around it," Stephen Colbert said at the top of Tuesday night's episode of the Late Show. He was referring, of course, to the scandal-du-jour out of the Trump administration, that the president in February asked then-FBI Director James Comey to stop investigating then-National Security Advisor Michael Flynn's ties to Russia.
Related: Trump asked Comey to end Russia-Flynn probe
The news was reported by the New York Times shortly before the episode was taped, as was the case Monday when the Washington Post reported that Trump leaked "highly classified" intel to Russian officials. Colbert admits that keeping track of Trump's foibles has become confusing. "There a huge scandal out of the White House," he said, in what has now become an evergreen phrase for late-night hosts. "No, not that scandal," he clarified. "...or the one before that, or the one tomorrow, although technically they're all part of one big scandal stroganoff."
The news of Monday's intel leak led Colbert to call for Trump's resignation. On Tuesday, Colbert didn't want to let Trump off that easy. After he highlighted the part of the Times' report that noted how Comey made memos about every phone call or meeting he had with Trump, Colbert said it might be in the president's best interest to release tapes—if they exist—of their meetings, if for no other reason than to move the media's attention off of these latest allegations.
"To paraphrase himself, Trump better hope there are tapes of their conversation," Colbert said. "Or, really, anything he needs to change the conversation to something that is, shall we say, less 'indict-y.' Maybe now is the time to release your tax returns, sir? That would be fun. Or, what would be less damaging...got any more tapes of you and Billy Bush?"
Colbert tried to broaden his approach to Trump's scandal-ridden month, as well, running through everything that has transpired since he fired Comey.
To illustrate just how egregious Trump's actions have been, Colbert noted that one of the strongest criticisms came from Republican Senator Bob Corker, who recently said that the White House is in "a downward spiral."
"Yes, it's a slow decent into chaos," Colbert said before gesturing to an off-camera producer. "Jim, do we have any kind of metaphorical foreshadowing of that?"
Viewers were then treated to the familiar clip of Trump descending the gold elevator in Trump Tower to announce his candidacy. Next month will be the two-year anniversary of that announcement. It feels more like two lifetimes ago.