Stephen Colbert 'Thanks' Donald Trump for 100 Days of Higher Ratings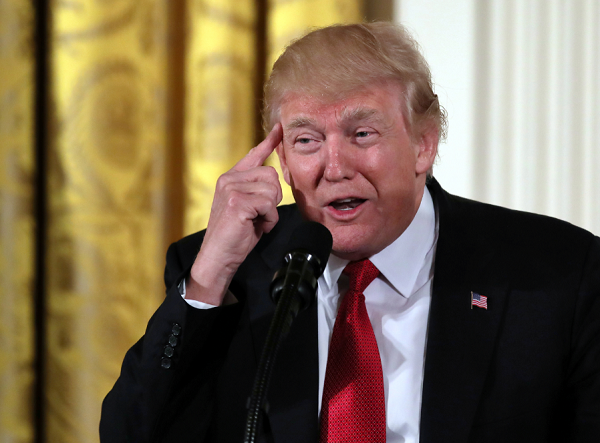 On the campaign trail, Donald Trump promised to have an action-packed first 100 days if he could claim the position of Commander in Chief. Well, Trump's 100th day in office is rapidly approaching and so far, his greatest accomplishment has apparently been his ability to wheel in the TV ratings, according to The Late Show host Stephen Colbert.
Colbert opened up his show Monday night poking fun at Trump's disdain over the "ridiculous standard" that the media holds him to after the former real estate mogul tweeted "(including S.C), media will kill" everything he manages to accomplish within the first 100 days of his presidency. Claiming that the "S.C." Trump referred to in the tweet might have stood for "Stephen Colbert," the late night TV host took a moment to acknowledge the president's accomplishments—the biggest of which is his ability to draw TV audiences, Colbert said.
"The first 100 days are traditionally a time to reflect on accomplishments of a president and Trump hasn't got a lot of those. He still hasn't filled his cabinet. He didn't repeal Obamacare. There are still Muslims. But…but, and it's a big but. He did sign a law making it easier for mentally ill people to buy guns and for hibernating bears to be hunted. So he took care of his base: insane people who want to murder Yogi. Of course, Trump thinks, 'murder Yogi, yay!'" Colbert said. "And you might be wondering what including S.C. means. Well people are speculating it could be Supreme Court. It could be Spicer catastrophe. Sarah Connor. I don't know, or maybe Stephen Colbert. After all, it's possible. He's been on the show. I gotta say, Donald Trump has done a lot for me in the first 100 days. Thank you for your service, Mr. President. And now I feel dirty."
During a recent interview with the Associated Press, Trump boasted about the impact he seemed to have on TV ratings, pointing out that his recent interview with Fox news host Chris Wallace drew in over 9.2 million viewers, which Trump said was the highest ratings the network had seen since John Dickerson's Face the Nation report on the World Trade Center terrorist attack in 2011. Of course, Colbert didn't let Trump's proclaimed "tremendous advantage" of ratings go unnoticed.
"Mr. President I know you're proud of your ratings, but—how do I say this—it's not generally a good thing to compare yourself to 9/11. You know that right?" he asked before putting on his best Trump impersonation, "'My first 100 days have been Titanic. We're blowing up, okay. Bigger than anything since Nagasaki, that's how big.' Again, I'm modeling the behavior of another person. This is not me speaking."
Newsweek subscription offers >
Colbert's mocking of Trump's obsession with high ratings didn't end there, though. Telling audience members that "nothing matters more to Donald Trump than ratings," Colbert went on to point out another recent Trump interview, in which the president praised Press Secretary Sean Spicer's performance while comparing his TV ratings to a daytime soap opera.
"When Trump was asked if he planned to fire embattled Press Secretary Sean Spicer he said, 'I'm not firing Sean Spicer… That guy gets great ratings. Everyone tunes in.' It's true. You can't tear your eyes away from Sean Spicer, it's like watching a car crash that knows nothing about the Holocaust," Colbert joked. "The president even proudly noted that his press secretary attracted nearly as many viewers as a daytime soap opera. Oh, clearly Sean Spicer is a soap opera. That explains why his character is constantly getting amnesia."
Watch Colbert's full rip on Trump's first 100 days as president in the clip below.
Stephen Colbert 'Thanks' Donald Trump for 100 Days of Higher Ratings | Culture