Stephen Colbert Compares Donald Trump's Election Lawsuits to Trying to Hold Melania's Hand
Stephen Colbert has brutally mocked President Donald Trump, comparing the president's legal losses to the first lady rejecting holding his hand.
"The president's legal losing streak continues," the late-night host said on Wednesday night's episode of The Late Show. "Yesterday, the Nevada Supreme Court rejected his campaign's appeal to overturn Biden's win, and the Supreme Court rejected Pennsylvania Republicans' attempt to block Biden's victory."
Colbert added: "This president hasn't faced this much rejection since every time he has tried to hold Melania's hand. So, he's getting more desperate."
Trump lost another lawsuit in Nevada yesterday, following his defeats in Georgia, Arizona, Pennsylvania.
Claims of mass voter fraud were rejected in the state after a team of Trump lawyers claimed the use of an automated signature verification machine in Clark County was unlawful and allowed fraudulent ballots to be counted.
They also made baseless claims that ballots were cast by illegitimate voters, including people who have died.
The Supreme Court rejected the claims. "To prevail on this appeal, appellants must demonstrate error of law, findings of fact not supported by substantial evidence, or an abuse of discretion in the admission or rejection of evidence by the district court," Tuesday's ruling said.
"We are not convinced they have done so. Despite our earlier order asking appellants to identify specific findings with which they take issue, appellants have not pointed to any unsupported factual findings, and we have identified none."
Colbert's hand holding joke famously refers to the numerous videos of the first lady seemingly rejecting her husband's attempts to hold her hand at public engagements.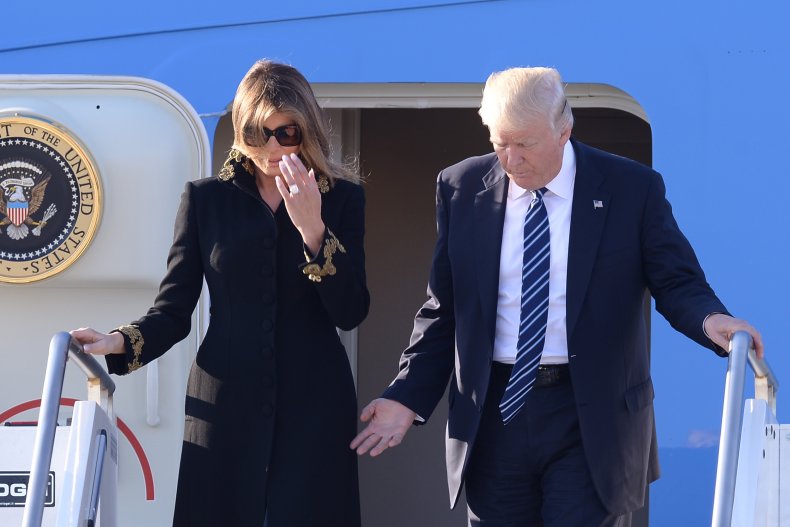 In August of this year, a video of Mr. and Mrs. Trump went viral that appeared to show Melania refusing to hold the hand of her husband repeatedly as they climbed down the steps of Air Force One.
Though Melania may have been preventing her skirt from blowing in the wind, Twitter exploded with mockery for the president's spurned advances.
A similar incident took place in 2017, when the couple appeared at a rally in Florida and Melania appeared to physically recoil when her husband touched her. She also appeared to smack his hand away on arrival in Israel.
In 2018, she appeared to bat away his touch on camera again.
According to Grazia, a former aide and friend of Melania's, Stephanie Winston Wolkoff, once spoke to The Washington Post about her aversion to holding her husband's hand seems to be a recurring thing.
"They are not that couple that holds hands just because: she is old-world European and it's not who she is," Winston Wolkoff said.
Colbert's mocking of Trump comes following Jimmy Kimmel's lambasting of lawyer Jenna Ellis for contracting coronavirus, days after Rudy Giuliani tested positive for the virus.