Stephen Colbert's Election Special: When It Starts and How to Watch Online
The Stephen Colbert election special last time went down in history as what Variety called, "the late-night equivalent of a wake," as the cast went from making jokes about the ridiculousness of the Trump campaign to realizing that it had just won. However, The Late Show host has decided to yet again do another hour-long special for Showtime as the results come in for the 2020 showdown between President Donald Trump and former Vice President Joe Biden.
The catchily-titled Stephen Colbert's Election Night 2020: Democracy's Last Stand: Building Back America Great Again Better 2020 will air on Showtime on Tuesday, November 3 at 11 p.m. ET / PT and air for an hour. In 2016, this was the same hour in which Florida was called for Trump, causing actual gasps in the studio, but it remains to be seen if anything so dramatic will happen in the hour this time around.
The election night special will then be available on-demand on Showtime from Wednesday, November 4.
For both the live-stream and the catch-up, users will have to have a Showtime account. The streaming channel costs $10.99 a month or $99 a year—though the annual price is only available to those who sign up via Showtime.com. Apple TV+ users can also get Showtime and CBS All Access together for $9.99 a month.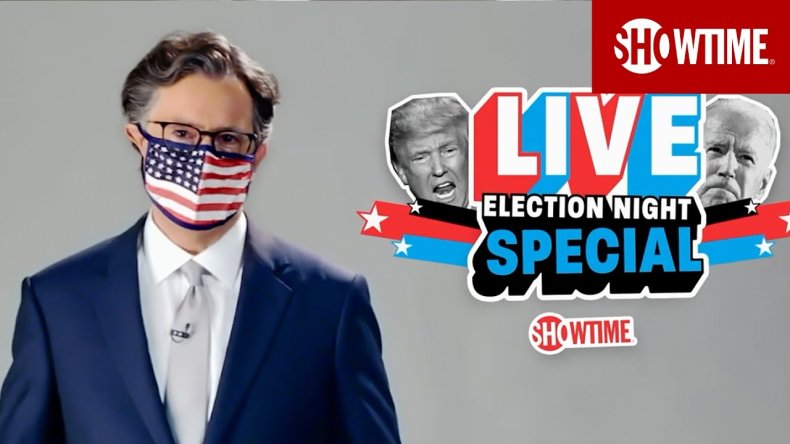 New users to Showtime get a 30-day free trial of the channel, allowing them to watch not only the Stephen Colbert election night special but also other Showtime shows like Shameless, Billions and recent drama about the 2016 election of Trump and its aftermath, The Comey Rule, starring Brendan Gleeson as the President.
The official synopsis for the Stephen Colbert election special from Showtime reads: "Join Emmy and Peabody Award-winning host Stephen Colbert as he returns to Showtime to host another election night special. Live from his virtual underground political bunker, Stephen will react in real-time as state-by-state results are tallied.
"Guests will include Charlamagne Tha God and hosts Alex Wagner, John Heilemann and Mark McKinnon of The Circus. 'It's going to be a great night although my therapist has reminded me America has to WANT to change,' says Colbert."
Speaking to The Hollywood Reporter's podcast, The Last Show with Stephen Colbert showrunner Chris Licht said of the upcoming Showtime special, "whereas we four years ago went into the night thinking we have a pretty good idea of what's going to happen, there's no poll, no expert, no prognosticator—absolutely no one—can convince us we know what's going to happen this election night. We are prepared for every eventuality. I feel cautiously optimistic we are prepared, and that is thus reducing the anxiety level we didn't feel last time, but we should have."
The special, however, is not the only Colbert-affiliated election program airing on November 3. The Late Show is also hosting a 12-hour pre-show titled, A Late Show's Pre-Show: Hoping for the Best.... This special is available to watch for free on The Late Show's YouTube, Twitter, Facebook, and Instagram pages from 11 a.m. to 11 p.m. ET.
Stephen Colbert's Election Night 2020: Democracy's Last Stand: Building Back America Great Again Better 2020 airs on Showtime on Tuesday, November 3 at 11 p.m. ET / PT.