Stephen Colbert Gives Nation Final Salute on Last 'Colbert Report'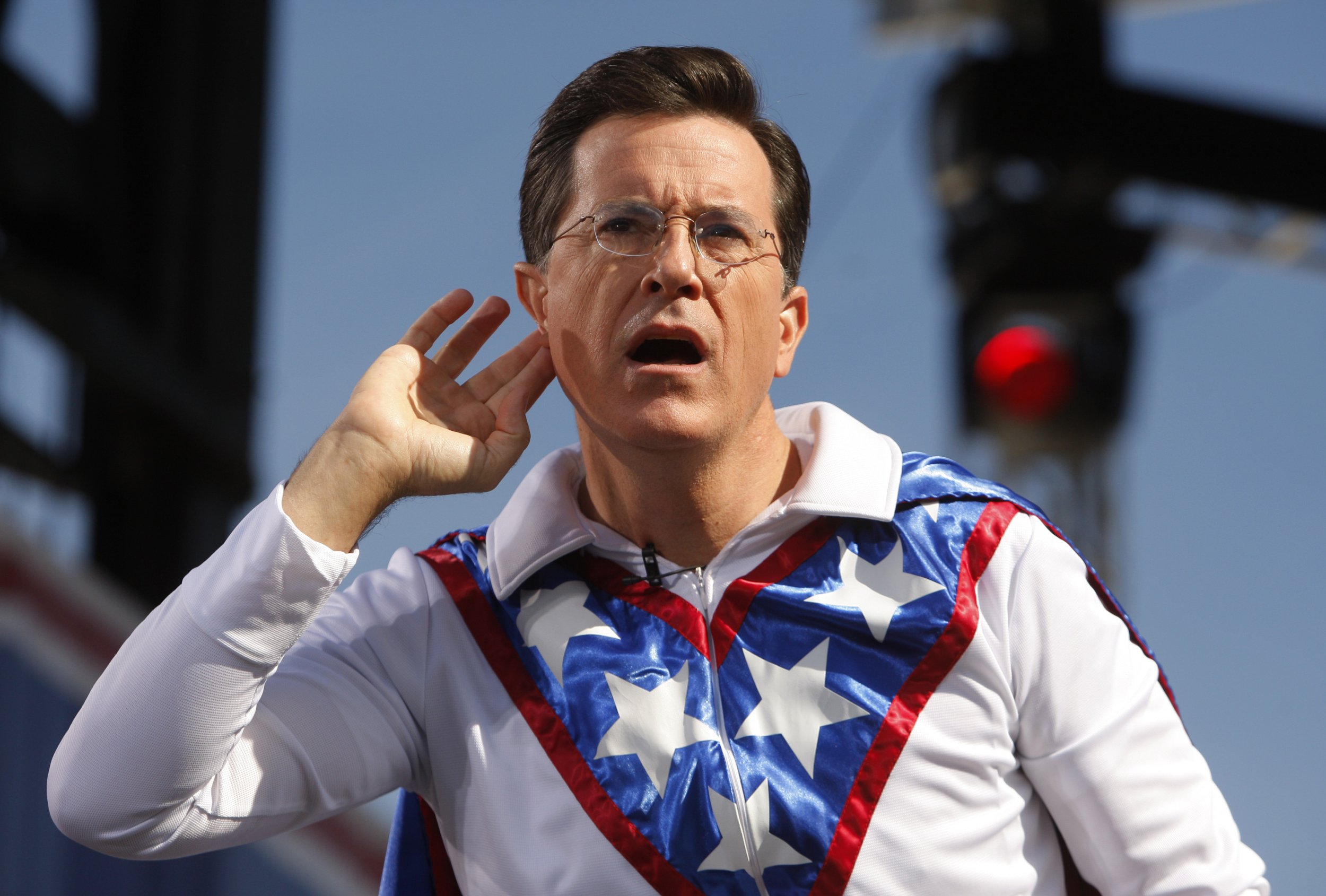 Nation: We've reached the end of an era.
On Thursday night, Stephen Colbert—a self-proclaimed wielder of "truthiness" and late-night political satirist extraordinaire—signed off from The Colbert Report for the final time. It was a marathon that lasted nine years, spanned 1,447 episodes four nights a week, inspired a Rally to Restore Sanity and/or Fear on the National Mall, featured luminaries both famous and unfamiliar, and provided necessary respite (and criticism) of our world's news.
But talk about going out with a victory lap: A star-studded sing-along ended the Comedy Central show, and Big Bird, Bryan Cranston, Willie Nelson, Cyndi Lauper, Michael Stipe, Pussy Riot, Mayor Bill de Blasio and Neil deGrasse Tyson were just a few of the famous faces joining Colbert in a poignant version of the 1939 song "We'll Meet Again."
"Don't know where, don't know when. But I know we'll meet again some sunny day," they sang.
The "Stephen" chants were louder than ever, the applause unending. The mood was bittersweet, but Colbert seemed jovial, beaming upon his "Nation" with pride and admiration. The first part of the Report started out typically: poking fun at Texas and the defense of torture following the CIA's recent release of the torture report. Then he segued into a meta "Word" segment, in which he tackled the most compelling untold story of the night: himself.
Colbert poked fun at the "thinkerati out there asking what my legacy is," but the comedian's legacy is immeasurable. Throughout history, our most memorable cultural leaders have been approachable yet knowledgeable; truthful yet able to find the humor in the darkest of places. Colbert, along with his contemporary Jon Stewart on the Daily Show, presented a whole lot of news in an exhilarating way, and did so without breaking character. When his pal and fellow late-night host Jon Stewart asked him about the emotional night ahead, he replied: "What feelings? I'm an emotionless, igneous news rock," he quipped during Stewart's handoff from his Daily Show to Colbert's Report.
We'll be seeing Colbert again soon on CBS when he takes over Dave Letterman's spot on the Late Show in 2015. But his wry persona, at once mocking conservative cable news hosts and irreverently tackling serious news ("I know this is an emotional night for a lot of you, so we'll start with something upbeat: Syria" is how he began) will be left behind on the show.
Death was the Report's second star last night. In it, Colbert accidentally kills his old friend the Grim Reaper, aka "Grimmy," and, announcing that he has slain death, renders himself immortal. He meets Abraham Lincoln, Santa and Alex Trebek in a pseudo-heaven before flying away.
But before he left, Colbert had words of caution and wisdom to impart unto his audience. He reminded viewers that on his very first Report, back in 2005, he advised that "the truth doesn't come from your head, the truth comes from your gut." During his nine-year tenure, we've seen the surge in gut-wrenching real-time news, the rise of Twitter activism, the interconnectivity and uncertainty of our future, and Colbert has been there for all of it. Many of us grew up, no matter how old or young we are, with Colbert, a red-white-and-blue beacon of hope.
Thank you for the laughter, Stephen.