Video: Stephen Colbert Ponders What Could Possibly Have Caused Acting Border Chief John Sanders to Leave
Stephen Colbert poked fun at outgoing acting Customs and Border Protection commissioner John Sanders Tuesday on The Late Show.
Sanders announced his resignation, effective July 5, in an internal email delivered to staff members Tuesday. The news comes amid multiple reports of dire living conditions at migrant detention facilities.
Addressing the Late Show audience, Colbert rubbed his chin and said: "In his resignation email, Sanders didn't explain the reasons for his departure. Hmm what could they be?"
Citing recent news reports from The Washington Post, ABC News and The New York Times, he continued: "I certainly hope he didn't lose his job over something as minor as running detention centers that are inhumane, worse than jail, in which young detainees have no access to toothbrushes, toothpaste or soap."
"Wow, [Sanders'] next job interview is going to be rough," Colbert quipped. Impersonating a potential future employer he added: "John, under special skills it says 'violating the Geneva conventions.' Okay. I'm sorry but you're just not Chuck E. Cheese's material."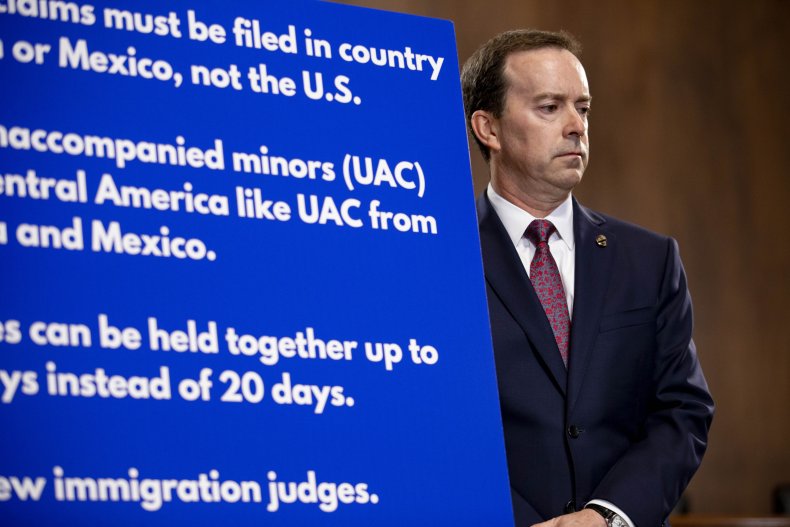 On Tuesday, President Donald Trump said he didn't know Sanders well—if at all. "I don't know anything about it. I hear he's a very good man. I hear he's a good person. I don't know him. I don't think I ever spoke to him," he told reporters.
Sanders is set to be replaced by Mark Morgan, acting director of U.S. Immigration and Customs Enforcement, The Washington Post reported Tuesday.
Conditions at a migrant detention facility in Clint, Texas, have come under particular media scrutiny in recent weeks. Visiting lawyers described disturbing scenes they had witnessed to The Associated Press. The reported witnessing children—many sick with flu—detained without adequate food and with little access to personal hygiene products and facilities.
Just days after 249 migrant children were removed from the Clint center because of overcrowding, 100 were returned to the facility Tuesday in what The New York Times called a "chaotic shuffle."
"We've dipped far below the standard of care into the realms of just utter darkness," Democratic state representative Terry Canales of Texas told the publication. "We're in a dark place as a nation, and it just breaks my heart."
Vice President Mike Pence blamed an "overwhelmed" Department of Homeland Security and a lack of support from Democrats in Congress for appalling conditions at the border in an interview with CNN's Jake Tapper Sunday.
Trump made a similar argument on NBC's Meet the Press. After blaming Democrats for "holding up the humanitarian aid," he suggested that children were "being used" for political means.