Video: Stephen Colbert Mocks Alabama's Abortion Law—If a Fetus Is a Person With Rights 'Pregnant Women Get to Vote Twice Now'
Stephen Colbert mocked the Alabama Senate for introducing a strict anti-abortion law, suggesting pregnant women will get to "vote twice" now as the bill considers a fetus as a person with rights.
State governor Kay Ivey signed an abortion bill into law Wednesday evening, as Alabama implemented the toughest anti-abortion law of any of the 50 states.
The law, which passed by a vote of 25-6 on Tuesday, states abortions are to be banned at all stages of pregnancy, including in cases of rape and incest.
"The bill makes no exception for victims of rape and incest because the whole point of this law is to establish that a fetus is a person with rights," Colbert said on The Late Show on Wednesday evening. "That is a bold interpretation of human development. But, on the plus side, pregnant women get to vote twice now."
The law also states that doctors who perform abortions could have charges brought against them and could be sentenced to up to 99 years in prison.
Colbert hinted that treating performing abortion like a class A felony was, much like the rest of the law, unnecessarily strict, and suggested Alabama remained rooted in a bygone era.
"They are going to throw them right in the Alabama slammer for 99 years," he joked. "It's 2019, so by the time they get out, in Alabama it will be 1895."
Alabama isn't the first state to implement tougher abortion laws, with North Dakota, Ohio, Arkansas, Mississippi, Kentucky, Georgia all enacting a ban on all or most abortions. The latter passed its abortion bill last week, making it illegal to obtain an abortion after approximately six weeks into pregnancy. Critics have argued that at such an early stage, many women do not even know they are pregnant.
The graphic below, provided by Statista, provides an overview on states' protections and restrictions on abortion since 2001.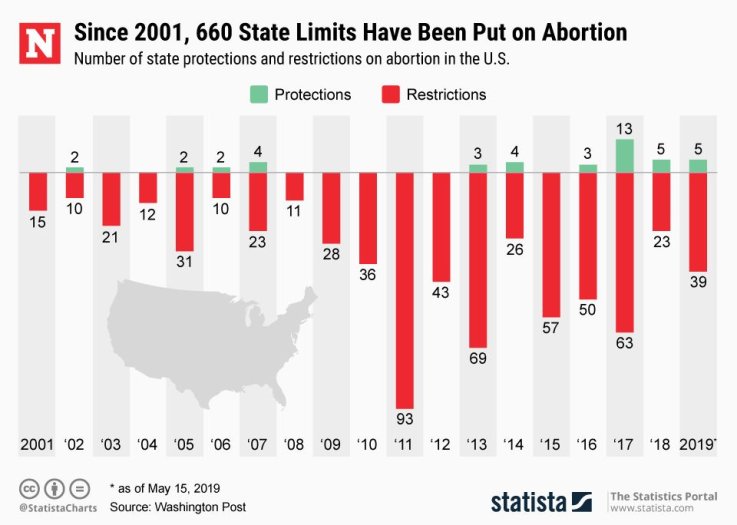 Alabama's new law attracted a barrage of criticism from across the country, but Ivey, a Republican, strongly defended it. "To the bill's many supporters, this legislation stands as a powerful testament to Alabamians' deeply held belief that every life is precious and that every life is a sacred gift from God," he said.
However, like its counterpart in Georgia, the legislation faces a legal challenge from Democratic politicians and women's health advocates.
"We will not allow that to happen, and we will see them in court. Despite the governor signing this bill, clinics will remain open, and abortion is still a safe, legal medical procedure at all clinics in Alabama," Randall Marshall, the executive director of the ACLU of Alabama, said in a statement.
Staci Fox, the president of Planned Parenthood Southeast, went further. "To the Alabama politicians that voted for this bill, our message is this: you will forever live in infamy for this vote," she said. "And Planned Parenthood Southeast Advocates will make sure every woman knows who to hold accountable."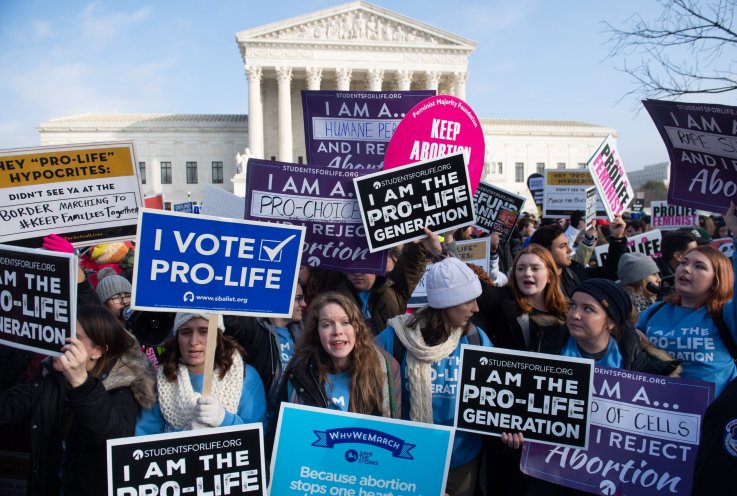 Video: Stephen Colbert Mocks Alabama's Abortion Law—If a Fetus Is a Person With Rights 'Pregnant Women Get to Vote Twice Now' | U.S.