Stephen Colbert Mocks Trump's Alleged Affairs with Karen McDougal and Stormy Daniels: 'You Three-Time the Person You're Two-Timing With?'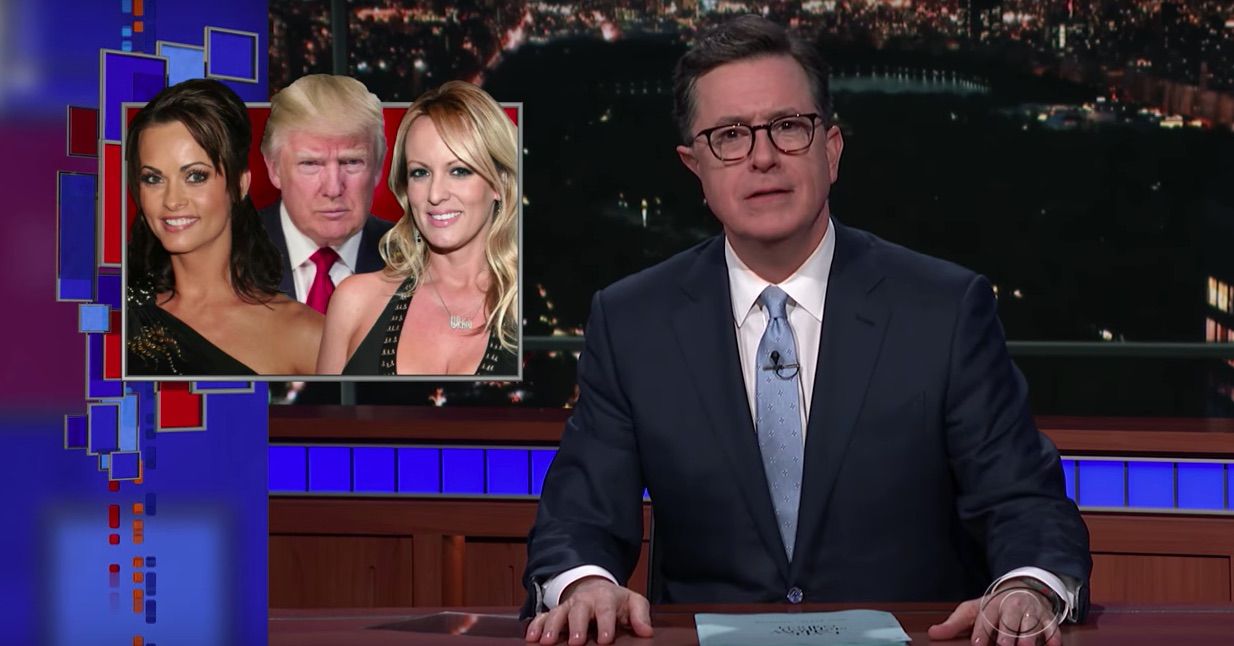 It's been a week since Valentine's Day but Stephen Colbert is still engrossed with—or grossed out by—President Donald Trump's love life.
On Tuesday's The Late Show , Colbert dug deeper into the state of Trump's amorous affairs as well as his alleged unwanted advances.
Colbert pulled apart Trump's tweet Tuesday denying he forcibly kissed a secretary at Trump Tower, Rachel Crooks, in 2006. Crooks's story made the front page of The Washington Post on Tuesday. Trump tweeted the incident couldn't have happened because they were in a public space with "cameras running."
"Is this really the argument you want to put there, sir? 'Come on, who would do it in public?' If I were assaulting someone I'd do it in the alley behind Trump Tower at 6.30 p.m. during shift change at Au Bon Pain, when no one is looking out the window…like I've never done,'" Colbert said.
Colbert then tackled into Trump's alleged affair with Playboy model Karen McDougal, which was the subject of a hefty New Yorker piece last week by Ronan Farrow.
In handwritten notes seen by Farrow, McDougal claimed Trump tried to offer her money after they first had sex in 2006. She said she wasn't interested in money and was attracted to him for his "intelligence + charm. Such a polite man."
"OK, now this story is falling apart," Colbert joked. "And according to the article, Trump complimented McDougal by saying she was similar to his daughter Ivanka. OK, now this story is starting to feel real again."
Of course, there was another affair Trump is claimed to have had in 2006 with porn star Stormy Daniels. They met at a celebrity golf tournament in Nevada in July 2006, just four months after Melania Trump gave birth to the couple's first child together, Barron Trump.
Colbert jested, "How dare you, sir. Cheating on Stormy Daniels? Do you not respect the sanctity of the billionaire–porn star relationship? You just go ahead and three-time the person you're two-timing with?"