Stephen Colbert Mocks Paul Gosar With Anime Video of Him Being Censured
Stephen Colbert has taken aim at GOP Rep. Paul Gosar amid the controversy surrounding his censure over his sharing of a violent anime clip depicting violence against a political rival.
The late-night host also used the medium of anime to mock the Arizona representative after the House voted to censure him on Wednesday.
Gosar received the harsh punishment—being censured— after he shared a doctored anime clip depicting him killing Alexandria Ocasio-Cortez and threatening President Joe Biden.
The House voted to reprimand Gosar by a vote of 223 in favor and 207 against.
The footage itself was taken from the Japanese anime series Attack on Titan and it show's the Republican lawmaker's head crudely photoshopped onto the cartoon's hero.
The character representing Gosar uses a sword to attack a creature with the head of Ocasio-Cortez photoshopped on it.
"Any anime fans out there?" Gosar tweeted along with the video. He since took it down and argued that it was meant to be symbolic.
However, in an act of defiance, Gosar retweeted the clip just minutes after being censured.
On Wednesday, The Late Show mocked Gosar and the controversy by creating an anime cartoon depicting him being censured.
Featuring a number of famous anime characters like Pikachu and Sailor Moon, the clip is titled "C-Spanime."
"Anime's biggest stars turned out for Rep. Paul Gosar's censure hearing today," the description reads.
The video splices together clips from various cartoons, with characters mocking Gosar.
"Paul Gosar hangs lower than my dragon balls," says Goku from Dragon Ball Z for instance.
While Rep. Marjorie Taylor Greene is depicted as a monster from "Q-Anonime" as the lawmaker has been criticized for spreading conspiracy theories, including QAnon.
The clip is going down a storm on Twitter where Colbert fans are praising the satirical mockery of the controversy.
"Well done, sir. Well done," reads one comment. While another added: "OMG! That was hysterical."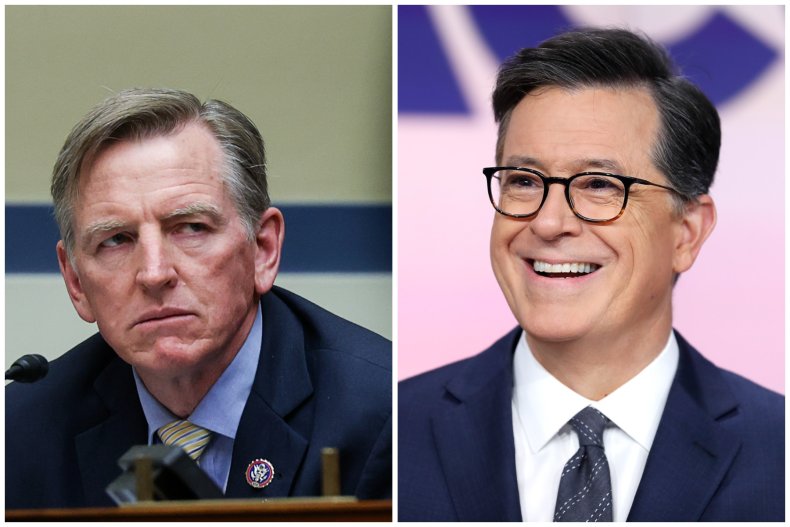 Gosar issued a statement after the vote likening the situation to the killing of the staff at the French satirical magazine Charlie Hebdo in 2015.
"I remind everyone that pretending to be upset over a cartoon and wanting to suppress the ideas in a cartoon is what happened to the Charlie Hebdo magazine in France," Gosar said. "All right-thinking people condemned that then, and they should condemn the Democrats now for their violation of free speech."
Ahead of the vote, Ocasio-Cortez asked the house floor: "What's so hard about saying this is wrong?
"This is about what we are willing to accept."