Stephen Colbert Mocks Trump's Failed Melania Kiss, Compares Macron Embrace to 'Kama Sutra'
The Late Show host Stephen Colbert was quick to point out a seeming lack of affection between President Donald Trump and first lady Melania Trump in a segment Tuesday night.
Colbert zeroed in on a few moments from Trump's day entertaining French President Emmanuel Macron, who visited for a state dinner. First, Colbert showed a clip in which Trump tried to kiss his wife's cheeks but couldn't find his way around the first lady's large hat.
"Trump goes for the kiss and oh, saved by the hat!" Colbert said. "That is more than a hat, that is a defensive perimeter. Their deal is either she gets to wear the hat or Trump has to wear a cone."
Colbert pivoted to another video clip, saying the hat interference was "not an isolated awkward incident between these two lovebirds." He showed a zoomed in close-up of Trump attempting to hold his wife's hand and her seemingly avoiding doing so.
"Moments earlier Trump tried to hold Melania's hand and... nope... she is not having it," Colbert said. "He's like trying to arouse a dead trout. You can't blame her though, she watches 60 Minutes, she knows where that hand has been. Allegedly. Allegedly. Allegedly."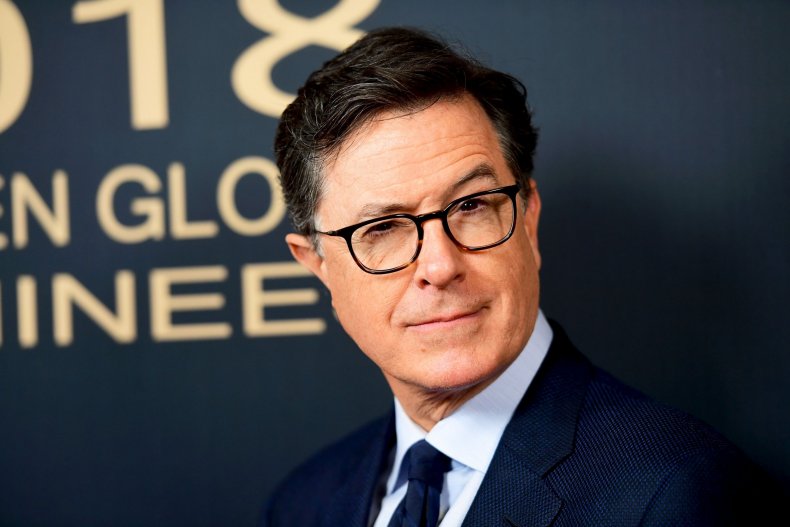 Colbert then shifted into a clip of Trump and Macron in which the president, for some reason, brushed what he said was a piece of dandruff off the suit of his French counterpart.
"Mr. President, Macron is still standing next to you, smiling, after hanging out with you for two days," Colbert said. "That's not dandruff—that's cocaine."
The host then finally cut to a clip of Trump grabbing and shaking Macron's hand for an extended period of time while also seemingly trying to embrace the French president.
"Compared to holding hands with Melania," Colbert said, "He and Macron just performed the Kama Sutra together."
You can watch the full clip from The Late Show with Stephen Colbert here.
The two leaders have promoted their close relationship based on common experiences. "We have this very special relationship because the both of us are probably the mavericks of the system," Macron said in a Fox News interview. The French president on Tuesday joined forces with Trump to push for a new Iran nuclear deal.