Stephen Colbert Roasts Donald Trump's Famous Twitter Mistakes After President Tweets About 'Muderers'
Stephen Colbert has made the most of the latest Twitter typo by President Donald Trump. In his monologue on Monday, the host of The Late Show was describing Trump's claims about Democrats who are opposed to his border wall plan.
Trump tweeted on Sunday: "The Border Committee Democrats are behaving, all of a sudden, irrationally. Not only are they unwilling to give dollars for the obviously needed Wall (they overrode recommendations of Border Patrol experts), but they don't even want to take muderers into custody! What's going on?"
The misspelling of "murderers" particularly tickled Colbert who said: "He is right. 'Muderers' are very dangerous. Especially 'muderers' from 'Nambia' that are coming here to steal our 'hamberders'."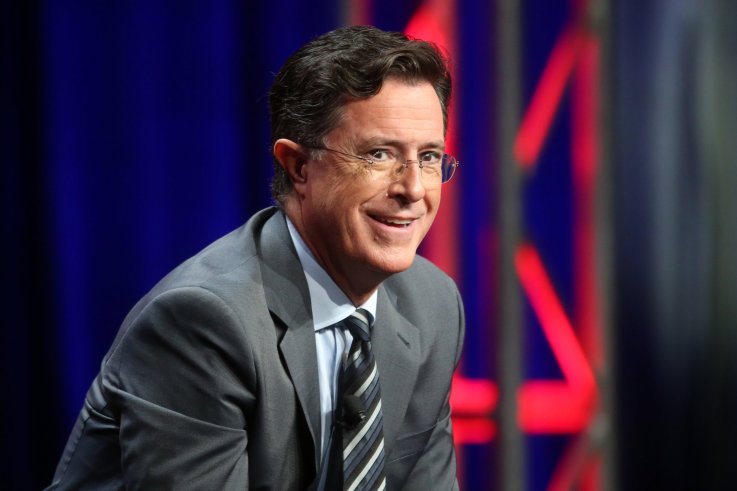 This referred to the now deleted tweet the president sent in January about a banquet of fast food he had offered the Clemson Tigers football team at the White House. He tweeted: "Because of the shutdown, I served them massive amounts of Fast Food (I paid), over 1000 hamberders."
Burger King made light of the error, tweeting: "Due to a large order placed yesterday, we're all out of hamberders. Just serving hamburgers today."
The "Nambia" reference dates from September 2017, when Trump praised the healthcare system of the non-existent country, telling African leaders at the United Nations: "In Guinea and Nigeria, you fought a horrifying Ebola outbreak. Nambia's health system is increasingly self-sufficient."
The White House clarified that Trump was talking about the southwestern African nation of Namibia, although there had been speculation among African leaders he may have been talking about Gambia or Zambia.
In May 2017, he perplexed many with his tweet reference to "constant negative press covfefe".
And a Trump tweet about his former personal lawyer Michael Cohen whom he said "makes up stories" so that he could get his family off "Scott Free," prompted many on Twitter to ask "Who is Scott Free?" He had intended to use the expression "scot-free," meaning to escape punishment.
In December, Trump tweeted about immigration, saying that key Democrats "must approve Boarder Security and the Wall!"
The Atlantic reported last May, that West Wing insiders often draft the president's tweets and would use poor grammar and syntax to mimic Trump's style, but they would not misspell words or names on purpose, suggesting that any typos are Trump's own doing.
Trump has over 58 million Twitter followers, although a survey by Gallup last year said that over a quarter of them were not real people.
Stephen Colbert Roasts Donald Trump's Famous Twitter Mistakes After President Tweets About 'Muderers' | U.S.