Video: Stephen Colbert Roasts Trump for Congratulating Himself Over Good Behavior With the Queen—'Well-Behaved? Like He's a Dog?'
The host of The Late Show, Stephen Colbert, has hit out at President Donald Trump over an interview he did in the United Kingdom, where he said he had been well behaved with Queen Elizabeth.
The comedian questioned how expectations had sunk so low that now the president was being praised for good behavior. "We're complimenting the president on being well-behaved? Like a dog?" Colbert asked.
The Late Show host's segment centered around an interview the president held with former British newspaper editor Piers Morgan. "Of course, no one is allowed to leave England without first completing the mandatory exit interview with chat show chum-bucket and TV's loudest pile of teeth Piers Morgan," Colbert said before cutting to a clip from the interview.
"You were unusually, if you don't mind me saying, well behaved last night. You seemed like you were on best behavior, as if the queen was somebody that you absolutely wanted to show maximum respect to," Morgan said in the footage.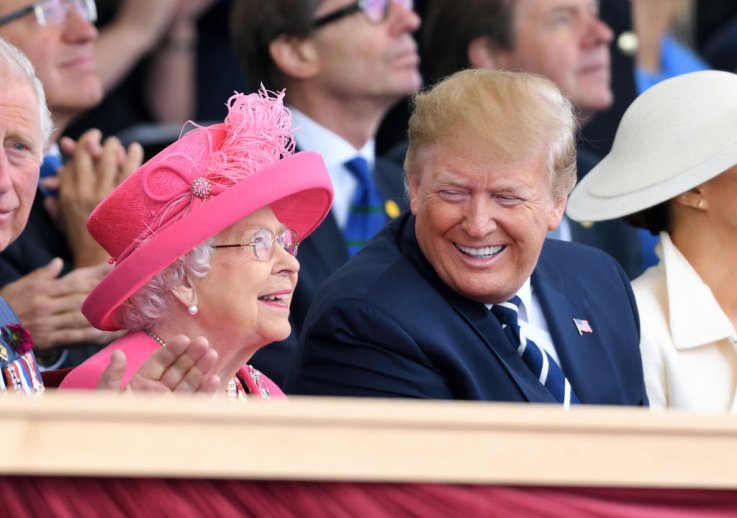 "Well I have great respect for her and yes I think I am on good behavior most of the time but certainly last night," Trump replied, recalling the state banquet in London's Buckingham Palace.
Colbert did not hold back in lampooning the president over the remarks."Is this how far we have sunk? We are complimenting the president on being well behaved like he's a dog? Who's a good president? Who is a good president, yes you are," Colbert joked, affecting the tone of voice dog owners often used to address their pets.
The comedian went on to satirize further aspects of the president's interaction with Queen Elizabeth during the state banquet. In a clip from the interview, Trump said: "When you walk in there, the moment is very impressive, especially when you are walking in with the Queen. And she can walk as fast as I can."
"That is an odd compliment or a strange confession," Colbert joked to shrieks of laughter from the studio audience. "I have the frail shamble of a 93-year-old lady. Slow down Liz, when I sweat, my face bleeds down into my shirt," the late night comedian added.
Trump's remarks on his behavior have not been the only aspect of his interview on the U.K. show Good Morning Britain to raise eyebrows. The president has also been mocked online for briefly putting on the hat of British wartime leader Winston Churchill during the exchange. The interview was held in Churchill's subterranean war rooms. "I think Winston looked much better in this," Trump commented on his own appearance.
Video: Stephen Colbert Roasts Trump for Congratulating Himself Over Good Behavior With the Queen—'Well-Behaved? Like He's a Dog?' | News