CBS late-night host Stephen Colbert called on U.S. Republicans during his Thursday monologue to denounce a speech made by President Donald Trump, in which Trump alleged that Democrats were attempting to steal the presidential election.
Trump's claims, which elicited repudiations from Democrats and Republicans on the national and local levels, were presented without evidence. Colbert, who mostly eschewed jokes during his monologue about Trump's remarks, encouraged Republicans to end their support for Trump and decry Trump's message.
"For all the predictable behavior of the last few days and the last four years," Colbert said, "right now, something unpredictable needs to happen. Republicans have to speak up. All of them."
"Because for evil to succeed, all that is necessary is for good men to do nothing," Colbert continued, paraphrasing British philosopher John Stuart Mill. "So say something right now, Republicans."
Colbert also described Trump as a "fascist" and encouraged Republicans to get off the "Trump train because it's not a passenger train, and someday, he'll load you on it, too."
Newsweek reached out to the Trump re-election campaign for comment.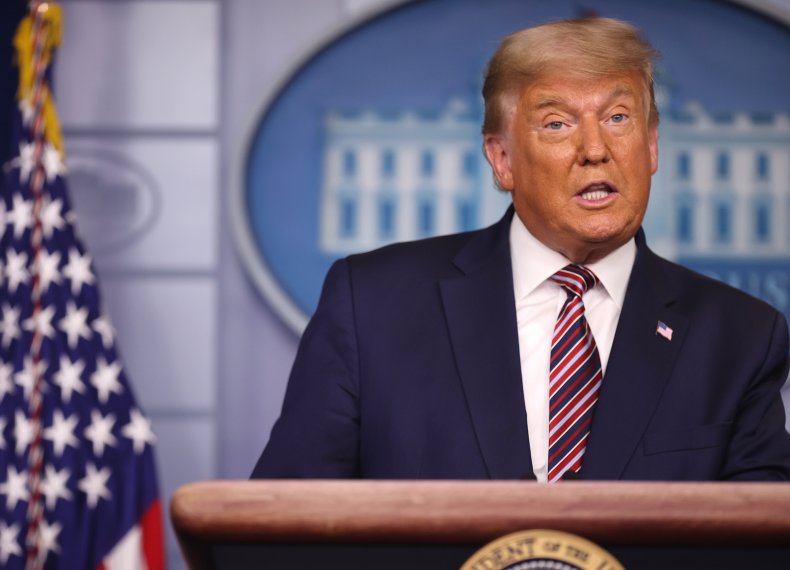 Trump alleged that mail-in ballots, which were still being counted two days after the presidential election, were "illegal" votes that threatened the integrity of the entire process.
"If you count the legal votes, I easily win," Trump said. "If you count the illegal votes, they can try to steal the election from us. If you count the votes that came in late—we're looking at them very strongly."
Republican Illinois Representative Adam Kinzinger tweeted Thursday that Trump needed to provide tangible proof for his claims of election fraud.
"We want every vote counted, yes every legal vote (of course)," Kinzinger wrote. "But if you have legit concerns about fraud present EVIDENCE and take it to court. STOP spreading debunked misinformation... This is getting insane."
Former Republican Pennsylvania Senator Rick Santorum called Trump's remarks "disappointing and shocking" during a Thursday appearance on CNN. Former New Jersey Governor Chris Christie, who also served as an adviser to Trump, criticized Trump's comments on ABC News Thursday. "This kind of thing—all it does is inflame without informing," Christie said.
Not all Republicans were quick to distance themselves from Trump's claims. South Carolina Senator Lindsey Graham said during an interview with Fox News host Sean Hannity that he stood with Trump.
"The allegations of wrongdoing are earth-shattering," Graham said. "Every Senate Republican and House Republican needs to get on television and tell this story." Graham also said he was donating $500,000 to Trump's legal defense fund.