With Colbert and Van Pelt, the Grown-Ups Return to Late-Night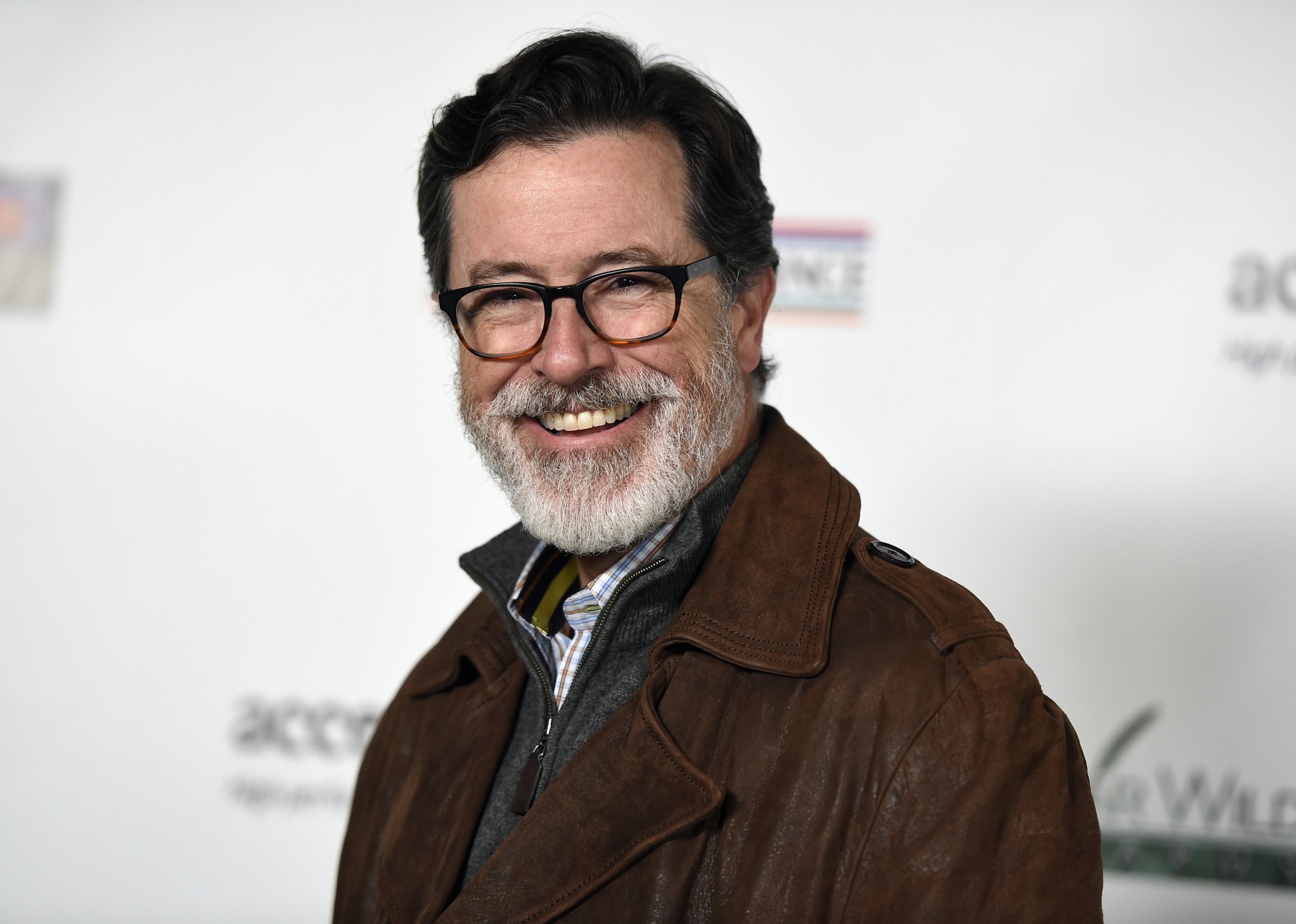 Nation! Our interminable summer of empty-calorie late-night television fare is at last behind us. The grown-ups are returning on September 8. At the stroke of midnight, Scott Van Pelt makes his debut as a solo host on ESPN's SportsCenter. Exactly 23-and-a-half hours later, Stephen Colbert re-launches The Late Show on CBS from the same Ed Sullivan Theater that David Letterman called home for nearly 22 years.
Wisdom and insight coming up right after your local news. (Does anyone still watch local news?) No longer shall you have zero alternative to the vapid-fire entertainment of celebrity lip-sync battles or celebrity Family Feud or celebrity karaoke or....celebrity for celebrity's sake. Wit is returning to a television channel near you, and no longer will HBO's John Oliver have sole proprietorship of it (I do worship at the altar of the founder of Our Lady of Perpetual Exemption, but he only works Sundays).
It was somewhat ironic that in Joel Lovell's spectacular, pathos-filled portrait of Colbert in a recent issue of GQ, the overarching theme was deficit. "And while we spent plenty of time talking about comedy and the conventions of late-night and the sheer practical challenge of doing a show twice as long as his old one—the thing I've been thinking about the most since my time with Colbert is loss," Lovell wrote. "The losses he's experienced in his life, yes, but really the meaning we all make of our losses."
As connoisseurs of late-night television, we, too, have become painfully familiar with loss in the past nine months. It began with the departure of Colbert himself, or the shedding of that unabashed blowhard caricature he portrayed each night on The Colbert Report. (Who knew then that such a figure could be running away with the GOP presidential race?) Then in April, we lost the man he would replace, Letterman. In early August, Jon Stewart retired after 16 years of hosting The Daily Show and it began to feel as if the entire genre was just begging us to turn off the television and continue binge-watching Unbreakable Kimmy Schmidt.
The loss was not only felt in late-night. Just since May, ESPN has jettisoned three of its most trenchant voices in Bill Simmons, Keith Olbermann and Colin Cowherd—although the last one did put his foot in his mouth one too many times. (Los Angeles-based Cowherd's last TV/radio simulcast on ESPN aired in late July; he will relaunch on Fox Sports 1, also on September 8. Is it really that easy to get divorced and remarried in California?)
Simmons, in the spirit of both Bill Maher and Oliver, will resurface following an interregnum with a weekly show on HBO. Simmons, 45, is due to make his debut in 2016—never mind that he has yet to demonstrate that, talented and popular as he may be, he has the chops needed to host a television program.
That will not be a problem for Colbert, who possesses a front-and-back-of-the-page resume when it comes to performing. A dramatic arts major at Northwestern, Colbert studied and performed at Second City with the likes of Steve Carell and Amy Sedaris. In a CBS Sunday Morning interview that aired on September 6, Colbert joked with correspondent Mo Rocca, a fellow Daily Show alum, "When I started off as an actor, I thought, Wonder if I'll ever make it to Broadway. I made it, [specifically, Broadway between 53rd and 54th Streets], albeit through a fairly circuitous route."
Not to designate anyone by name—though most of them are named Jimmy or some derivation thereof—but network late-night has been a wasteland since Letterman departed. There's a selfie-stick mentality to it all, a "Look at us!" superficiality. It invites cynicism. One gets the disturbing feeling of publicists, agents and bookers all conspiring to move product—and while that has always been the goal, it wouldn't hurt to be honest with your American audience once in awhile.
Tom Cruise does not want to actually open a vein, metaphorically, and talk about himself on your couch to promote Mission Impossible 6? Fine. Let's have him do a lip-sync battle with Jimmy Fallon!
A lip-sync battle is less than even karaoke, and it's a perfect metaphor for what late-night talk shows have become in the post-Letterman era: celebrities opening their mouths with no words coming out. Thank you. It's the intellectual equivalent of a whippit, and while America may not be in the mood for a Neil deGrasse Tyson lecture in the midnight hour, do we really want this much "nonversation" either?
Back in 2008, Letterman had Cruise on as a guest and was most likely given the same ground rules as to what topics Maverick considered off-limits (e.g. Scientology, sexuality, Cocktail). And yet Letterman, exhibiting deft skills as an interviewer, almost hypnotized Cruise into forgetting where he was. Cruise, a real-life pilot, shared a hilarious and revealing story about himself.
For the briefest of moments, the facade was lifted. It was cracklin' good television because it blew up the contrived image that Cruise and his publicity team have spent decades erecting.
And so this is something to remember about both Colbert and Van Pelt as together they launch this new era of late-night television: it helps when the smartest, quickest person on the set is the host. It's why Neil Patrick Harris or Kevin Spacey, if either man so desired, would also make excellent TV hosts. Colbert is astute, engaged and, as he told Rocca, "publicly curious."
For evidence, just peruse Colbert's early guest list: George Clooney, Scarlett Johannsson, Kendrick Lamar and Amy Schumer, sure, but also Elon Musk, Jeb Bush, Stephen King and the CEO of Uber, Travis Kalanick.
Colbert is nowhere near a Letterman clone, but like Dave he was extremely close to his mother (Colbert's mother lived to the ripe old age of 92; Dave's mom is still going strong at 94). By now you have heard the story, most likely, of how Colbert's father, a medical school dean, and two of his brothers perished in a plane crash in 1974. What you may not have heard is that the plane crash occurred on September 11 of that year. One wonders if Colbert will make note of either tragic September 11 on the Friday of his first week.
Also like early Letterman, Colbert is fearless. The NBC Dave was unafraid of exposing charlatans or even getting under the skin of his own network's talent and brass. Colbert has often said that the liberating aspect of the tragedy of losing three family members when he was just 10 years old is that it has allowed him to feel untethered by cultural norms. What, after all, is public embarrassment as compared to dying in a plane crash?
"You have to learn how to love to bomb," Colbert told GQ.
How fearless is Colbert? Do you remember his speech at the White House Correspondents' Dinner in 2006? Barely one year into his tenure as host of The Colbert Report, he stood on the dais next to President George W. Bush and said the following: "I stand by this man. I stand by this man because he stands for things. Not only for things, he stands on things. Things like aircraft carriers and rubble and recently flooded city squares. And that sends a strong message, that no matter what happens to America, she will always rebound—with the most powerfully-staged photo ops in the world."
There were a lot of crickets chirping in the Hilton ballroom that evening. But, as time passed, Colbert's speech gained cult status for its sheer audacity. Or how about this moment from earlier this summer, when Colbert parachuted with absolutely no fanfare to host a local public access talk show in Michigan, Only in Monroe, and interviewed Eminem in character as an oblivious oaf?
Of course, in his former role, Colbert was allowed to bluster with impunity because he was inhabiting a role. It's not unlike how Don Rickles is able to insult every race, creed and religion while being known as the sweetest guy offstage.
Colbert will not have that luxury as host of The Late Show. But he will not need that crutch. Nor, to a lesser extent, will Van Pelt. Here are two innately intelligent, curious and essentially decent human beings. Late-night television is about to be good for your brain again.