Stephen Colbert Says Sean Hannity Lacks a Soul for Using Fall of Kabul to Sell Phones
The fall of Afghanistan to the Taliban has dominated news headlines this week as much of the world looks on in horror from scenes reporting desperate Afghans trying to flee the country.
Fox News host Sean Hannity, however, used the devastating turn of events as a segue into an advertisement on consecutive shows.
During his Monday program, fhe urged people to call in to discuss Afghanistan before transitioning into a commercial for a cellphone company.
"There is a stampede, not only out of Afghanistan, but a stampede away from high prices, overpriced service from the big carriers like Verizon, AT&T, T-Mobile. The average family making the switch..," he said before naming a rival brand.
Hannity's promotion did not go unnoticed by late-night host Stephen Colbert.
"Anyone with a shred of a soul feels for the Afghan people," Colbert said in his Tuesday night monologue.
"So naturally that excludes Fox News host and dead-eyed Lego man, Sean Hannity."
Hannity has also sought to promote a pillow company while discussing events in Afghanistan on his Premiere Networks radio show on Tuesday.
The host used the idea of Americans being stuck in Kabul to segue into an advert.
"How would you like to be in Kabul today, as an American, and you can't get to the airport? Where are you thinking your life is headed?" Hannity asked.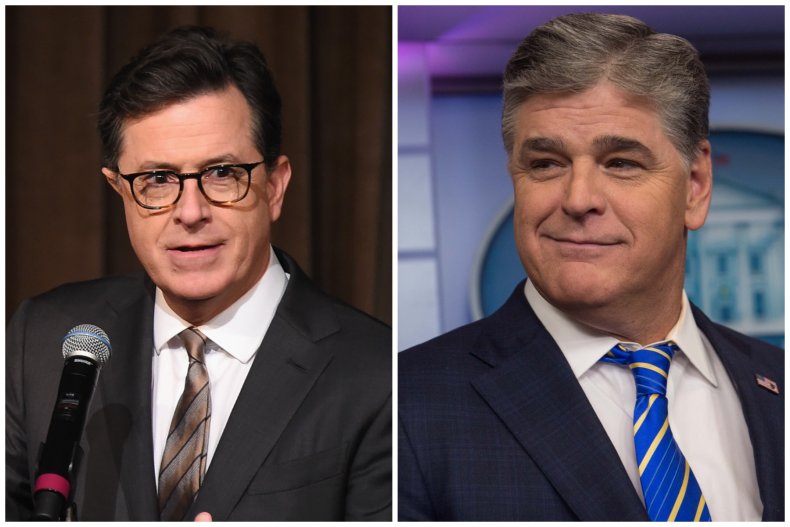 "If you're one of those family members, I bet you're not sleeping," before naming the company owned by conspiracy theorist Mike Lindell.
Hannity concluded: "That's where I go. I fall asleep faster, I stay asleep longer. These are going to be a lot of sleepless nights for so many of our fellow Americans. We've got to get them home."
Colbert discussed the situation in Afghanistan on his Monday night show, telling viewers: "Let's rip the Band-Aid off: the Taliban have taken over Afghanistan.
"The U.S. has been there for 20 years, we spent $2tn, we trained a 300,000-man-strong Afghan army—and the Taliban took it over in 10 days."
He continued: "It's hard to argue that the White House didn't shank the withdrawal."
Referencing the Biden administration's calculations of a conflict-free withdrawal, he quipped: "That is the most inaccurate prediction from a president since Abe Lincoln said 'see you after the play!"
Fox News and Premiere Networks have been contacted for comment.
Update 08/18/21 9:02 a.m. ET: This article was updated to clarify that Hannity's pillow advert aired on his radio show.