Stephen Colbert's Speech on Kyle Rittenhouse Verdict Draws Ire From Conservatives
Stephen Colbert has angered many conservatives for his speech about the acquittal of Kyle Rittenhouse.
The 18-year-old's trial has captured the media and the verdict has proven divisive after he was acquitted on all charges stemming from killing two men and wounding another during unrest that erupted over the shooting of Jacob Blake, a Black man, by a white police officer in Kenosha, Wisconsin, in August 2020.
In his first television interview since the trial, Rittenhouse told Tucker Carlson: "It never had anything to do with race. It had to do with the right to self-defense."
On Monday's episode of The Late Show, Colbert criticized the GOP for "making a hero" out of Rittenhouse and said that if he was not guilty of homicide then the law should change as "the system is clearly broken."
"OK, cards on the table: I'm not a legal expert, so I can't tell you whether or not Kyle Rittenhouse broke the law," Colbert said. "But I can tell you this: if he didn't break the law, we should change the law."
Rittenhouse drove from his home in Illinois with an assault rifle and began patroling streets after curfew in Kenosha during the unrest.
Per Wisconsin law, deadly force is permitted if it is "necessary to prevent imminent death or great bodily harm."
Colbert added: "If Emily Post said it was perfectly proper to go to Thanksgiving, drop trow, and leave your ass print in the pumpkin pie, I'd be like, 'OK, not illegal, but the system is clearly broken.'"
Colbert said that "only a complete moron would celebrate this clear tragedy by making this guy a hero."
Following Rittenhouse's acquittal, Florida congressman Matt Gaetz tweeted: "NOT GUILTY!!!!!!!"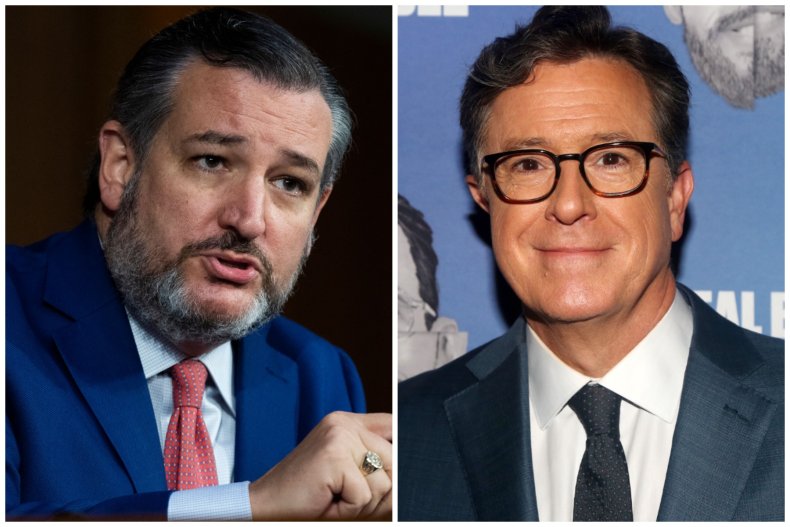 "Of course, Gaetz has a vested interest in juries finding people not guilty especially when it involved a 17-year-old crossing state lines," Colbert added, citing the federal investigation into the Republican representative over sex trafficking allegations.
Colbert's speech has not been well received by many conservatives. Texas Senator Ted Cruz took to Twitter on Tuesday where he took aim at Colbert and "rich Democrats."
"Rich Democrats believe you have no right to defend yourself from an angry mob," Cruz said in response to Colbert's speech. "He was being violently attacked by three dangerous felons; a jury of his peers found that Kyle Rittenhouse acted in self-defense. What Colbert is arguing is to outlaw the ability to defend oneself."
Meanwhile, Jenna Ellis, a former member of Donald Trump's legal team, tweeted: "Stephen Colbert is the type of idiot that suggests outlawing self-defense while hiding behind his armed security."
Jesse Watters, co-host of The Five and host of Watters World on Fox News also slammed Colbert's view.
"Yeah, he's not a legal expert. And there's no way he watched the trial himself, so he doesn't know what he's talking about," Watters said during an appearance on the Guy Benson Show.
One Twitter user, who identifies as a conservative in her bio, tweeted: "Fascist Stephen Colbert wants to change self defense laws because Kyle was innocent. This is what communist Democrats do, change the rules so they can win, just like elections."
Author Michael Malice tweeted: "colbert is a literal televangelist delivering sermon for evangelical progressivism."