Stephen Colbert Receives 2-Minute Standing Ovation as Studio Audience Finally Returns
The Late Show With Stephen Colbert made a "very emotional" return to a live studio on Monday night with the host receiving a two-minute standing ovation from the crowd.
"I am proud to say that we are the first show back up on Broadway," Colbert said to the audience of more than 420 vaccinated guests, many of whom were maskless, at the Ed Sullivan Theater in Manhattan. He then joked: "Suck it, Lion King!"
"So how ya been?" he asked, as an audience filled the room for the first time since March 16, 2020—that's 213 episodes recorded without an audience.
The Late Show is one of the most popular late-night talk show offerings on television and for the past 15 months, it has continued to air on weeknights, with no live audience and the musical contributions being added remotely.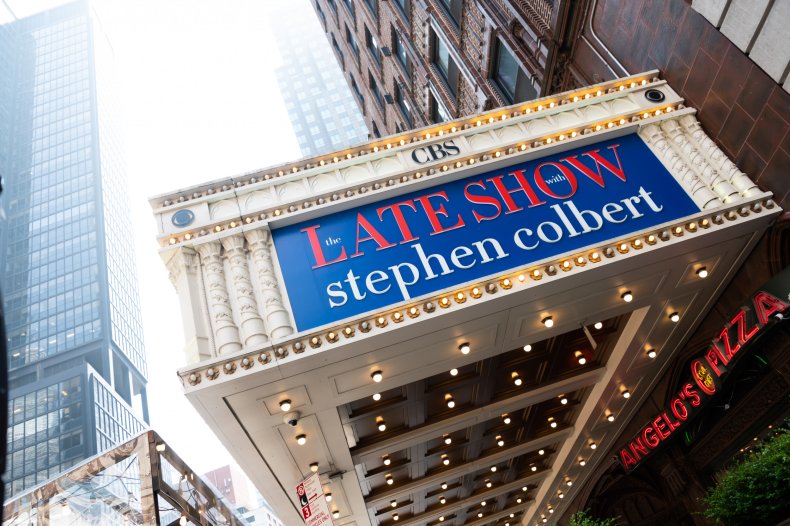 During the height of the pandemic, CBS renamed the program A Late Show, but it has now returned to full raucous form as THE Late Show.
The return of the studio audience is likely going to go down as a highlight and marker of sorts as the country returns to a sense of normalcy, with the suffering entertainment industries tentatively getting back on their feet.
"We never really left but we weren't really here," Colbert said to the crowd, adding: "I don't even know how to pander to the most beautiful crowd in the world. It feels like the first day back at school. I'm excited, nervous and CBS sent me a Paramount+ trapper keeper."
He laughed: "It's wonderful to see New York City coming back to life. You feel it. I saw two Time Square Elmos breeding."
A clip of Colbert's entrance is going viral on Twitter as the ecstatic crowd cheer and stand for two minutes and even chant "Stephen! Stephen!" for a time.
Following his opening monologue, Colbert brought his wife Evelyn McGhee-Colbert on stage and thanked her for being his audience during the pandemic.
"He's all yours," she said. "Don't forget to laugh."
Ahead of the audience return, Colbert told Variety that he wanted to wait until he could fill the Ed Sullivan Theatre before having audience members back.
"We could have, you know, done a staggered return, starting, I think, probably in March. But my rule was I wasn't going to go back until I could just go back," he told Variety. "We wanted the enjoyment of seeing an ending. I don't want to dribble this out."