Video: Stephen Colbert Warns Fox News Against Reporting Bad Trump Polls: 'You Keep This Up He's Going to Leave You For a Younger Network'
Comedian Stephen Colbert has mocked President Donald Trump over his tweets criticizing Fox News polling. The Late Show host said that if the news outlet doesn't change its tune, it may find itself replaced by a younger network.
"Trump's rally tonight has added urgency because everyone is talking about how bad his poll numbers are," Colbert said, referring to the president's rally in Orlando Florida at which he officially launched his re-election campaign.
The show then cut to a clip from Fox News' Special Report With Bret Baier. "Back here in the U.S. former Vice President Joe Biden hopes the third time is a charm as a new Fox News poll shows voters favor the 2020 candidate to President Trump by ten points. And he's not the only democratic contender leading the president in the most recent polls," Baier said in the footage.
Colbert then riffed on Fox's departure from its normally pro-Trump stance. "Ouch, Fox News, you pledged to be there for him for better or worse. You keep this up, he's going to leave you for a younger network," the comedian joked to cheers from the audience.
The Late Show host then illustrated the president had been watching Baier's show, referring to his tweets. "@FoxNews Polls are always bad for me. They were against Crooked Hillary also. Something weird going on at Fox," Colbert said doing an impression of the president. "Then Trump tweeted the unthinkable: More Fake News @BretBaier," he joked.
Many column inches have been devoted to the unusually close relationship between Trump and the conservative Fox News network. A March 2019 New Yorker article referred to the current administration as the "Fox News White House" after its prime time host Sean Hannity appeared in support of the president during a rally in November 2018.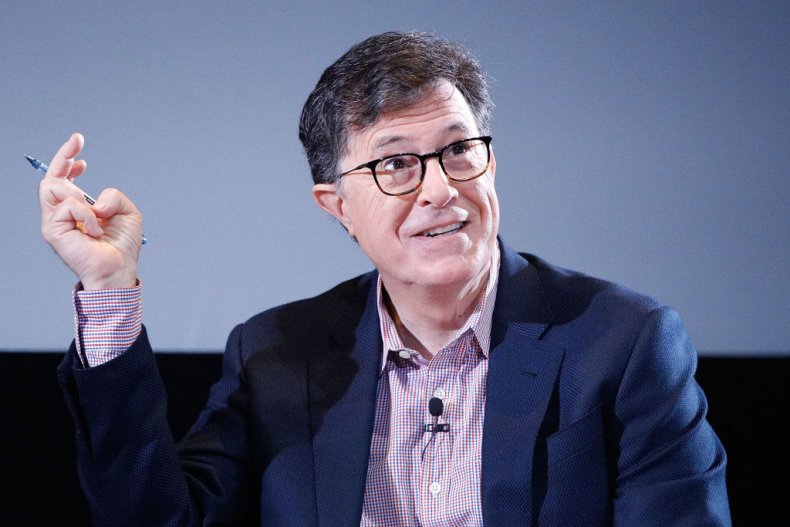 Colbert went on to joke that if Trump was referring to Fox News as fake news then there was perhaps no news source he would be able to trust. "If Trump can't trust Fox, what's he going to do? His only source of news will be Snapple caps," the comedian said before imitating the president once again. "Flamingos turn pink from eating shrimp. Well that's crazy, I am not pink and I eat tons of shrimp and flamingos. Fake cap," he joked, while pretending to be the president inspecting a Snapple cap.
Trump has repeatedly called polls that have showed him trailing Biden as false. "Only Fake Polls show us behind the Motley Crew," the president tweeted Monday. "We are looking really good, but it is far too early to be focused on that. Much work to do! MAKE AMERICA GREAT AGAIN!" he added.
CNN reported Monday that Trump fired several pollsters over the leaked numbers that have showed him falling behind his Democratic rivals, particularly Biden, in states including Michigan and Wisconsin. Data from the poll, obtained by ABC News showed Biden leading Trump in Pennsylvania 55-39, in Wisconsin 51-41 and in Florida by seven points. In Texas, a normally safe Republican state, the president was only ahead by two points.