Stephen Colbert Presents 'Trump's Letters' Firing Comey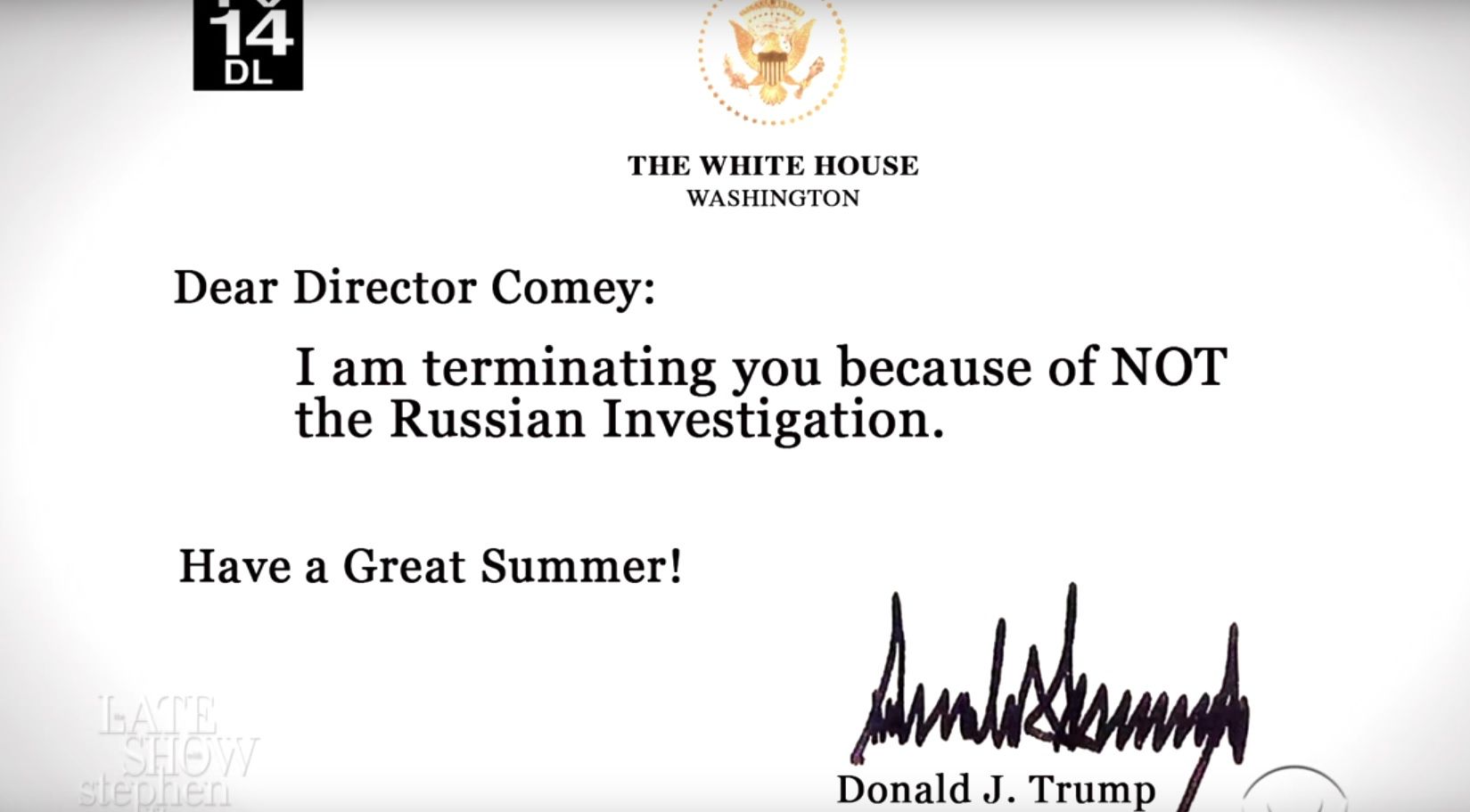 "You got Trump'd," Stephen Colbert said on Wednesday's episode of The Late Show in comments directed toward James Comey, after U.S. President Donald Trump's bombshell firing of the FBI head on Tuesday.
As the dust settled on news of his ejection and more details emerged Wednesday, Colbert, like the rest of the nation, was in a state of both shock and amazement at Trump sacking Comey, who was investigating his presidential campaign's ties to Russia.
Trump's termination letter to Comey acknowledged the probe—Trump wrote he "greatly appreciated" Comey telling him he was not being investigated—although the White House claimed the director was dismissed for his poor job performance, pointing to the handling of the investigation into Hillary Clinton's emails during the final stretch of the U.S. election as a major failing.
Colbert, however, was unconvinced by this reasoning. The comedian presented a few alternative versions of Trump's letter to Comey on his show Wednesday night.
"I am terminating you because of the Russian investigation. No hard feelings," said the first "rough draft" Colbert showed viewers.
"I am terminating you because of NOT the Russian investigation. Have a great summer!" said Trump in the mock second draft.
By his eleventh draft, Colbert joked, Trump had resorted to doodling pictures of "Vladimir Poodle" on a skateboard and writing, "Russia rulez." Draft 23, meanwhile, was written entirely in Russian.
Trump's mock final draft—number 56—finally nailed down the right verbiage: "I am terminating you because of the Clinton email investigation. That sounds believable, right?"
Colbert dedicated his opening monologue to dissecting the news of Comey's firing. The talk show host said "firing Comey feels like authoritarianism 101, which, by the way, is a very difficult class—the professor is a total Nazi."
"The question is, why did Trump do it?" he asked the audience. "While it looks like Donald Trump fired James Comey to stop the Russian investigation... that is why. I'm pretty confident."
Colbert went on to say that the Trump White House's thinly veiled attempts to disguise the reason for Comey's firing are painstakingly transparent.
"One thing we've learned from the last two years of Donald Trump is that, what it seems like he's doing is exactly what he's doing," Colbert said to a rip roar of laughter. "There's no grand strategy. He's not some puppet master, he's not some wizard playing three-dimensional chess. He's playing Hungry Hungry Hippos—he's just slapping until he gets all of the marbles."