Stephen Colbert Mocks Donald Trump for Saying He Would Run Into School Shooting: 'I Really Don't Believe He Can Run'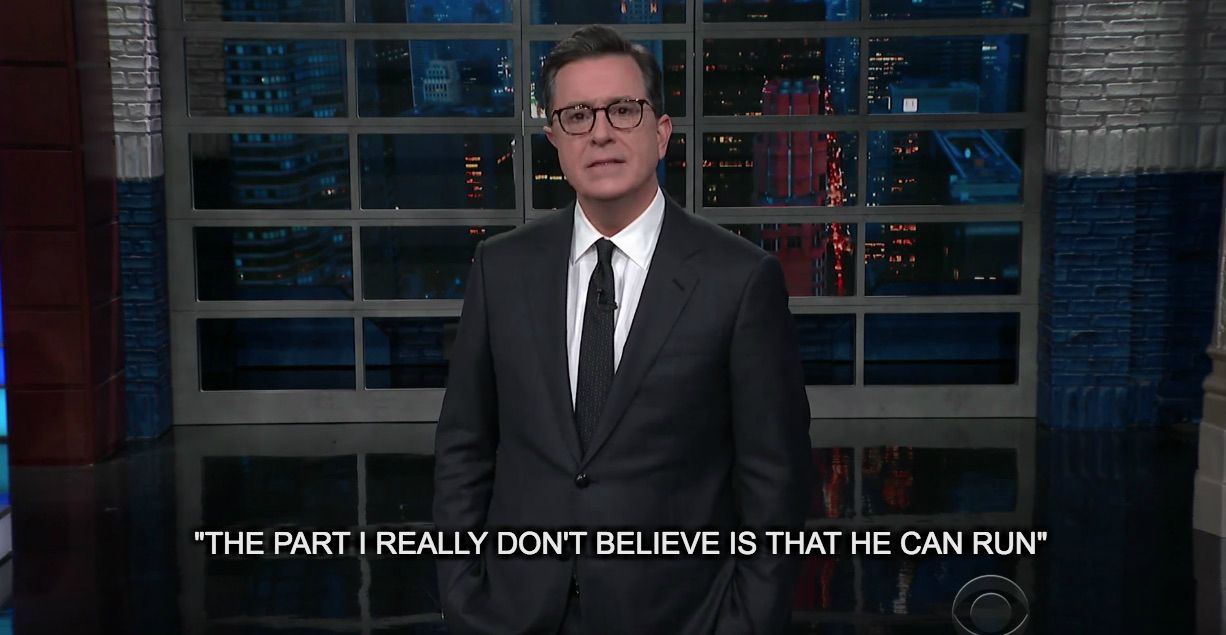 There was a lot of Trump fodder for Stephen Colbert to joke about on Monday's episode of The Late Show. As well as his usual cracks about President Donald Trump, the comedian also had a few zingers for first daughter Ivanka Trump.
During a press conference Monday afternoon, Trump said he would have run into the Florida school where a mass shooting killed 17 people on February 14 "even if I didn't have a weapon" in a bid to save lives. That, of course, prompted ridicule from just about everyone.
"There's a lot in there that I doubt, but the part I really don't believe is that he can run," Colbert said to cheers from his audience.
Colbert went one further by prodding Trump over his service record, or lack thereof. The president deferred from duty in Vietnam five times—four times for educational reasons and once for bone spurs in his heels.
"Sir, we already know how you react to combat situations," Colbert said. "What are you going to do? Run in there and stab them with your bone spurs?"
The comedian also derided Trump's proposed plan of action to arm teachers in schools in the event of a campus shooting. "This has not been received well by people who have had or been a teacher," Colbert said.
Monday afternoon, Trump addressed his plan again after much criticism across the country. This time, "Donald Trump reconsidered his position and approached the problem with a more nuanced, multifaceted and comprehensive solution. I'm just kidding," Colbert deadpanned.
The comedian cut to footage from Trump's press conference, in which he stated that he doesn't want all teachers to have guns. He wants "highly-trained people that have a natural talent, like hitting a baseball, or hitting a golf ball," to be armed.
"Shooting a gun is a natural talent, not everybody's got it," Colbert quipped. "You have to be born with at least one finger."
Colbert gave viewers a two-for-one Monday night when he also weighed in on Ivanka Trump's appearance with the U.S. Olympic team at the closing ceremony of the Pyeongchang Winter Olympics. There, Ivanka was seen trying on a silver medal that was won by bobsledder Lauren Gibbs. Or, as the comedian commented, she was "carrying on the proud Trump family tradition of getting something she did not earn."
The comedian then showed footage from an NBC News interview with Ivanka Monday morning. The first daughter was asked if she believes the numerous women who have accused Trump of sexual misconduct. Ivanka deemed the question "inappropriate" to ask a daughter. "I don't think that's a question you would ask many other daughters," she said.
Back to Colbert, who responded: "But Ivanka, you are not many other daughters. You are the only daughter in U.S. history to serve in her father's administration. It is the most blatant act of nepotism since Nixon gave surgeon general to his dog, Checkers."