Watch: Stephen Colbert Mocks Trump's Weird Obsession With Daughter Ivanka, Who Trump Compared to Stormy Daniels
The big news on Monday was the fallout from porn star Stormy Daniels's interview on 60 Minutes and of course Stephen Colbert had a few thoughts about it.
On Monday's The Late Show, Colbert picked through the highlights of Daniels's conversation with Anderson Cooper about her alleged affair with President Donald Trump.
In the interview, Daniels—real name Stephanie Clifford—described how she spanked Trump with a magazine bearing his likeness on the cover during a hotel room liaison in 2006.
"I said, 'Give me that,'" Daniels recounted about the unusual literary foreplay. "He turned around, pulled his pants down a little, he had underwear on and stuff, and I just gave him a couple swats."
Daniels said that her assertiveness changed Trump's demeanor and their conversation became more two-sided—or "appropriate," as the adult film star said.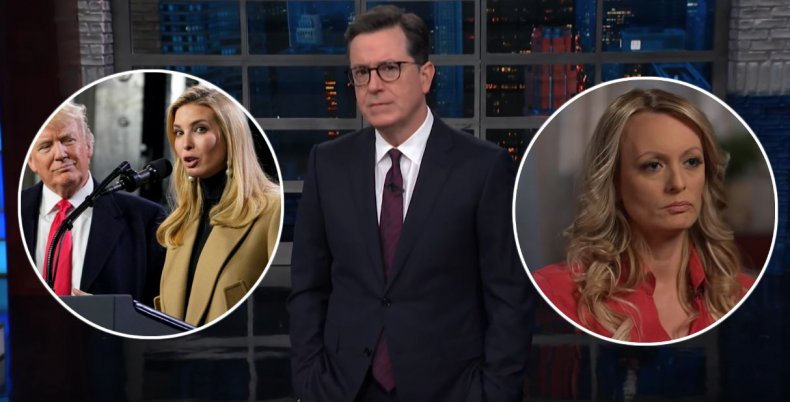 "Couple of spanks and Donald Trump starting acting more appropriate," Colbert recapped. "John Kelly, you know what to do."
But Daniels's story about spanking the future president wasn't the most cringeworthy part of the 60 Minutes interview. No, that would be when she spoke about how Trump said the porn star reminds him of his daughter, Ivanka Trump.
"That is awkward," Colbert said. "But not nearly as awkward as when he said to Ivanka, 'Honey, you remind me of this porn star I had sex with.'"
As has been well-documented, the Ivanka comparisons are a well-worn M.O. for Trump.
Former Playboy model Karen McDougal, who allegedly had an affair with Trump between 2006 and 2007, told Cooper last week that he told her she was "beautiful like [Ivanka]."
McDougal said she felt guilty about the alleged affair and apologized to first lady Melania Trump.
"What can you say except, I'm sorry? I'm sorry. I wouldn't want it done to me, I'm sorry," said the model. "Going through it, when I look back where I was back then, I know it's wrong, I am really sorry for that. I know it's the wrong thing to do."