Stephen Colbert's 'Just Say No' Spoof PSA Targets Trump Administration For Refusing Subpoenas
In the Friday night episode of The Late Show with Stephen Colbert, the CBS program debuted a parody public service announcement that took aim at prominent members of President Donald Trump's administration for refusing to comply with Congressional subpoenas.
The video satirized the "Just Say No" anti-drug campaign that appeared in the 1980s and 1990s, recycling footage from the infamous commercials and using it to lampoon former White House Communications Director Hope Hicks and others in Trump's inner circle for ignoring summons to testify before the House Judiciary Committee.
"Every day, Trump officials are offered dangerous subpoenas to testify against the president, but you don't have to give in to legal peer pressure," a deep-throated narrator says in the spoof video. "Just say no."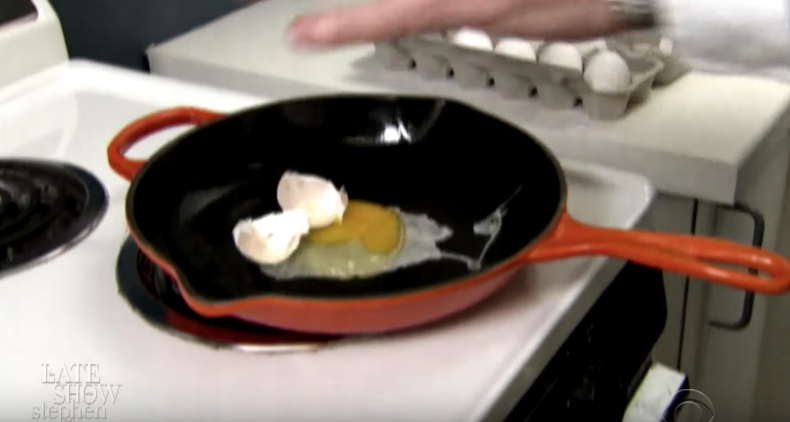 At one point, the parody ad featured a man standing in front of a hot stove, cracking an egg into a frying pan. The brief segment was a reference to the "This is Your Brain on Drugs" spot that ran in the mid-1990s that starred, among other actors, Rachel Leigh Cook. (The actress has since released another video criticizing the "Just Say No" campaign for its inefficacy and reported targeting of minorities.)
"This is a subpoena," the actor said in the new CBS parody, holding up an egg for the camera. "This is President Trump," he said, as the camera panned toward the sizzling frying pan.
"This is President Trump when you respond to a subpoena," he charged, smashing the egg into the pan. On the off chance the message wasn't clear, the actor then slapped a pair of handcuffs around the handle of the frying pan.
The battle over subpoenas has been waging in Washington D.C. for several weeks, as Democrats hope to compel insiders mentioned in the Mueller report to hand over documents and offer testimony about their service to the Trump administration. In addition to Hicks, Annie Donaldson Talley, a former aide to ex-White House counsel Don McGahn, appears to have been ordered by the Trump administration to refuse to hand over documents or give testimony.
"The subpoenas seek documents related to matters that were subjects of the investigation conducted by Special Counsel Robert S. Mueller, III," wrote White House lawyer Pat Cipollone in a letter rebuffing the summons. "These documents include White House records that remain legally protected from disclosure under longstanding constitutional principles because they implicate significant Executive Branch confidentiality interests and executive privilege."
Trump, meanwhile, has vowed to "fight all the subpoenas" and has characterized both the Mueller report and the subsequent summons as part of a "witch hunt."