Stephen Curry Injury Update: How Long Will Warriors Star Be out For?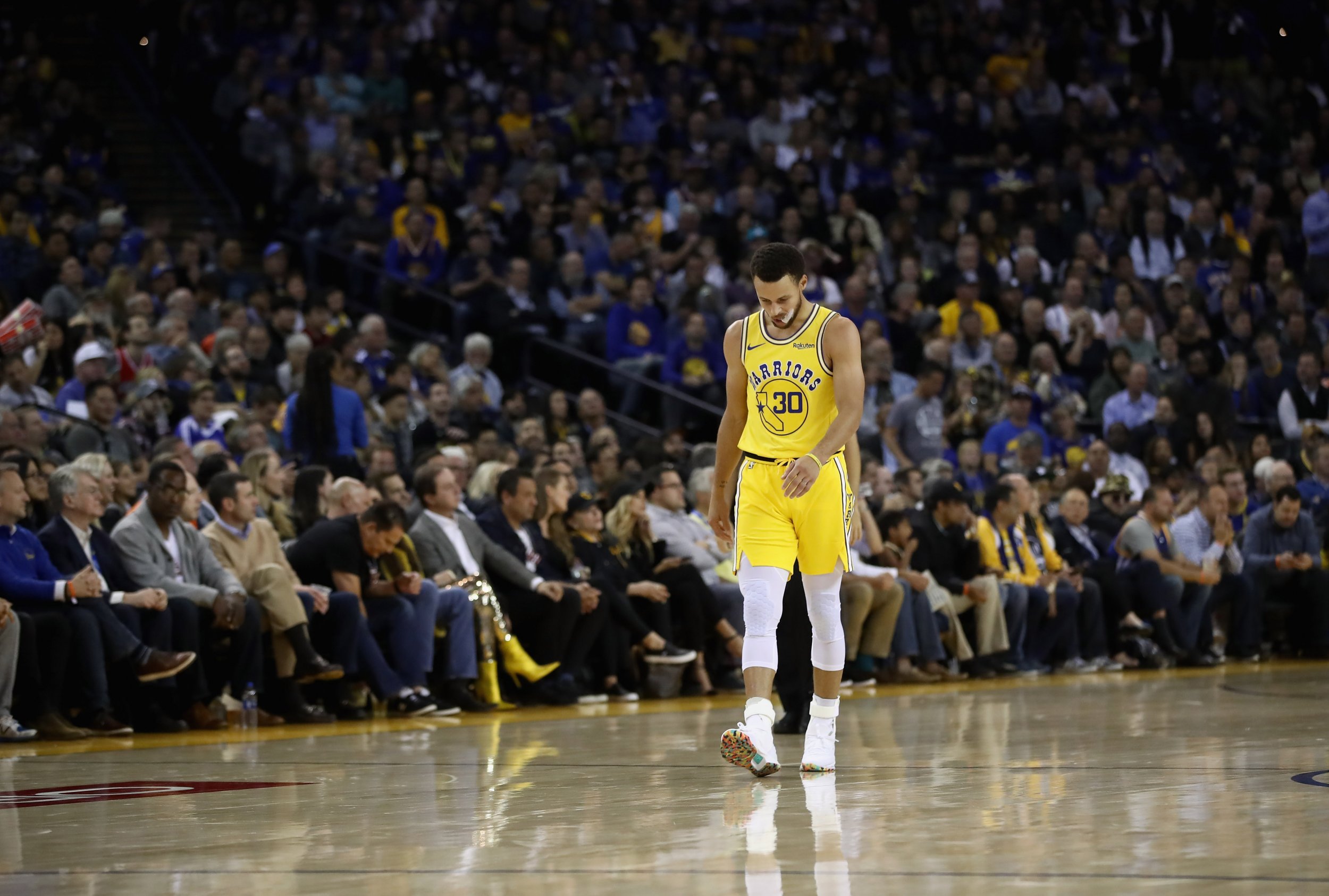 Stephen Curry only played 52 regular season games last year and his bid to remain fully healthy throughout the current campaign appears to have been derailed already.
On Thursday night, the two-time MVP suffered an adductor strain in his left leg during the Golden State Warriors' 134-111 loss at home to the Milwaukee Bucks. Curry left the court with just over six minutes left in the third quarter after injuring himself as he tried to block a move from Bucks' guard Eric Bledsoe.
The Warriors star did not return to the court and missed the final period, ending the game with 10 points and six assists in 26 minutes.
Curry, however, did not seem particularly worried by the setback.
"I'm not nervous. I have nothing to go off of. If this was an ankle, I could tell you four days, 12 days," Curry was quoted as saying by ESPN. "But I will see tomorrow […] I've honestly never done this before, so I have nothing to go off of."
Warriors coach Steve Kerr confirmed Curry would undergo an MRI scan on Friday to determine the extent of his injury but did not have other details to provide. Kevin Durant, who had 17 points and nine assists, seemed largely unperturbed by Curry's injury.
"He seems good to me," the two-time NBA Finals MVP told Yahoo Sports.
"I've got to talk to him tomorrow and see how he's doing. Hopefully he's doing well."
Without Curry, the Warriors had little hope to haul themselves back from the 26-point hole they had dug themselves in during the first three quarters and their eight-game winning streak came to an end.
However, their 10-2 record is still tied for the second-best start in franchise history, behind only the 2015-16 that won its first 24 games, setting the tone for a NBA record 73-9 finish.
Kerr admitted his team played with "mindless intent" and challenged them to bounce back immediately.
"Sometimes you've got to get hit in the mouth in this league to remind you how hard it is to win a game," he explained.
The Warriors were without Draymond Green and Shaun Livingston on Thursday night, who were ruled out because of a toe sprain and foot soreness respectively. The former will miss Saturday's home game against the Brooklyn Nets but could return on Monday night when the Warriors take on the Clippers in Los Angeles.
The visit to L.A. marks the start of a bust stretch for the defending NBA champions, who then plan three of their next four games on the road, with a trip to Texas to face Houston, San Antonio and Dallas following a home game against Atlanta.