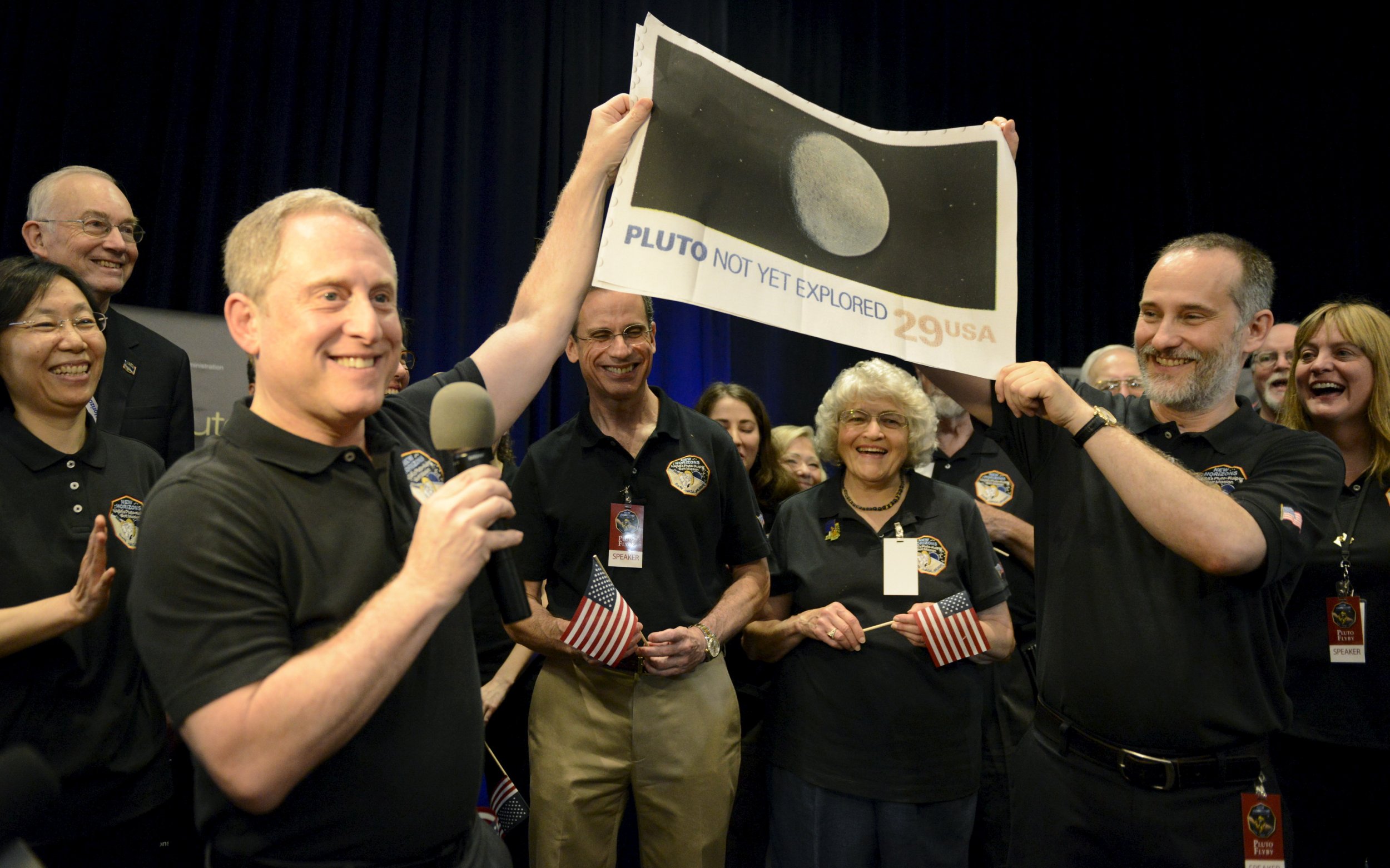 Stephen Hawking was among the scientists, celebrities and space fans who congratulated NASA on its Pluto flyby, speaking in a video published Tuesday morning.
The renowned theoretical physicist and best-selling author, whose work and life were recently depicted on the big screen in The Theory of Everything, spoke of Pluto's mystery and the significance of this first encounter.
"I would like to congratulate the New Horizons team at NASA on their pioneering decade-long mission to explore the Pluto system in the Kuiper Belt," Hawking says through his speech synthesizer. He continues:
Billions of miles from Earth, this little robotic spacecraft will show us the first glimpse of mysterious Pluto, the distant icy world on the edge of our solar system. It is 50 years since the first successful mission to Mars Mariner 4 sent 21 images of the red planet. Now the solar system will be further opened up to us, revealing the secrets of distant Pluto. The revelations of New Horizons may help us to understand better how our solar system was formed. We explore because we are human and we want to know. I hope that Pluto will help us on that journey. I will be watching closely and I hope you will too.
Hawking was not the only one to send his congratulations for the historic Pluto flyby, which marks the completion of an initial reconnaissance of our solar system. Astronaut Scott Kelly made a video from his post at the International Space Station.
NPR's "Skunk Bear," a science Tumblr that deals in "pocket-sized science facts," published a "poetic tribute" to the space exploration mission, set to Ray Bradbury reading his poem "If Only We Had Taller Been" at Caltech's Jet Propulsion Laboratory in 1971.
Google gave the flyby a nod with its Tuesday doodle.
The hashtag #PlutoFlyby was trending on social media throughout much of the morning on Tuesday, and many (including the president and presidential candidates) expressed their excitement, extended their congratulations and flexed their comedic muscles on those platforms in response.